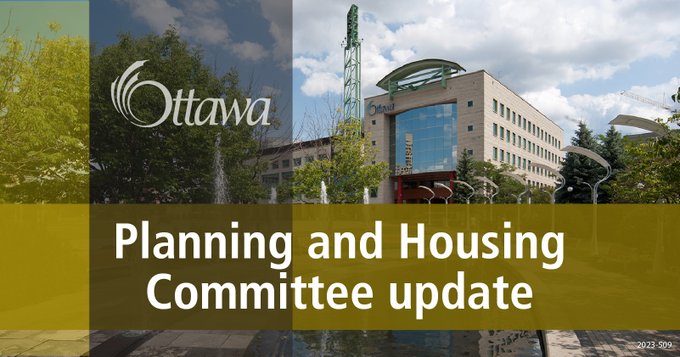 On April 19, the City's Planning and Housing Committee recommended approving a response to the Province about a proposed long-term care facility in Barrhaven. The proponent plans to develop a property at Strandherd Drive and Borrisokane Road in two phases, starting with a four-storey, 192-bed long-term care home.
Typically, this development would have been subject to a municipal zoning amendment, but the Province is instead seeking to make a Minister's Zoning Order(link is external) (MZO) to establish the necessary zoning for the site. The Planning Act authorizes the Province's housing minister to use an MZO to regulate land use anywhere in Ontario.
To help advance the development of new long-term care beds, the Province's Ministry of Long-Term Care offers a construction funding subsidy, but to be eligible, projects need to have started construction by August 31, 2023. The MZO was requested to accelerate planning approval to support funding eligibility.
While recognizing MZOs as a valuable tool, the City's response:
Notes the proponent did not submit a development application even though they met with the City in 2022 and were advised one could have been processed before August, avoiding an MZO request
Proposes a different zoning than the one outlined in the MZO, to better reflect the request to permit a long-term care facility with ancillary and supportive uses
Recommends the MZO not exempt the proponent from having to submit a site plan control application to the City – a critical step in ensuring the safety and quality of life both for facility residents and residents in the surrounding area
If approved by Council, the City would submit the response to the Minister of Municipal Affairs and Housing.
The Committee also approved a zoning amendment to permit two 12-storey buildings southeast of Richmond Road(link is external) and Forest Street. The applicant is proposing a 168-unit building with ground floor commercial space facing Richmond Road and a 223-unit residential building facing Bond Street, to the south. The amendment would increase permitted height from 30 metres (nine storeys) to 41 metres (12 storeys) and reduce the required separation between towers by five metres.
Recommendations from today's meeting will rise to Council on Wednesday, April 26.