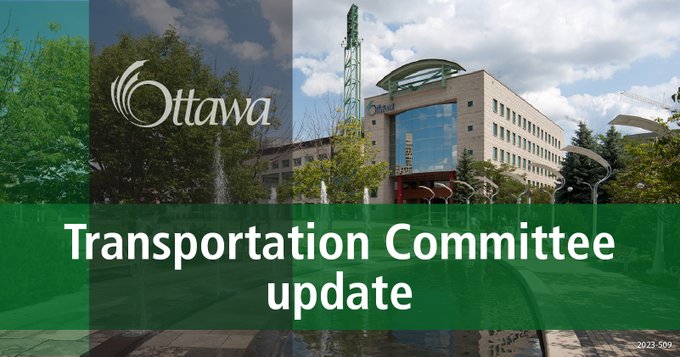 On March 23, the City's Transportation Committee received an update on year three of Ottawa's electric kick scooter pilot and recommended continuing with a fourth year of the pilot in 2023.
The 2022 season of the electric kick scooters pilot was shorter and operated in a smaller area with fewer vehicles than in 2021 as the City required scooter providers to use new technologies and put restrictions in place to address concerns around improper riding and parking. While the smaller season resulted in a ridership decrease, the volume of trips shows a continued demand for the shared e-scooter program. The City recorded an average of about 600 trips per day during the 2022 season, with average trips taking about 19 minutes to go about two kilometres.
For the 2023 season, the City would:
Permit the same two providers selected in 2022 to provide a combined fleet of 900 shared e-scooters.

Maintain the requirements and restrictions set in 2022 to address improper riding and parking.

Amend the fee structure to ensure sufficient resources to manage the program while keeping it revenue neutral.

Collaborate with providers to refine and improve the program.

Improve mechanisms to report and track issues or concerns.
The General Manager of Planning, Real Estate and Economic Development would have the authority to continue the pilot in 2024 if they are satisfied with the results this year. 
The Committee also received an update on the 2022 Road Safety Action Plan and approved the 2023 plan. Collisions were down significantly in 2021, due in part to less daily travel as a result of the pandemic. The City saw 8,127 reportable collisions in 2021 compared to an average of 13,880 per year over the five previous years. There were 122 collisions involving a fatal or major injury in 2021, compared to an average of 142 per year over the five preceding years.
The City delivered most planned 2022 measures, installing high-visibility crosswalk markings at 12 intersections, upgrading gravel shoulders along 11 rural corridors, installing nine automated speed enforcement cameras, and developing and implementing an awareness campaign about red reverts.  
The 2023 plan will continue to focus on vulnerable road users, rural areas, intersections and high-risk driver behaviours. Planned measures include enhancing the Be Safe, Be Seen awareness campaign, constructing cycling safety enhancements at up to three locations, implementing education and enforcement measures for the motorcycle safety strategy, implementing changes at two rural skewed intersections and installing 17 new automated speed enforcement cameras, as well as six additional cameras that were planned but not installed in 2022.
The Committee recommended approving amendments to the Right of Way Patio By-law in advance of the 2023 patio season. The changes would make permanent many of the temporary amendments piloted in Ottawa in response to the pandemic, notably:
All Right of Way patios would be permitted to stay open until 2 am, with all patios also being subject to the City's Noise By-law.

A cap would be lifted on seating permits for Café Seating patios, to permit as many tables as space allows.

Reference would be added to the Tree Protection By-law to allow review of the potential impact a new patio might have on City trees.

Winter maintenance provisions would be added to ensure owners maintain their spaces free of snow and ice in winter and to prohibit using patio spaces for seasonal storage.

Notification for new patio applications would be circulated only to property owners within 30 metres, rather than 90 metres, to align with noise and zoning by-law notifications.
As part of this report, the Committee also recommend approving the Urban Design Guidelines for Commercial Patios, a resource that would aid in the review of commercial patio proposals on both private property and in the right-of-way. The guidelines provide design details on subjects such as furniture, partitions and vegetation.
Recommendations from this meeting will rise to Council on Wednesday, April 12.