April 14, 2023 newsletter from Rawlson King, City Councillor for Rideau-Rockcliffe.

Please note: You can click each image below to be directed to the relevant website for more information.
A Message from Councillor King
During the last term of Council, I successfully moved a motion for City staff to undertake a cost-benefit analysis of the Community Improvement Plan grants program, and supported a similar motion approved by City Council this term to initiate a staff review of the program. While I am amenable to the shifting trajectory of public debate concerning the use of these economic development tools, I believe that such shifts need to be undertaken at the policy level and not midway through grant programs that have already been approved by Council. 
As a consequence, I have consistently supported use of such tools to incentivize certainty of development, a position which I have consistently maintained and which was originally contained in my by-election platform. Community Improvement Plan grants are a limited economic development tool designed to increase property taxes as a result of redevelopment. It ultimately is a net economic gain for the City, with the dollars coming directly from the property owner, so such grants are not a direct cost to taxpayers. Under the Municipal Act, funds cannot be bonused or paid directly from the City treasury to businesses. Community improvement grants therefore work as self-financing, incentivized rebates, localized to specific geographic areas that have been designated economically disadvantaged areas or special economic zones, which are designed to forgo a portion of taxes from uplifted property value over a period of time. 
Grants therefore are not paid if nothing is built, and what is paid is effectively a discount from the commercial tax sub-class applicant themselves after construction is completed, meaning that the grant does not impact the residential tax sub-class at all. Grants ensure rapid development by assisting applicants to reduce construction costs.  If nothing is built, the property value does not increase and no additional dollars will be added to the City treasury. The tool is designed to allow certainty of development, creates property value uplift through increased assessed property values, expands and diversifies the property tax base, and creates both construction and long-term employment opportunities. Since such grants are derived completely from the applicant, they are not a direct cost to taxpayers and they do not negatively impact the City budget by drawing allocated dollars away from social services or infrastructure, which is actually prohibited by law. Indeed, increased tax revenue from accelerated projects ensure more dollars are available for City programming and that tax revenue sources are diversified through expanding the commercial tax sub-class.
While I absolutely understand concerns expressed about the program due to its optics and its impact upon free market competition, I have been consistent with my stated position on supporting incentives in economically challenged areas and special economic zones, especially when it is evident that such grants would provide assurance of rapid economic development. My position has been driven by a consistent and rational policy approach focused on incentivizing certainty of economic development in areas of underdevelopment, as well during times of economic uncertainty, and is not driven by electoral or ideological considerations. Over the next number of months, I will continue to work collaboratively with all Council colleagues to assess the overall efficacy of the program.
---
Your Councillor in the Community

I was honoured to be invited to attend a Community and Friendship Dinner on Parliament Hill on April 12  in my role as Council Liaison for the City's Anti-Racism and Ethnocultural Relations Initiatives to celebrate the holy month of Ramadan. The event was one of several organized by the Intercultural Dialogue Institute in partnership with the Ottawa Police Service.
---
Rideau-Rockcliffe News, Events and Engagement Opportunities
Post-storm recovery
We have now entered the second week of recovery efforts following last week's significant weather event. In just nine short days, 69 per cent of the 3,447 service requests that were received by Forestry Services have been addressed. To help put things into perspective:
368 service requests were submitted over the same period last year,

2,387 service requests received during the entire 2021/2022 winter season, and

3,755 service requests were sent over the nine days that followed the derecho in May 2022.
This week teams have begun wood chipping operations while the focus remains with ensuring that our pathways, curbsides, and parks are made safe and free from hazards.
Free Woodchips Available Starting April 18
Some of the debris that's been collected as part of recent recovery efforts has been turned into woodchips and will become available to residents – free of charge – starting Tuesday, April 18. While quantities last, woodchips will be available 24/7 at the following locations:
Recreation facilities

Navan Memorial Centre, 1295 Colonial Road

Nepean Sportsplex, 1701 Woodroffe Avenue (Minto sports field parking lot, between Minto field and Hamilton baseball diamond)

Sandy Hill Arena, 60 Mann Avenue (southwest corner, on the fenced-in side of the property)
Yards

2145 Roger Stevens Drive

4244 Rideau Valley Drive

1655 Maple Grove Road
Availability will be on a first come first serve basis. Please bring your own shovel, gloves, and container for easy transport and to abide by the safety instructions posted at each site.
Damage to private property due to fallen City-owned trees
If residents notice damage from the storm clean up on the ROW adjacent to their property, we ask that they please notify 3-1-1 so staff can attend. If there is damage to the private portion of the lawn, homeowners are asked to submit a claim through the city's claims process. If a City-owned tree is damaged or has caused damage due to the recent storm, it is important to report it to the City via 311 and to not touch the tree.
Dispose of yard waste and tree debris
Tie branches with twine and into bundles of less than 1

.2 m (4 ft.) in length and 60 cm (2 ft.) in width. Bundles or containers should weigh no more than 15 kg (33 lb.) and individual branches should be less than 10 cm (4 in.) in diameter.

 

If you have a fire hydrant on your property, please ensure to keep a 1.5 metres perimeter around the hydrant to maintain access for Ottawa Fire Services in the event of an emergency. 
Until end of day Friday, April 21

, larger tree cuttings, branches and brush may be brought to the City's 

Trail Waste Facility

 free of charge. Standard rates will apply starting Saturday, April 22.

Otherwise, these may wait, curbside, for chipping or collection by specialized City and contracted crews. There is no need to call 3-1-1 at this time. 
Those in urgent need to dispose of food waste have until end of day Saturday, April 15

 to use the large bin located at the 

Trail Waste Facility

 available at no extra charge. Otherwise, 

residents can

 remove all packaging from food waste and leverage the weekly curbside 

green bin

 collection

.
The City is continuing its commitment to re-establishing the lost tree canopy by re-planting lost City trees. Residents who would like a tree replacement on the City's right of way are encouraged to request it through the Trees in Trust program. Staff will continue to assess the loss of trees in City-owned parks before planning for their replacement.
Pathway Etiquette
The snow is melting and the bike lanes and pathways are already seeing more traffic. There are kids learning to ride a bike for the very first time, people walking with their dogs, and of course the geese. The geese are back. When driving on crowded roads, we often have to slow down according to traffic conditions, or check to make sure it's safe to pass a slower moving vehicle. The same principle applies to our pathways. As the fastest users of our active transportation network, it's up to cyclists to slow down as needed, and make sure it's safe to pass before overtaking. Other pathway users can help by being predictable, using short leashes on dogs, staying to the right, and keeping an ear out for passing cyclists (ding ding!). By making room for each other, we can all enjoy our shared public space.
Shop Local at the Farm Store - in person and online
The Farm Store will be open Saturday 9 am to noon at 1805 Gaspe Avenue. For details, please click here.
Public Transit Use Survey - Ward 13, 12 and 14


I want to hear about your experiences with transit in Ward 13. In partnership with Somerset Councillor Ariel Troster and Rideau-Vanier Stéphanie Plante, we have launched a survey on transit use. How do you get where you need to go? Live and/or work in Rideau-Rockcliffe, Rideau-Vanier or Somerset wards? Please fill out this survey before April 23.
Free Tax Clinic hosted by Ottawa Vanier MP Mona Fortier and Ottawa Vanier MPP Lucille Collard - April 22
The next clinic will take place April 22, from 9 am to 1 pm, at 237 Montreal Road.  The clinic is open to all low-income residents of Ottawa-Vanier. Please call 613-744-4484 to reserve an appointment.
Household Hazardous Waste Drop-off Event - April 23
Every year, the City of Ottawa hosts drop-off events to ensure that resident's hazardous waste is safely collected, transported, and appropriately recycled or disposed. This helps to protect the environment and decreases the risk of toxic materials ending up in our collection vehicles or landfills. The first drop-off event for 2023 will take place at RCGT Stadium at 300 Coventry Road on Sunday, April 23, from 8 am to 4 pm. 
For the most up-to-date schedule, and to see the list of acceptable items, please click here.
Rideau Winter Trail Fundraising Trivia Night - April 24
Support the Rideau Winter Trail by attending their upcoming Trivia Night on April 24 at 6:30 pm at The Bridge Public house, located at the Rideau Sports Centre at 1 Donald Street. Tickets are $25 per person. All proceeds raised during their event will support the Rideau Winter Trail. Details: www.facebook.com/rideauwintertrail
Overbrook Community Association Seeking New Board Members - AGM is April 27
Are you looking to make a meaningful impact on the community you call home? Overbrook Community Association (OCA) is recruiting for its volunteer Board of Directors for 2023. We are looking for community-oriented volunteers to take on the role of managing the Association, including maintaining finances, and managing volunteers, communications and the legal standing of the Association. Whether you're an experienced leader, a creative problem-solver, or simply passionate about making a difference, we welcome your contribution. As a member of our board, you'll have the opportunity to take an active role in decision-making that directly affects the belonging, engagement, and well-being of our residents and the services and infrastructures impacting our neighbourhood. The commitment is approximately 5-10 hours a month and the Board meets at least 8 times a year.
Why volunteer with OCA:
Overbrook is growing and OCA is well-positioned to advocate for our community. OCA has relationships with all levels of decision-makers and community partners. We strive to help residents advance initiatives for neighbourhood improvement, and to access grants and partners for projects big and small. We are looking for people with interest in managing and guiding volunteers to work with our community partners on initiatives that bring neighbours together, build community and advance equity and diversity in our area.
Fill in this form to tell us you want to join the Board! To be elected to the Board, you must attend the AGM on April 27 at 7 pm (virtually). Please click here to register and receive the Zoom meeting link:
Free Income Tax Clinic - until April 28
The Rideau-Rockcliffe Community Resource Centre is hosting a free income tax clinic for residents with a K1K (and some K1M and K1G) postal code until April 28, 2023. To register and for details, please visit www.crcrr.org/incometax2022.
Stanley Avenue Watermain Replacement & Resurfacing Project - late April/early May
Construction will be starting in late April/early May 2023. This work is being conducted to replace the watermain infrastructure and full depth replacement of the road.
What: The Stanley Avenue Watermain Renewal and Resurfacing project will involve the replacement of watermains, water service lines, roadway, sidewalk, and streetscape/landscape treatments within the City's right of ways.
Street improvements will include speed humps, AODA upgrades (TWSI and depressions), sidewalk widening, and new signage as required for the improvements.
Why: The existing watermain and road infrastructure is aging and needs to be replaced.
When: The construction will commence in late April/ early May 2023, subject to weather conditions, and will run through to the end of 2023.
Where: Construction activities will occur along Stanley Avenue from Sussex Drive to Union Street, with some work occurring between Union Street and Queen Victoria Street.
Who: The City of Ottawa has retained contractor, Louis W. Bray Construction Ltd., to complete the work.
For details, please click here.
Rockcliffe Park Spring Book Drive - April 30
Rockcliffe Park Spring Book Sale volunteers will host their first Book Drive of 2023 on April 30 from 11 am to 1 pm. Please start preparing those gently used English and French books. Remember to place your books in wine-sized boxes. On April 30, put the boxes in your trunk and head over to the Rockcliffe Park Library/Community Centre parking lot, located at 380 Springfield Road. Enter from Springfield and volunteers will guide you. No need to exit your car. Just pop open the trunk and volunteers will remove your books. All proceeds raised during the Spring Book Sale will support the library. For details or to enquire, please click here.
Free Dental Screenings at the Rideau Community Hub - May 12 and June 9
Ottawa Public Health hosts free dental screenings at its Neighbourhood Wellness Hubs. Drop by the Rideau Community Hub in Room 101 at 815 St. Laurent Blvd. on May 12 and June 9, between 10:30 am and 4:14 pm. Looking for a dentist? Need help accessing dental care? Interested in a free dental screening at Neighbourhood Health and Wellness Hubs? Click here for more information or call the Ottawa Public Health Dental Information Line at 613-580-2424 ext. 23510.
Manor Park Community Council Spring Sports for Kids - May 13
The Manor Park Community Council hosts its Spring Sports for Kids! Sessions will start with skills & drills designed to meet your child's age and skill level, all while promoting physical literacy. Skills and drills will transition quickly into games, games, games!  All MPCC sports programs for children are proudly co-ed and welcome players from all neighbourhoods, abilities, and skill levels. We hope you'll get active with us outside this spring in Manor Park.
Starting May 13, 2023; 100 Thornwood Road
Visit manorpark.ca for details and to register.
---
City of Ottawa News, Events, Meetings and Engagement Opportunities
Covid-19 Booster recommended for high-risk individuals this spring
Based on guidance from Health Canada and the National Advisory Committee on Immunization, Ontario's Chief Medical Officer of Health is recommending high-risk individuals receive their next COVID-19 booster dose this spring. For details, please click here.
Monitoring will continue and additional info will be provided when available. For details, please click here. City crews will continue to monitor areas for response as required. If your property is at risk, call 3-1-1. If it is an emergency situation, call 9-1-1.

Street Sweeping Operations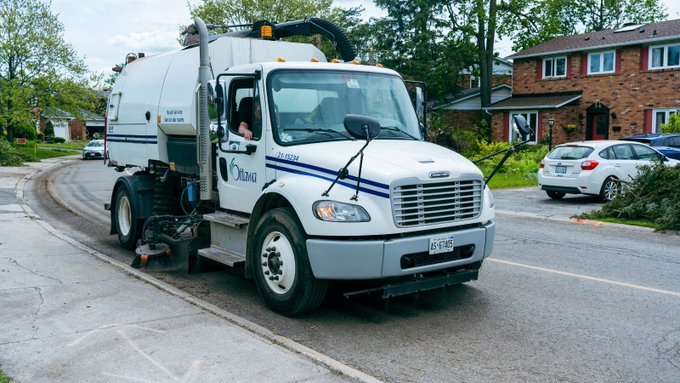 Street sweeping operations across the City of Ottawa, including Rideau-Rockcliffe Ward 13, are underway. For details, including street parking impacts, please click here.
Ottawa Public Health - Respiratory Virus Dashboard - Updated Weekly
Visit OPH's Respiratory Virus Dashboard for the latest local data on COVID-19, flu and RSV activity in Ottawa. The dashboard is updated every Wednesday afternoon: OttawaPublicHealth.ca/VirusReport
Children and youth in Ottawa can "Play Free" this year - Starting April 15
Beginning April 15, children and youth of Ottawa can participate in "Play Free" – a lineup of free drop-in activities that includes gym sports, swimming, museums and skating.
Earlier this year, Ottawa City Council approved an initiative to offer a selection free drop-in programming for children and youth, aged 17 and under, in order to make recreation and cultural programming more affordable and accessible for everyone. With the introduction of these free programs, more children and youth can participate in City programs and realize the associated health and social benefits of these activities. Please click here for details.
Better Homes Ottawa Loan Program -
Info session & Homeowner panel - April 18
The Better Homes Ottawa Loan Program provides Ottawa homeowners financing to undertake energy efficiency and carbon-reducing home improvements. Come learn about how the program works and hear from other property owners who have gone through the program about their retrofit experience. This session takes place April 18 from 6:30 to 8 pm on Zoom. Register now
Become Rain Ready - Virtual information session on Rain Ready Ottawa and Rebates - April 19
At this session you'll learn about the problems associated with rain fall and stormwater in Ottawa, and how you can be prepared for it. You'll get expert advice from fusion certified landscapers on the kind of changes you can make to your property to better protect against flooding and erosion, while at same time making better use of rain where it falls. Plus, learn how you may qualify for up to $5,000 in rebates to install rain ready projects such as a rain garden, soakaway pit, permeable pavement, or relocate your downspout. The session takes place April 19 from 6:30 to 7:30 pm on Zoom. Register now
Learn how to reduce food waste - April 25
Did you know that reducing food waste is as important for the planet as lowering our meat consumption? It's time to move away from the limp vegetables and forgotten leftovers at the bottom of your fridge, they're a thing from the past! From your grocery list to your storing and cooking habits, discover all the easy tricks you can use to waste as little as possible. 

This participatory workshop gives everyone the opportunity to share their positive successes, while offering the keys to understanding how to reduce food waste, one step at a time. The City's Climate Change and Resiliency Team hosts this workshop in collaboration with Public Works. This session takes place 

April 25 from 6:30 to 7:45 pm on Zoom. Click here to register.
Nominations are now being accepted for the City of Ottawa's annual Bruce Timmermans Cycling Awards - Deadline to nominate is April 28
Do you know someone who deserves recognition for making a difference for cycling in our city? The City of Ottawa is once again accepting nominations for the Bruce Timmermans cycling awards! Two awards will be presented in May to recognize outstanding contributions to cycling in Ottawa. 
E
nviroCentre is once again coordinating the 2022 awards. All nominations are treated as confidential. The deadline for submissions is April 28, 2023. 
Click here
 to nominate an individual or organization you believe deserves recognition! 
You can find out more about Bruce Timmermans, the awards named for him, and past winners 
here
Customer satisfaction surveys – Share your feedback by April 30
OC Transpo is participating in two international customer satisfaction surveys provided by The Community of Metros (COMET) and the International Bus Benchmarking Group (IBBG). These surveys are conducted every year by transit agencies around the world. The results provide information that helps transit agencies improve their services. The surveys include questions about reliability, security, ease of use and other service factors. Each takes approximately five minutes to complete. All responses remain anonymous. You are welcome to answer both the train and bus surveys. The surveys will be available until April 30. Please click here for details and for the surveys.
Registration for the City's Cleaning the Capital Campaign - Open until May 31
This is the 30th year of the Cleaning The Capital program! Did you know? Since its start, more than1.4 million volunteers have participated in nearly 30,000 cleanup projects throughout Ottawa and removed more than 1 million kilograms of waste from our public spaces. Want to participate?
City of Ottawa Wildlife Strategy Review - Survey open until June 30
The City's Wildlife Strategy was originally developed in response to human-wildlife conflicts in the rural area of Ottawa, and includes, among other issues, specific information and recommendations on managing human-coyote interactions in both rural and urban settings. The Wildlife Strategy was approved by City Council in late 2013 and has not been reviewed or updated since that time. Human-coyote interactions in urban and suburban settings have continued and now have a higher profile than in 2013. Given that the Wildlife Strategy has not been fully implemented and has been in place for a decade, the City is reviewing the strategy while specifically examining options to address issues with coyotes. The recommended review would determine whether updates or other changes are required to the Wildlife Strategy. Residents are invited to review the existing Wildlife Strategy and provide feedback on its recommendations and implementation. The public is also asked to complete a short survey to help provide insight on the City's current wildlife practices. The survey will remain open until June 30, 2023. For more details, please visit Engage Ottawa.
Consultation on developing a new Zoning By-law is now open with the release of seven Discussion Papers and corresponding surveys on the project's 
engagement page
. These papers address key issues relating to the implementation of the new 
Offi
c
ial Plan
. The release of these discussion papers is the first chance for the public to consult on the implementation of the recently approved new Official plan through the development of a new Ottawa Zoning By-law. The City welcomes feedback and input from members of the public and will summarize the received responses in an "As We Heard It" report later this year. Consultations on the discussion papers will inform the development of the first draft of the new Zoning By-law. We encourage members of the public to review the discussion papers and share their thoughts and ideas, as their input will play a critical role in shaping the future of our city. 

The surveys close Friday, July 28.