August 4, 2023 newsletter from Rawlson King, City Councillor for Rideau-Rockcliffe.
A Message from Councillor King
OC Transpo has begun work on the restraining rails located along the Confederation Line, a key requirement before LRT service can resume.
The transit agency received a draft copy of a risk assessment from RTG that contained enough information to allow work to commence. Restraining rails located at several curves along the track, which are designed to prevent derailments, must be adjusted by a matter of millimetres to stop them from contacting the light rail vehicle wheels during normal operation. OC Transpo expects the restraining rail repairs will take 10 days, due to a labour-intensive adjustment process. 
OC Transpo therefore has stated that it is confident that based upon the repair schedule, LRT service will resume on August 14.
While the adjustments are ongoing, RTG will concurrently be in the process of replacing the wheel hub assemblies across its entire train fleet. As of August 3, 18 vehicles were ready for operation.
In the meantime, OC Transpo will continue to run replacement bus (R1) service beginning weekday mornings at 5 am from Blair Station to Tunney's Pasture Station, with shuttles operating to Lees and Cyrville stations. R1 Express service operates weekdays from 6:30 to 8:30 am from Blair to downtown and from 3 to 6 pm from downtown to Blair. R1 Para service provides additional transit options for Para Transpo customers and customers who may require accessible service between Tunney's Pasture and Blair stations. Customers can book this service the same day, speak to OC Transpo staff at stations to request the service, or call 613-560-5000 for additional supports. OC Transpo will continue to monitor and adjust the service, where possible.
Social media updates continue to be shared and customers are encouraged to check OCTranspo.com for the latest information regarding their trip. 
---
Your Councillor in the Community
It was a pleasure to attend the flag-raising ceremony today, August 4, in honour of Jamaica's 61st anniversary of independence at City Hall with Mayor Mark Sutcliffe.
I had a great night at the Ottawa Baseball Stadium in Overbrook on August 2 with Ottawa Titans Field of Dreams Foundation President Jacques Shore and Titans mascot Cappy.
I was pleased to witness the raising of the Pan-African flag at City Hall on August 1, which coincided with Mayor Mark Sutcliffe proclaiming Emancipation Day in the City of Ottawa. Emancipation Day commemorates the abolition of slavery in the British Empire, including Canada. It is also a time to reflect on the history of slavery, to remember the struggles and contributions of Black Canadians and to promote equality. You can learn more here.
I took in the debut of the Deanna Bowen installation, "The Black Canadians (After Cooke)," on Emancipation Day at the National Gallery of Canada. In this major work - among the largest the Gallery has ever installed - Deanna expands her family history into a broader examination of discrimination in North America over the centuries. The exhibit will remain at the Gallery until Fall 2024. Learn more at this link.
I was pleased to join Councillors Matthew Luloff and Catherine Kitts and our colleagues with the Ottawa Public Library Board on July 26 at the North Gloucester library branch to discuss the Ottawa Public Library's strategic plan update.
---
Rideau-Rockcliffe News, Events and Engagement Opportunities
Sentry Duties at Rideau Hall
Members of the Ceremonial Guard perform daily sentry duties at Rideau Hall, which is the official residence and workplace of the Governor General of Canada. This year, the sentries change every hour on the hour from 9 am to 5 pm daily until late August. Listen for the pipers as they lead the troops down the driveway! For details, please click here. 
Friday Family Fun - Giant Lego - August 4
Join the Vanier BIA this evening, August 4, from 6 to 8 pm, for Family Fun Night! This week's theme is Giant Lego! Come to the Vanier HUB on Marier Ave at Montreal Road where the community connects and help us connect these blocks for LEGO night! The fun will be followed by The Lego Movie at sunset.
Choose your preferred mural design for 1805 Gaspé in Manor Park - by August 8
The Manor Park Community Council is in the planning process for the installation of a new public mural at 1805 Gaspé Ave in Manor Park. The development of this new mural will be led by local, professional mural artist, Emilie Darlington, with funding from Crime Prevention Ottawa as part of the Paint it Up Youth Engagement Mural Project. The design of the mural will draw on inspiration from the surrounding landscape and community. The design options were created by Emilie in partnership with a number of youth from the surrounding community. A recognition event for the completed mural and the work of the youth contributors will be held in September on location. We will be welcoming the community to attend for the exciting unveiling. We are now asking the community to PLEASE VOTE for your favourite design! Please ensure you vote on your favourite design before Tuesday, August 8, 2023 at 5 pm. For the voting link, please click here. Limit of one vote per person.
Shakespeare in the Park performances 
The Company of Fools presents a Hamlet that's bigger and better than ever. For more information and for the full schedule, please visit fools.ca/hamlet.
Shows in vicinity to Rideau-Rockcliffe:
August 7, 14 and 21 at 7 pm in Strathcona Park in Sandy Hill
OC Transpo Detour: North River Road closure until August 7
Routes: 14, 18
Until Monday, August 7 at 6 pm, Routes 14 St-Laurent and 18 St-Laurent are being detoured due to the closure of North River Road to southbound traffic at Montreal Road for the Montreal Road Revitalization Project. Please allow extra time for your travels. For more details about this detour, the detour map and for the affected stops, please click here.
Hemlock Pumping Station Upgrades - mid to late July
Construction to complete upgrades to the existing Hemlock Pumping Station, located at 751 Hillsdale Road in Rockcliffe Park, will be starting soon. Mobilization at the site is expected for mid to late July.

What: This project will upgrade and update features at the Hemlock Pumping Station by installing a new bypass chamber outside of the station to enhance sewage and water flows, replacing electrical components inside the station and rehabilitating concrete, ladders, gratings and gates outside the station.

Why: The upgrade to the station is required to renew components of the station that have reached end of life and require replacement.

When: Construction is expected to begin in July 2023 and completion is anticipated in summer 2024.
Where: Hemlock Pumping Station located at 751 Hillsdale Road in Rockcliffe Park. All proposed upgrades will be installed within the City right of way.

Who: The City of Ottawa has retained the contractor, Thomas Fuller Construction, to complete the work.
Free Dental Screenings at the Rideau Community Hub - August 11 & 25
Ottawa Public Health is offering free dental screenings at its Neighbourhood Health and Wellness Hubs across Ottawa, including at the Rideau Community Hub at 815 St. Laurent Boulevard. The next screenings are August 11 and 25, from 10:30 am to 12:30 pm and from 1:30 to 4 pm. All ages are welcome. No appointment is needed. First-come, first-served. For details, please click here. 
Overbrook Day - August 12
Overbrook residents are invited to celebrate Overbrook Day on Saturday, August 12 from 11 am to 2 pm in Overbrook Park, 33 Quill Street. There will be games, fun and food!
Ottawa-Vanier Community BBQ - August 12
Join Ottawa-Vanier MP Mona Fortier and her team for their Ottawa-Vanier Community BBQ on August 12 from 11:30 am to 2:30 pm at the Vanier Richelieu Community Center, 300 avenue des Pères Blanc.


Vanier BIA - Live music Wednesday evenings
Spend your evening with the Vanier BIA moving and grooving to music presented by local artists this summer! The St. Charles Market will be hosting Akoustik on the following Wednesdays: August 16, August 30, and September 13. Bring your loved ones and join the BIA for this free event from 7 to 9 pm at 135 Barrette Street.
Refugee Stories in support of Carty House - at the St. Laurent Shopping Centre - Starting August 16
Each semester, DeSerres Art Store, at St. Laurent Shopping Centre, offers Ottawa-Carleton District School Board (OCDSB) high school co-op students a chance to work with a professional artist to learn develop their art skills, as well as relate to the wider community. Carty House, the only transitional home for female refugees in Ottawa, was selected as their community partner for their summer co-op program. Most of us will never have to fee our home country in search of safety. Most of us will never have to rebuild our lives from scratch. These women did. Carty House current and past residents will be sharing their experiences. The students will be using 100-year-old doors to bring their stories to life through art. They are very excited to create, to learn, to share. PASSAGES - Doors to Refugee Stories will be on display in Centre Court at the St. Laurent Shopping Centre beginning Wednesday, August 16. For more information on this project or Carty House, please visit CartyHouse.org.
Summer Corn Roast - August 19
Ottawa-Vanier MPP Lucille Collard hosts a Summer Corn Roast on August 19, from 11 am to 3 pm at Optimist Park, 43 Cécile Street in Vanier. Enjoy fresh corn on the cob and take part in a variety of family-friendly activities through the day, including face painting, yoga, live music and local artisans and artists. Click here for details. 
Road Rehabilitation Works in Rideau-Rockcliffe 
As part of the City of Ottawa's annual infrastructure maintenance cycle, road resurfacing is taking place in the following locations.
The roads will remain open to traffic with lane closures expected. Traffic control personnel will direct traffic. The City has retained contractor R.W. Tomlinson to complete the work.
---
City of Ottawa News, Events, Meetings and Engagement Opportunities
Road Works and Traffic Updates
Brief traffic delays for motorcycle ride - August 5
A motorcycle rally is scheduled to do a brief motorcycle tour of the National War Memorial around the noon hour on Saturday, August 5. The Ottawa Police Service will monitor public safety and will be present to ensure the safe passage of motorcycles through the downtown core. The motorcycle ride will travel eastbound on Highway 417 and will briefly impact traffic in the area of Elgin Street and Laurier Avenue before departing the city via Highway 417. For details, please click here.
Highway 417 will close August 10 to 14 for bridge replacement
The Ministry of Transportation Ontario will be closing the following sections of Highway 417 for the rapid bridge replacement over Percy Street, starting at 8 pm on Thursday, August 10 until around 6 am on Monday, August 14. For more information, please click here.
Riverside Drive southbound lane reductions
A series of weekend closures will impact one of two southbound lanes on Riverside Drive at Terminal Avenue from August 19 at 9 am until August 21 at 3 pm and from August 25 at 9 am until August 28 at 3 pm. Traffic from Highway 417 heading south on Riverside towards Hurdman Station will experience delays. Click here for more information. 


Colonel By Day Schedule Changes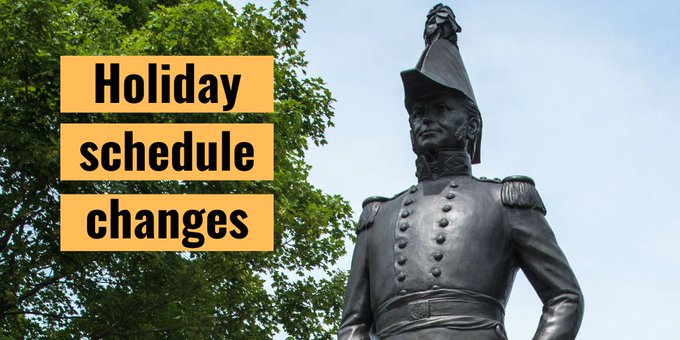 The City of Ottawa would like to remind residents of the schedule changes and impacts to City services for the Colonel By Day holiday on Monday, August 7. Click here for details.
Register soon for fall recreation and culture programs - August 14 and 16
You can now browse register.ottawa.ca to start planning your fall activities and PA days for the 2023-2024 school year. Registration opens for:
Fall swimming lessons on Monday, August 14 at 9 pm
All other fall activities and PA days on Wednesday, August 16 at 9 pm
New for September, parents can book single days for after school programs. And for children who need a little extra help, the City's Inclusive Recreation team provides integration support. Visit Inclusive Recreation to learn more about Shared Care 1:1 support. For details, please click here. 
Mailout to residents from Service line Warranties of Canada
Service Line Warranties of Canada will be mailing letters in the coming weeks to provide City of Ottawa homeowners with details about voluntary and optional protection plans to assist with costs of possible future water and sewer/septic repairs. For more information about the Service Line Warranties program, visit ottawa.ca/slwp and check out the frequently asked questions to see if this program is right for you. More details are also available at this link.
Volunteer for City Committees by August 24
Looking for a great way to provide your expertise, knowledge and lived experience? Become a volunteer to serve as a public member on the City of Ottawa's French Language Services Advisory Committee and Planning Advisory Committee. Application deadline: August 24. For details, please click here.
Black Youth Entrepreneur and Innovation Program - Starts Sept. 9. Application deadline is August 25.
Are you a Black youth age 18 - 30 with a good business idea? Have you been trying to get it started? Would you benefit from a quick and efficient learning program, networking with like-minded peers, and accessing business funding opportunities? If so, you should apply for Jaku Konbit's Black Youth Entrepreneurship and Innovation (BYEI) Program! Through 12 informative workshops over six weeks to a rewarding pitch competition, BYEI is helping Ottawa's Black youth bring business dreams to life. It can do the same for you! For details and to register, please click here.
Upcoming festivals and fun around the Capital
Northern Lights Sound and Light Show on Parliament Hill - Thursday to Monday until Sept. 4. Details here.
Buskerfest is coming to Sparks Street August 4 to 6 from 11 am to 10 pm and August 7 from 11 am to the grand finale at 5 pm. Details: Sparks Street BIA.
The Great India Festival takes place August 10 to 13 at Ottawa City Hall. Details: www.tgifottawa.ca
Halal Ribfest at Lansdowne Park - August 11 to 13. This is North America's largest Halal food event, plus entertainment, shopping and activities. Details here.
Ottawa Greek Fest - August 11-13, 15, 18-20 at 1315 Prince of Wales Drive. Free admission. Click here for the schedule.
Capital Ukrainian Festival - August 19 at the Ukrainian Banquet Hall, 1000 Byron Avenue, and August 20 at Lansdowne Park. Details: capitalukrainianfestival.com
Capital Pride Festival - August 19 to 27. Details: capitalpride.ca/2023-festival
Capital Pride Parade - August 27, starting at 1 pm in Centretown. Click here for details.
Palestinian Festival Ottawa - August 25 to 27 at Marion Dewar Park near City Hall. Details: palestinianfestival.ca
ByWard Market - Upcoming Events and Showcases
Salsa Sundays - August 6, 13, 20 and 27 from 3 to 5 pm at the George Street Plaza. Admission is free. No experience or partner necessary.
OOH Music, Arts & Streetware Festival - August 12 and 13 from 12 to 8 pm on York Street at the OTTAWA sign. Free admission.
Ottawa Street Fashion III - August 13 at 3 pm at the William Street Plaza. 
Summer Showcase featuring more than 70 local artisans - August 19 from 11 am to 6 pm on York Street.
ByWard Night Market - August 26 at 8 pm - William Street Pedestrian Way
For details, please click here.
Odyssey Theatre presents The Miser! until August 20
Odyssey Theatre presents Moliere's The Miser! for its 37th season of Theatre Under the Stars at Strathcona Park. Catch it Tuesday through Sunday at 8 pm or a Sunday matinee at 2 pm until August 20. Audience members will be encouraged to wear masks. This will be a requirement for those sitting in front of the bleachers and closer to the stage. Tickets can be purchased online at this link or at the park an hour before the show starts. 
City Sounds Live Summer Sounds Showcase
Enjoy 20 free outdoor concerts until Sept. 22. Details: ottawamic.com/citysoundslive
Performances in and near Rideau-Rockcliffe Ward:
Sept. 14 from 6 to 8 pm at The Hub, located on Marier Avenue at Montreal Road in Vanier. 
What's Happening at City Hall & Lansdowne Park
Enjoy Salsa dancing for free at the Rink of Dreams at City Hall on Wednesday evenings until August 30. Workshops begin at 6:30 pm/ Social dancing to Latin DJs takes place from 8 to 11 pm.
Latin at Lansdowne: Free outdoor classes on Saturdays at the Aberdeen Plaza until Saturday, August 26. Beginner- or improver-level dance lessons begin at 6 pm, and social dancing is from 8 to 11 pm. Solo and partnered-style dancing workshops.
Full Moon Yoga on the Great Lawn at Lansdowne - Free! August 1, from 8:30 to 9:30 pm. And August 30 from 8 to 9 pm. For details, please click here.
Lansdowne Summer Arts Showcase - Free musical performances at Lansdowne Park, every Thursday from 6:30 to 8 pm until August 31. Bring your lawn chair. 
Movies in the Park at Lansdowne Park - every Thursday until August 31 starting at sundown. 


Thursday, August 10: A Knight's Tale

Thursday, August 17: Coda: Life with Music

Thursday, August 24: The Mummy

Thursday, August 31: Jurassic World
For details and for information about other activities this summer at City Hall and Lansdowne, please click here.
The Order of Ottawa and Brian Kilrea Award for Excellence in Coaching - Nomination Period Open
The City is accepting nominations for the 2023 Order of Ottawa and the Brian Kilrea Award for Excellence in Coaching. You can complete nominations for both awards either online or by downloading a nomination form from Ottawa.ca/orderofottawa. The submission deadline is Friday, Sept. 8 at 11:59 pm. Nominations will be considered every year for five consecutive years from the date of submission.
Upcoming Deadlines for City of Ottawa Cultural Funding Programs
1. Cultural Facilities Fund, Major Capital Projects - Sept. 15 at 11:59 pm - Details here.
2. Capacity building program - Sept. 20 at 4 pm - Details here.
3. Cultural facilities fund (minor projects) - Sept. 27 at 4 pm - Details here.
4. Equity and inclusion in the arts fund - Seed award:  Microgrants for individuals - Oct. 4 at 4 pm. Details here.
5. Heritage funding program - Oct. 24 at 4 pm - Details here.
---
City Council and Committee News
For meeting agendas, please visit ottawa.ca/agendas or call 3-1-1.
For information on how to participate in individual meetings, please consult the specific meeting's agenda at ottawa.ca/agendas.
To watch the meetings on Youtube, please click here.
Upcoming meetings:
Planning and Housing Committee - August 16 at 9:30 am
City Council - August 23 at 10 am
Ottawa Police Services Board - August 25 at 3 pm
Light Rail Sub-Committee - August 29 at 9:30 am
For recent Council and Committee news, please click here.