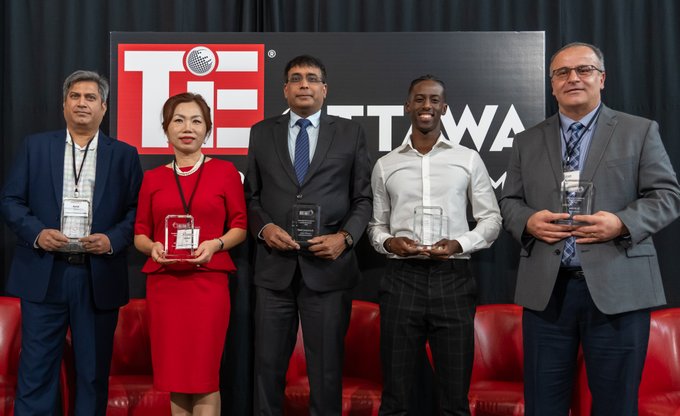 The City of Ottawa has recognized five local entrepreneurs for their significant contributions to Ottawa's economy. The Immigrant Entrepreneur Awards were presented during TiE (The Indus Entrepreneur) Ottawa's TiE Entrepreneurship Summit.
The 2023 Immigrant Entrepreneur Award recipients are:
Basavaraj Halli – CEO and Co-Founder, farmNXT, GoFor Delivers & ezSCM.ai
Dr. Helen Tang – Founder & CEO, Helen Tang Real Estate
Amit Chawla – Founder & President, Capital Home Medical Equipment
Ty Arslan – President, Auspice Safety
The Youth Immigrant Entrepreneur Award recipient is:
Drayton Mulindabigwi Jabo – Chairman/CEO, The Novas Group
For more information about each award recipient, please visit ottawa.ca/IEAwards.
The Immigrant Entrepreneur Awards recognize the success and contributions of individuals who were born outside of Canada and now make Ottawa their home. Since the awards began in 2012, 45 local entrepreneurs have been recognized by the City of Ottawa..
TiE Canada(link is external) is the largest network of entrepreneurs and professionals in the world, dedicated to fostering entrepreneurship. TiE Ottawa fosters entrepreneurship in the National Capital Region by supporting budding entrepreneurs with mentorship, networking, education and global connectivity.