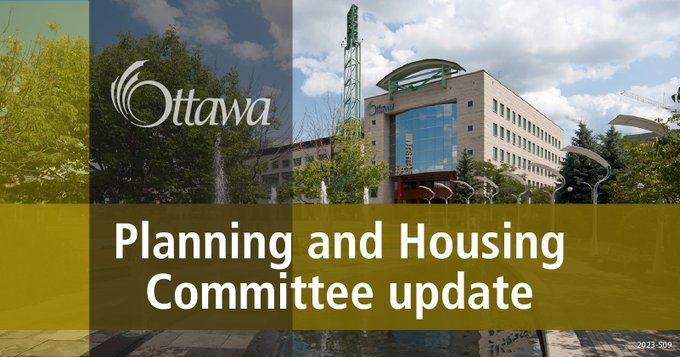 On Nov. 15, the Planning and Housing Committee today approved Official Plan and zoning amendments, along with a heritage permit, to facilitate a 289-unit, 27-storey building along Kent Street(link is external). The application was submitted under the Landmark Buildings policies in the Centretown Secondary Plan, which can permit additional height for buildings that are deemed to make significant and exceptional contributions to the public realm and the overall identity of Centretown.
As part of the proposal, a five-storey heritage property at Kent and Gilmour streets, known as Legion House(link is external), would be dismantled and rebuilt on the same site. The reconstructed building would be integrated with the new building, and the ground floor of Legion House would have an institutional or community use. Landscaped privately-owned public space is proposed to the north, where two retained MacLaren Street heritage buildings would be integrated with the overall landscaping and site design.
The site's parent zoning would change to permit a Landmark Building, prohibit surface parking, increase required bike parking and specify permitted heights and setbacks. The applicant would still need to submit a site plan application to ensure they deliver the public space, use sustainable building methods, have the design reviewed by a special review panel and retain the heritage resources, in line with Landmark Buildings policies.
The Committee approved several other applications with heritage components, including a 31-unit, five-storey apartment building on McLeod Street(link is external). Two non-contributing homes within the Centretown Heritage Conservation District(link is external) would be demolished and the new building would be limited to a two-and-a-half-storey height at the street, to be consistent with the surrounding neighbourhood. Taller portions would be located at the rear of the site, where permitted height would increase from 14.5 to 19 metres.
In the ByWard Market, the Committee approved applications to facilitate a 16-storey, 106-room addition to the Andaz hotel on York Street(link is external). The addition is within the ByWard Market Heritage Conservation District and an existing two-storey(link is external), red-brick building would be demolished. The new building would have a two-storey, red brick portion along York Street to echo the building being demolished.
The Committee approved Official Plan and zoning amendments to permit a residential building up to 24 storeys on Arlington Avenue(link is external), immediately north of Highway 417. The building would add 294 dwellings in a highly walkable neighbourhood. The development would incorporate an existing church that is listed on Ottawa's Heritage Register as a non-designated property. The church's rectory could be demolished to ensure meaningful incorporation of the church with the new building. The applications would increase permitted height from 15 to 78 metres on a property that is on the edge of a low-rise neighbourhood but located between two downtown Secondary Plan areas where taller building heights are contemplated.
Additional height was also approved to facilitate two buildings with a total of 278 dwellings southwest of Carling and Bronson avenues(link is external). A nine-storey and a 22-storey building are planned, with 600 square metres of ground-floor commercial space. The approved application would increase permitted height from about 12 to 22 storeys, in line with Official Plan policies for Mainstreet Corridors like this, where heights up to 40 storeys are envisioned.
The Committee also endorsed Official Plan and zoning amendments that would facilitate a 1,006-dwelling, two-tower development northeast of Richmond Road and New Orchard Avenue(link is external). The applicant appealed an earlier three-tower proposal to the Ontario Land Tribunal and endorsement of the revised application would settle the matter. The revised proposal includes park space and ground-floor commercial space. It also reduces the building's base from six to three storeys and increases setbacks. The applicant would agree to provide 15 affordable units in each tower for 15 years. The site is 100 metres from New Orchard Station and the amendment would increase permitted height from 20 to 40 storeys, consistent with Official Plan guidance to locate the tallest buildings and highest densities close to transit. The zoning amendment would increase permitted height in line with the Official Plan amendment to permit the proposed 38-storey and 40-storey towers.
If Council approves, the land-use permissions that the Committee recommended today will help put applicants in a position to build 2,027 new dwellings in Ottawa. To help address the housing challenge, Council committed to providing home builders enough opportunities to build 151,000 quality market homes by 2031. Visit ottawa.ca/residentialdwellings for a graphic showing quarterly progress towards Ottawa's housing pledge targets.
Recommendations from this meeting will rise to Council on Wednesday, November 22.