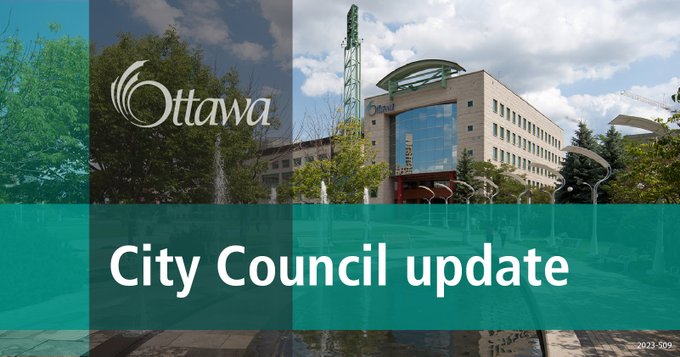 Council today approved the 2024 budget directions, timeline and consultation process(link is external), with an overall tax increase of up to 2.5 per cent, made up of various levies.
The draft operating and capital budget will be tabled at City Council on Wednesday, November 8. Each Standing Committee will meet in November and early December to consider their portions of Draft Budget 2024. Residents, businesses and community groups will be able to take part as public delegations, and to participate in any Councillor-led public budget consultations. Council will consider and adopt the final budget on Wednesday, December 6.
Council approved acquiring 1245 Kilborn Place(link is external) to be developed as a supportive housing community hub that will provide housing options for individuals in need. The facility will help reduce shelter pressure and free up other community spaces that are being used as physical distancing centres. Extensive community consultation will take place to inform the long-term use of the site.
Council approved a  Term of Council capital spending plan strategy for more than $110 million for affordable housing(link is external) through partnerships with housing providers, stabilizing projects under development and acquiring 1245 Kilborn Place for use as a supportive housing hub. The Term of Council spending plan will help fund new, permanent affordable housing units – bringing the total number of units in Ottawa either under development or in pre-development to almost 1,700. The spending plan includes funding commitments from all levels of government. Some highlights include:
$32.4 million to Ottawa Community Housing Corporation to support a 273-unit affordable housing project located at 818 Gladstone Avenue
$24.1 million in provincial funding to Ottawa Community Housing Corporation to support construction of 271 affordable units at 715 Mikinak Road
$21.2 million in federal and provincial funding to Ottawa Salus Corporation to build 54 supportive housing units at 56 Capilano Drive
$21.1 million to acquire 1245 Kilborn Place which will be developed as supportive housing, to help transition people experiencing homelessness out of the shelter system and into permanent housing
$15 million to Multifaith Housing Initiative to support a 133-unit affordable housing project located at Lebreton Flats 
Council also received an update on the 2023 Operating and Capital Budget(link is external). The second quarter of 2023 ended with a $16.8-million deficit for property-tax-supported programs, while rate-supported services, such as water, sewer and storm water, ended with a $538,000 surplus. The overall year-end forecast for tax-supported programs is a projected deficit of $5.9 million.