February 24, 2023 newsletter from Rawlson King, City Councillor for Rideau-Rockcliffe.
A Message from Councillor King
The City of Ottawa opened a temporary emergency reception centre on Tuesday, February 21 at the Overbrook Community Centre for residents displaced by the fire at 240 Presland Road. I would like to commend first responders for their incredible efforts in responding to the three-alarm blaze at the four-storey, 32-unit apartment building. While there were no fatalities, the serious fire resulted in two adults being transported to hospital in stable condition and two firefighters suffering minor injuries while battling the blaze. Approximately 40 people from 14 households accessed services at the reception centre. It closed at approximately 12:30 am Wednesday, February 22 after serving displaced residents in need of assistance. The Canadian Red Cross and the Salvation Army were on site to assist residents.
Services offered at the centre included:
• Emergency reception and lodging, including access to emergency housing placement.
• Personal services, including referrals for emergency financial assistance and mental health services.
• Family reunification.
• Access to food and clothing.
• Health services, including access to first aid.
Residents in need of further assistance can access help by calling 3-1-1 and selecting option 4 for social services, or by going to the City's Employment and Social Services office at 2339 Ogilvie Road between 8 am to 4:30 pm. The building's landlord, Centretown Citizens Ottawa Corporation, an affordable housing provider, is also continuing to provide support to impacted residents. The City will continue to follow-up with the Red Cross to track the status of the 14 households who were offered emergency lodging support.
Community Donations
At this time, clothing donations for residents affected by this fire can be dropped off at the Salvation Army at 171 George Street in Ottawa. Clothing for all ages is appreciated. Clothing donations related to the fire should be clearly labelled that they are for those displaced by the Overbook or Presland Road fire. For updates on these supports, please check my website at rideau-rockcliffe.ca/updates.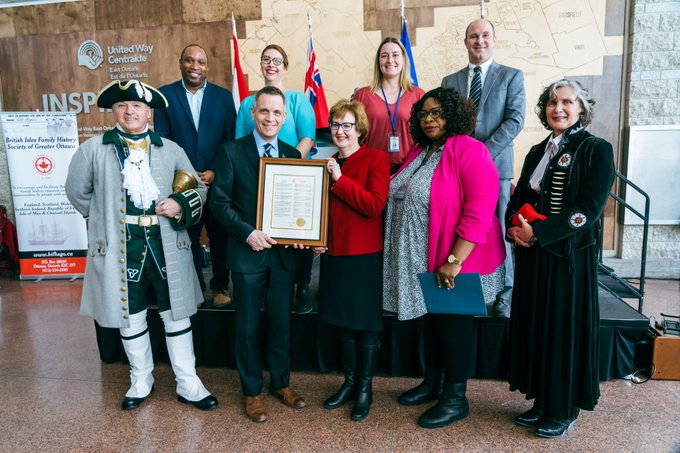 This week, I had the opportunity to celebrate Heritage Day on Tuesday, February 21 at City Hall. The theme 'Recovering and Connecting Ottawa's Heritage - Stronger Together' recognized the unique and unprecedented events of the past few years and that the COVID-19 pandemic exacerbated division and distance. However, despite the challenges the City experienced, our heritage and cultural organizations kept Ottawa connected and strong, by persevering and showcasing the value of heritage to forge a way forward together. I also had the privilege that day to present the 2023 Ottawa Heritage Awards in my capacity as Built Heritage Committee Chair. Award winners, who were selected by an external jury with expertise in heritage conservation, included the new infill development at 189 Stanley Avenue, the Wateridge Village Commemoration Program Handbook, and the Rockcliffe Park Heritage Walk Committee. I am proud to see so many examples of projects dedicated to the preservation of built heritage within Rideau-Rockcliffe Ward and throughout the City showcased at the Ottawa Heritage Awards.
---
Councillor King in the Community
I was invited by Beechwood Cemetery to be their featured speaker during their Black History Month event on Feb. 23. I was proud to participate in the Heritage Awards Ottawa ceremony at City Hall the evening of Feb. 21 in my role as Chair of the City's Built Heritage Committee. I dropped by City Hall for Mayor Mark Sutcliffe's Family Day Skating Party at Marion Dewar Plaza on Feb. 20. That same day, there were fun family activities during the Lindenlea Community Association's Family Day Weekend Carnival. On Feb. 19, I enjoyed a Snow Day outdoor winter adventure hosted by Dominion City Brewing Co. in support of Ski Heritage East. This wonderful winter trail connects Rideau-Rockcliffe, Beacon Hill-Cyrville and Orleans. ACB Wellness Resource Centre hosted Black Expressions on Feb. 18 to highlight incredible Black art, culture and professional excellence. I dropped by the Beacon Hill North Community Centre last weekend to celebrate the beautiful centre's recent renovation and expansion. I also met up with Councillors Stéphanie Plante and Theresa Kavanagh to enjoy some time on the Rideau Winter Trail.
---
Rideau-Rockcliffe News, Events and Engagement Opportunities
Sip & Shop - Monthly Market in Manor Park - Feb. 25
In collaboration with Manor Park Community Council, Ottawa Street Markets is launching a monthly market at the market hub, 1805 Gaspe Avenue, the last Saturday of each month, featuring many amazing local vendors. 
The inaugural Sip & Shop Monthly Market is this Saturday, February 25 from 3-7 pm at the Hub,1805 Gaspe. Taking place on the last Saturday of every month throughout the year, you'll be able to grab a pint/wine, as well as a bite to eat while you check out local vendors. Produce shopping will be available as well as handmade goods, bread, jewelry, donuts and more. The rink should be open, so bring your skates! (no sipping permitted on the ice) Weather dependent, we'll have the outdoor fires on the go. 
Details here. Free parking on site. 
Tree Removal and Power Outage - March 1
My office has been advised that on March 1, 2023 Hydro Ottawa will be assisting the City Of Ottawa's Forestry Services Department with the removal of a large dying tree. A power outage is scheduled as a result of this work and will impact residents on the noted street. At Hydro Ottawa, we believe that trees are an integral part of the health and enhancement of our community. While trees and electricity seldom mix, we believe they can be good neighbours. When planned responsibly and properly maintained, power outages are reduced by 40 per cent. Understanding that this is a sensitive time with many residents working from home, we recognize that any construction activities and power outage can be very disruptive. Residents may notice increased construction presence throughout the day, including heavy machinery. If needed, traffic control and lane reductions will be implemented to ensure that roads and sidewalks remain safe for residents and staff. A planned power outage will be required to proceed with this work. All impacted residents will be contacted by phone, email or text and will be further notified by written notice delivered to their door where applicable. Further, notification will be provided if the power outage is to extend beyond the original duration time. In case of adverse weather, the outage may be rescheduled.
Impacted streets: Julianna Rd., Ellesmere Place, Lansdowne Rd., Maple Lane, Hemlock Road and Roxborough Av.
Project date: March 1, 2023
Planned power outage: 9 am to 3 pm
Total customers impacted: 30
Doors Open Ottawa - Application deadline is March 3
Explore Ottawa's culture, history, and architecture June 3 and 4, 2023 as part of Doors Open Ottawa. The application period for Doors Open 2023:Hybrid Edition is now open! Applications will be accepted until March 3, 2023.
For information and frequently asked question about the event, including building participation and criteria, please visit the Building owners and managers - FAQ section. For all other enquiries, you may contact the event coordinator at [email protected].
Help Wanted: Managing Editor of the New Edinburgh News
The New Edinburgh News is looking for a new managing editor. This part-time volunteer position, under the strategic direction of the publisher (NECA), involves operational, editorial and managerial responsibilities for this community newspaper.
The managing editor works collaboratively with a motivated and experienced team (production manager, advertising manager, distribution manager, bookkeeper, proofreaders, photographer, writers and an Advisory Board), ideally has experience with print media, publishing, and managing a team.
Access to email and internet is a must. If interested or for more details, please email Christina at [email protected].
Registration is now open for the North Gloucester Giants


Free Income Tax Clinic - March 1 to April 28
The Rideau-Rockcliffe Community Resource Centre is hosting a free income tax clinic to residents with a K1K (and some K1M and K1G) postal code from March 1 to April 28, 2023.
To register and for details, please visit crcrr.org.
Black Women in Leadership - March 12 at City Hall
We are ushering in a new era in celebrating Black Excellence. Leading Ladies Canada is proud to host an International Women's Day event in the heart of the City of Ottawa to make its biggest impact yet. 2023 is the year to change it up and make history by celebrating Black leaders throughout February into March. LLC is embracing equity in its organization by highlighting black leaders throughout various programs. Please join us to celebrate Black Excellence and be empowered by arts, a fashion show with performances by Indashyikirwa Rwanda dance group, various African groups and amazing surprise guests. The event is taking place at Ottawa's City Hall on March 12, 2023, from 12 to 4 pm. Please visit Eventbrite for tickets.
---
Funding Opportunities
Crime Prevention Ottawa - Requests for Proposals welcome until March 13 & Info session on Feb. 28
CPO's 2023 Request for Proposals is open, and applications are due by 5 pm on March 13. We are looking to fund projects that make Ottawa safer. Up to $600,900 of CPO funds are available in 2023. There are 3 streams of funding:
micro grants (up to $15,000, for one-year projects),

non-renewable grants ($30,000 to $60,000), and

multi-year systems level/collaboratives (up to $160,000 per year).
This year's Request for Proposals is an initial step towards implementing a more equitable and transparent process. CPO is evolving how it funds safety initiatives based on a review of its funding practices led by Mehari Consulting, which involved gathering feedback from the community and stakeholders. Information session: Feb. 28 at 6 pm. Please visit CPO's funding page for more information, to download an application form, and to register for the Q&A session.
City of Ottawa Community Partnership Major Capital Program - Application deadline is March 1
The City of Ottawa's Community Partnership Major Capital Program is an initiative to implement major capital improvements and additions to facilities related to parks and recreation on a cost-sharing basis between the City and community groups.
The project may relate to an asset that is owned by the City, or operated by a community partner who delivers service on behalf of the City or assists the City in the delivery of programs and services.
The funding program applies to major capital programs for new facilities, renovations and expansions. It will only apply to fixed assets. It will not fund other components such as furniture, equipment, feasibility or fundraising studies.
For details, contacts and to apply by March 1, 2023 at 3 pm, please click here.
City of Ottawa Civic and Commemorative Events Funding - Application deadline is March 10
Civic Events Funding is open to all local not-for-profit organizations, such as community groups and associations. It is used to deliver family-friendly events in local Ottawa communities and neighbourhoods that: 
• Promote neighbours meeting neighbours in their local, geographic community; 
• Include multiple activities, family entertainment and attractions designed to appeal to residents in a specific geographic neighbourhood/district or ward; 
• Promote community well-being by welcoming all community members; and 
• Promote equity and inclusion. 
Applications will be accepted until March 10, 2023, for events taking place in 2023. 

For more information, please visit 

Ottawa.ca

. 

For additional information and questions, please email

 

[email protected]

.
Governor General's Foot Guards - Youth Achievement Awards - Applications due March 10

This year the Governor General's Foot Guards (GGFG) are celebrating their 150th anniversary. To mark this milestone, the regimental family will inaugurate the GGFG Youth Achievement Awards as a means of giving back to the community that has supported them so well for a century and a half. Nominations/applications for four scholarships totaling $19,000 are welcome. The deadline for applications/nominations is March 10, 2023. www.ggfg150.ca/youthawards
City of Ottawa Community Environmental Projects Grant Program - Applications due March 31, 2023
The City of Ottawa is now accepting applications for the 2023 Community Environmental Projects Grant Program, which provides funding to non-profit organizations interested in undertaking small-scale, community-based initiatives that support an environmentally sustainable Ottawa.
The application deadline is Friday, March 31 at 4 pm. For more information, please click here.
City of Ottawa Community Partnership Minor Capital Program - Application deadlines for 2023 are May 1 and Sept. 1
The Community Partnership Minor Capital Program is an initiative available for minor capital improvements to city-owned parks, recreation and cultural facilities on a cost-sharing basis with community groups. Examples include play equipment, basketball courts, park furniture, tree planting, landscape improvements, minor community facility improvements, etc. Projects on school board land and other public lands that are accessible to the public may also be eligible. The 2023 deadlines to apply are May 1 and Sept. 1. For details, contacts and to apply, please click here.
---
City of Ottawa News, Events, Meetings and Engagement Opportunities 
Rideau River Flood Control Operations
Every year, the City of Ottawa's Roads and Parking Services team works in partnership with the Rideau Valley Conservation Authority to prepare for its annual Rideau River Flood Control operations. The annual operations are carried out before spring in an effort to mitigate the risk of flooding in communities that abut the Rideau River. These operations are officially underway. For details, please click here.
March is Kidney Health Month
This is an important time of year to highlight the impact of kidney disease and raise awareness of kidney health in communities across the country. People living with kidney disease fight a lifelong battle, and The Kidney Foundation's mission is to support those affected every step of the way – from diagnosis to treatment – with trusted educational resources and peer support programs. This March, we are inviting Canadians to #MakeYourMark on kidney disease by sharing the Kidney Foundation of Canada's campaign on social media and by making donations to the Foundation's campaign page at www.kidneyontario.ca.
Ottawa's Draft 2023 Budget - Opportunities for resident feedback
The proposed budget will be considered by all Standing Committees in the coming weeks, then adopted by Council on March 1. Residents have multiple ways to have a say about Draft Budget 2023:
Visit

Engage Ottawa

for an up-to-date list of Councillor-led budget consultation sessions.

Submit your ideas directly to your

Ward Councillor

.

Register as a public delegation to make a five-minute presentation at a budget review meeting of any committee, board or commission. Visit

ottawa.ca/budget

to learn about meeting dates.

Follow and communicate with the City of Ottawa on

Facebook

and

Twitter

, using the hashtag #OttBudget.

Call 3-1-1 (TTY: 613-580-2401). Rural residents call 613-580-2400.


Microaggressions & Mental Health Workshop - March 1


The Microaggressions Workshop will focus on the impacts of microaggressions on the mental health of African, Caribbean and Black individuals. This presentation will also touch on the importance of self-care as well as how to address microaggressions in the workplace. Finally, resources will be shared pertaining to therapy and support groups. This event is in conjunction with Black Mental Health Week via the Ottawa Black Mental Health Coalition #BMHW2023
Host: Canadian Women of Colour Leadership Network
Event: Microaggression & Mental Health 
Time: 6 pm (EST)
Location: Zoom
Presenters:  
Zoé Jammes & Celtie Coats - Social Work Student with the University of Ottawa
Black Mental Health Week 2023: Exploring Stigma and Black Mental Health - March 1 to 7
The Ottawa Black Mental Health Coalition is hosting several events over the week of March 1 to 7, Black Mental Health Week.
The theme this year is exploring stigma and Black mental health with the 3 events:
Black Mental Health is Everyone's Concern - March 1, 9:00-10:30 am on zoom
Mental Health and  Wellness Expo- March 3, 10:00am-2:00pm in person
Ending Stigma Together – March 7, 6:00-7:00pm on zoom
For details, please click here. 
Presentation on the human impact of climate change by the NCC and the European Union Delegation to Canada - March 2
Cities present many challenges to climate mitigation, while also holding many of the solutions. This event explores current urban and anthropogenic challenges related to climate change and sustainability. Presented by the National Capital Commission in conjunction with the European Union Delegation to Canada. March 2. Doors open at 8:30 am. The session takes place from 9 am to 11 am at the Urbanism Lab, 40 Elgin Street on the second floor. The event will also be webcast live on Youtube. Please register to attend and also to receive the Youtube link to watch the event virtually during the scheduled time. Click here to register.
Virtual Summer Camp Fair - March 4
Ottawa's Rec and Culture's Inclusive Recreation unit is hosting a virtual Summer Camp Fair for people with disabilities. There will be several summer camps presenting on March 4 where families/caregivers can choose the presentations they would like to attend. If you're interested in attending, please email 

[email protected]

. 
City of Ottawa spring and summer programs March 6 and 8
Spring activities
Browse spring activities on register.ottawa.ca.
Register for spring learn to swim and other aquatics programs on Monday, March 6 at 9 pm
Register for all other spring programs on Wednesday, March 8 at 9 pm
Summer camps and activities
Browse summer camps and activities on register.ottawa.ca starting Tuesday, March 21
Register for summer learn to swim and other aquatics programs on Monday, April 3 at 9 pm
Register for summer camps and all other summer programs on Tuesday, April 4 at 9 pm
New Legislation Overview - Virtual Open House - March 7
Topics will include Bill 109, Bill 23, the Official Plan, and the impact Provincial legislation will have on planning-related matters. This session, scheduled for March 7 at 6:30 pm on Zoom, is open to the public and will provide a high-level update on the City's review of the impacts of Provincial legislation and an overview of how the City is adapting as a result of these changes. Register to attend here.
Carbon Neutrality in Ottawa - March 8 webinar
March 8, 9:30 am to 3:30 pm.
Online - Register at this link
The world continues on its way to energy transition, and it is crucial that the building sector plays its part and adapts in order to mitigate the impact of continued carbon emissions. Since it is responsible for approximately 40% of all emissions, reducing emissions from building operations is of significant global importance. How do we get there in the National Capital Region? This one-day hybrid workshop will bring together experts from the City, federal government and utilities, developers, contractors, owners, operators and design consultants, who will discuss their successes and the challenges encountered. in implementing the low-carbon projects needed to drastically reduce emissions from building operations. It will review the strategies applied by the public and private sectors and will address the thorny issues of financing, controlling capital costs and life cycle cost.
Ontario Energy and Water Reporting and Benchmarking regulation - March 9 webinar
Tackling Ontario's Energy and Water Reporting and Benchmarking (EWRB) regulation and the City's benchmarking program. Manage or own a building that's more than 20,000 square feet? Get ahead of the curve with Ontario's Energy and Water Reporting and Benchmarking (EWRB) regulation and the City's benchmarking program. As Ontario works towards a clean, reliable and affordable electricity system, the requirement to participate in EWRB now includes buildings with smaller square footage. Start the year off by complying with the provincial regulation.
Panelists: Trevor Freeman, P.Eng, CEM, LEED AP, Supervisor, Key Accounts, Hydro Ottawa
Marie Hanchet, Project Manager, Environmental Program | Climate Change and Resiliency Unit, City of Ottawa.
This 1-hour webinar will be held on Thursday, March 9, 2023 at 11:00 a.m. EST. Click here to register.
This webinar is available only in English. Should you need assistance in French, please contact us at [email protected].
Vanier Museopark: Volunteering opportunities Sugar Festival 2023
The Vanier Museoparc is pleased to announce the in-person return of the Vanier Sugar Festival! Here is a link to our dedicated page should you've missed it: https://museoparc.ca/sugar-festival.
We are actively looking for volunteers to help during the Festival. Volunteer registration form: http://weblink.donorperfect.com/festival2023
St. Patrick's Parade and Party - March 11
Ottawa's St. Patrick's Day Parade takes place March 11, starting at 11 am in front of City Hall, and continues to the Aberdeen Pavilion, 1000 Exhibition Way.
Following the parade, the Irish Society of the National Capital Region hosts a St. Patrick's Day Party at the Aberdeen Pavilion on March 11 from 12 to 10 pm. For party tickets, please click here. 
Vacant Unit Tax Declarations - Deadline is March 16
Complete your Vacant Unit Tax declaration in just a few quick steps. A declaration is required for each property that you own, even if it is your principal residence. The deadline to submit declarations is March 16. The City has set up declaration options for residents who require accessibility related supports, and for those without access to the internet or digital devices – like computers, tablets and other hand-held devices:
Call Revenue Services at 613-580-2444 and select option 3 to complete a declaration over the phone, or to book an in-person appointment at the Mary Pitt Centre at 100 Constellation Drive.

Call 613-580-2400 to contact the City using Canada Video Relay Service. The service uses internet and mobile phone technologies to connect the caller with real-time sign language interpretation.
For details, please visit ottawa.ca/vut.
Ujima Job Fair - March 18
Jaku Konbit's team of youth leaders will once again plan and deliver the Ujima Job Fair in collaboration with community business partners. The Ujima Job Fair will promote opportunities and resources available to youth and adults seeking employment, volunteer, and entrepreneurial experience in the Ottawa/Gatineau region. 
March 18 from 11 am to 2:30 pm at City Hall, 110 Laurier Ave. W. Click here for more information.
Tim Hortons Ottawa Dragon Boat Festival - Registration is now open
Planning for the 2023 Tim Hortons Ottawa Dragon Boat Festival is well underway and will be taking place on the first weekend of summer, June 22 to 25, on the Rideau River in the natural setting of Mooney's Bay.
Registration is open. For details, please click here.
---
Emergency Services News
Ottawa Police Service
➤ OPS Traffic Services conducts downtown enforcement - 297 tickets issued.
Click here for the press release.
---
City of Ottawa Committee and Council Updates
➤ Transportation Committee - Feb. 23
Committee invests in roads, sidewalks, cycling paths and road safety. For details, please click here.
➤ City Council - Feb. 22
➤ Environment and Climate Change Committee - Feb. 21
Committee invests in climate priorities, water and waste diversion.

For details, please click here.
Upcoming Meetings
For the full list of upcoming Committee and Council meetings and to access the meeting agendas, please click here. 
Watch or listen to meetings in progress or access the video or audio of past meetings on YouTube or on the City's agendas and minutes web portal.
Regular City Council meetings are also broadcast live on RogersTV Cable 22 and streamed live on the RogersTV website.