February 3, 2023 newsletter from Rawlson King, City Councillor for Rideau-Rockcliffe.
A Message from Councillor King
The City tabled its $5 billion budget this week for Council consideration. City staff have identified $53.9 million in operational savings and efficiencies within this proposed 2023 Budget, mainly from discretionary spending and transit operations, allowing property tax increases for the upcoming year to be limited to 2.5 percent.  The savings are designed to allow for a transit fare freeze, as well as a 10 percent reduction in the costs of recreational programs for children and youth, and an increase in funding for community safety.
In terms of rate increases, the City budget includes a 4.2 percent increase in water, wastewater and stormwater rates, a 10 percent increase in garbage collection fees, and a two percent increase in recreation program membership and registration costs. 
The City budget will be deliberated in committees with the opportunity for public delegations throughout February and will be up for consideration and adoption by Council on March 1.
As I stated in December when I voted against the 2.5 percent budget direction, the amalgamated City of Ottawa has primarily limited tax increases to the rate of inflation since its inception in 2001. The result has been severe fiscal restraint and a lack of revenue to address a widening gap in infrastructure and social services, which has resulted in infrastructure project deferrals, crumbling roads and reduced levels of service provision.
Our expanding city requires enhanced infrastructure, social services, transportation, and high-quality front-line services such as snow removal and winter maintenance. These investments to maintain and improve our quality of life cannot be properly funded at a recommended tax rate which is now drastically lower than inflation.  Consequently, I will be scrutinizing the budget line-by-line to determine whether there are opportunities to enhance investments in affordable housing, in traffic management, snow removal, road and pathway maintenance, in pedestrian and cycling infrastructure, in reliable transit, and parks.
I will be holding two budget consultations, one specifically for Ward residents and one specifically for the Indigenous, Black and racialized community.  I invite you to participate in the budget consultation process.
I would also like to acknowledge that February is Black History Month.  While it is important to learn about the history of Black people in Canada and celebrate their achievements, we should also use the opportunity to support communities in their quest to redress inequity.  I will be speaking at a number of schools and public events this month in my role as Council Liaison for Anti-Racism and Ethnocultural Relations Initiatives to discuss how communities can mark Black History Month in meaningful and impactful ways.
---
Councillor King in the Community
Rideau-Rockcliffe Roundtables
Thank you to the many residents from the Fairhaven, Carson Grove and Den Haag communities for dropping by my Rideau-Rockcliffe Roundtable sessions on Feb. 2. Future editions of my Roundtables are being planned. Stay tuned for details.
Congratulations Peter Nor
Congratulations to Peter Nor. He was recently bestowed the Queen's Platinum Jubilee medal by Ottawa-Vanier MP Mona Fortier for outstanding volunteer service for his tireless dedication to our much beloved Rideau Winter Trail. 
New Year's Levee
I had an amazing time at College La Cité on Jan. 29 with many Rideau-Rockcliffe residents during the annual New Year's Levee hosted by Ottawa-Vanier MP Mona Fortier, along with my colleagues Ottawa-Vanier MPP Lucille Collard, Rideau-Vanier Councillor Stéphanie Plante and Beacon Hill-Cyrville Councillor Tim Tierney. 
Skiing on the Trails
I enjoyed cross-country skiing with my colleague Bay Councillor Theresa Kavanagh along the Britannia Trail system, followed by a hot beverage at the Britannia Coffeehouse. Our recreational tail system, including the Rideau Winter Trail, is truly a jewel.
---
Rideau-Rockcliffe News, Events and Engagement Opportunities
Winter Operations Update
Last night, Roads and Parking Services had to adjust a portion of its operations to clear and treat sidewalks, priority roads and the winter cycling network. Winds ravaged through many parts of our network, especially in neighbourhoods with open fields where snow got swooped up onto the travelled surface. Clean-up efforts from yesterday's event will continue throughout the day, as will our planned snowbank removal operations.
One thing to keep in mind is that the extreme cold temperature slows down our equipment and operations, but our dedicated teams will continue working through these harsh winter conditions.
Snowbank Removal Operations Continues
Snowbank removal operations remains on our operational forecast and work is scheduled to continue into the weekend. Even with yesterday's partial shift in operations, in the last 24 hours, Roads and Parking Services: 
Removed snowbanks from more than 72,536 curb metres. A number that will have increased by the time you read this, as completion reports continue coming in!

Assigned 39 crews to snow removal efforts.

Removed snowbanks from at least 91 street segments. Again, this number will increase throughout the day as work is still being tallied.
Sunday's forecast continues to change, and uncertainty remains in terms of how the event (up to five centimetres are expected) will land when it reaches the City. Whatever the case may be for Sunday, Roads and Parking Services will deploy staff and equipment in accordance with the conditions. If needed, our response will begin with clearing and treating sidewalks, priority roads, and the winter cycling network.
Based on the latest forecast, snowbank removal throughout the City is planned to continue throughout the weekend and, similar to yesterday evening, operations will be adjusted as required to ensure a portion of the team is reallocated to respond to the weather if necessary.
Winter Pride - Drag on Ice - in Vanier - Feb. 5
Bring your skates to Drag on Ice at the Optimiste Park ice rink, 43 Cecile Street in Vanier on Feb. 5 from 11 am to 2 pm. For details and for the complete schedule of Winter Pride events, please click here.
Musical Ride Open House - Feb. 4
In 2023, the RCMP is marking 150 years of service to the public and security of our country. For this major milestone, the RCMP is excited to once again welcome visitors back to their stables for their RCMP Musical Ride Open House and Ottawa Food Bank Drive as part of Winterlude. Bring your family and friends to visit the home of the Musical Ride and meet police officers from the RCMP in support of the Ottawa Food Bank. The Stables are located at 1 Sandridge Road. The event is Feb. 4 from 10 am to 3 pm. For details, please click here.
Manor Park Skating Party and Chili Cook-off - Feb. 4
The Manor Park Community Council hosts its annual Skating Party and Chili Cook-off at the Manor Park Community Centre, 100 Thornwood Road, on Feb. 4. The fun begins with exhibition games from 3 to 5 pm, and from 5 to 7 pm there will be food, hot drinks, music, a bonfire, s'mores and skating. Chili Cook-off details are available here. For more event information and to RSVP for the skating party, please click here.
Manor Park Community Association Annual General Meeting
Save the date for the 2022-2023 MPCA AGM on Zoom: Feb. 8, 2023 from 7-9 pm via Zoom. Click here to register for the meeting. After registering, you will receive a confirmation email containing information about joining the meeting. 
Race Equity Budget Consultation meeting - Feb. 9 at 6:30 pm
In my capacity as the Ottawa City Council Liaison for Anti-Racism and Ethnocultural Relations Initiatives, I am hosting a virtual Race Equity budget consultation for Ottawa's Black, Indigenous and racialized communities on Feb. 9 at 6:30 pm. Please register for the virtual meeting link. Once you fill out the information fields, you will receive a confirmation email with the Zoom link. For additional resources and documents related to the City's 2023 budget, please visit ottawa.ca/budget or Engage Ottawa.
Winter Celebration at Rideau Hall - Feb. 11
The Winter Celebration returns to Rideau Hall on Feb. 11, from 12:30 to 4:30 pm, as part of Winterlude. The event will feature skating, tours and outdoor activities. For details, please click here.
Share your thoughts on the NCC's Sir George-Etienne Cartier Park Plan - Survey and Open House
The National Capital Commission (NCC) is launching its second round of consultations on the Sir George-Étienne Cartier Park Plan. The public is invited to share their thoughts on activity nodes and goals for the park plan. The online survey is available on the NCC's new engagement platform at PlaceSpeak until Feb. 19, 2023. The public is also invited to drop by the NCC's community open house on Feb. 15. For more information, please click here.
Ward 13 Budget Consultation - Feb. 16 at 6:30 pm
I am hosting a virtual budget consultation for Ward 13 residents on Feb. 16 at 6:30 pm. Please register for the virtual meeting link. You will receive a confirmation email with the link. For additional resources and documents related to the City's 2023 budget, please visit ottawa.ca/budget or Engage Ottawa.
Black Expressions showcase during Black History Month - Feb. 18
Join the ACB Wellness Resource Centre for Black Expressions, a special Black History Month event on Feb. 18, from 4 to 7 pm, at 610 Donald Street featuring an art showing, African drummers, guest speakers and a poetry slam. Admission is a $5 donation in support of ACB programs and services. Details: acbwellness.ca
New Edinburgh Apparel - Orders due by Feb. 20
New Edinburgh is replete with distinctive built and natural features that define the area in which an engaged community has lived for more than seven generations. We have chosen to make an area with a strong sense of place our home and we work together to make our neighbourhood better every day. You have an opportunity to wear the pride we share in our neighbourhood. New Edinburgh apparel is now available, but only for a limited time. Visit the online store to place your order before Feb. 20: https://form.jotform.com/223393439270256.  (Scanning the QR code found on this page will take you there.) Proceeds from the sale of all items support the Crichton Community Council's neighbourhood events. This initiative was made possible by McCabe Promotional, a local Certified B-Corporation.
Beechwood Cemetery - Black History Month event - Feb. 23
Exploring Ottawa's Black History - Past, Present and Future
During Black History Month, Canadians celebrate the many achievements and contributions of Black Canadians and their communities who, throughout history, have done so much to make Canada a culturally diverse, compassionate, and prosperous country. Many prominent histories of Black Canadians are shared nationally, however, Beechwood is home to many important Black Canadians who have impacted our city. Join us as we share the stories of Ottawa's Black Community and those buried within our cemetery grounds followed by Councillor Rawlson King sharing his experience at City Hall.
I have been invited to be the featured speaker, providing attendees with an inside look at my journey to City Hall, my first term, major events I have navigated and my re-election.
Join us on Feb. 23 at 6:30 pm at Beechwood National Memorial Centre.
Click here for details and to register.
Rockcliffe Park Speaker Night - March 8
The Rockcliffe Park Residents Association hosts Speaker Night on March 8 at 8 pm at the Rockcliffe Park Community Hall, 380 Springfield Rd., featuring Thomas d'Aquino who will offer personal insights on four decades of private sector leadership at the apex of power with the Business Council of Canada. For details, please click here.
---
City of Ottawa News, Events, Meetings and Engagement Opportunities 
Ottawa's Draft 2023 Budget - Opportunities for resident feedback
The proposed budget will be considered by all Standing Committees in the coming weeks, then adopted by Council on March 1. Residents have multiple ways to have a say about Draft Budget 2023:
Visit

Engage Ottawa

for an up-to-date list of Councillor-led budget consultation sessions.

 Submit your ideas directly to your

Ward Councillor

.

Register as a public delegation to make a five-minute presentation at a budget review meeting of any committee, board or commission. Visit

ottawa.ca/budget

to learn about meeting dates.

Follow and communicate with the City of Ottawa on

Facebook

and

Twitter

, using the hashtag #OttBudget.

 Call 3-1-1 (TTY: 613-580-2401). Rural residents call 613-580-2400.
The Snowsuit Fund presents its annual Snow Angel Challenge - Feb. 1 to 28
Join the Snow Angel Challenge – A very cool way to keep kids warm. Registration is not required. This February, families, schools, community, sports and social groups and workplaces are invited to make snow angels to support The Snowsuit Fund of Ottawa. For details, please click here.
February is Winter Walk Month
The EnviroCentre delivers the School Active Transportation Program on behalf of the City of Ottawa and the Ottawa Student Transportation Authority (OSTA) with the goal of increasing the number of students walking and wheeling to school. February is Winter Walk Month, the perfect time for families to enjoy walking outdoors together. One great way to stay active this winter is by walking to school the whole way or part of the way. Some families are not able to walk all the way to school, so for families who drive, we encourage you to avoid the congestion by parking five minutes away from the school and walking a block! Find your Walk-a-Block map HERE. Families who take the school bus can stay active this winter by walking in their community together. Click here for details.
Ottawa Winter Jazz Festival - Feb. 3 & 4
Warm up your winter experience by taking in the many events that the Ottawa Winter Jazz Festival this month. For details and the full event line up, please visit ottawajazzfestival.com.
Winterlude 2023 & How to get there!
From Feb. 3 to 20, rediscover the joys of winter activities during Winterlude in the Nation's Capital. Click here for more information. 
Going to Winterlude this year? Ride the OLG Sno-Bus for free to official Winterlude sites across Ottawa and Gatineau. Free service is supported by the Ontario Lottery and Gaming Corporation (OLG). For details and the schedule, please visit this link.
BeaverTails Ottawa Ice Dragon Boat Festival - cancelled
The 2023 BeaverTails Ottawa Ice Dragon Boat Festival has had to cancel the races that were planned for February 3 and 4 on the Rideau Canal Skateway at Dow's Lake, due to the poor ice conditions. The team at the NCC have worked tirelessly on the ice, but unfortunately in this case the unseasonably warm weather has meant a delay to the opening of the canal.
February is Black History Month
Throughout the month, you are invited to learn more about African, Caribbean and Black history, culture and art. The City of Ottawa and Ottawa Public Library are offering events both in-person and virtually that are open to everyone. Details are available here.
March Break Camps and Programs - Registration now open
Registration is now open for the City's March Break camps and programs: bit.ly/3GThPwh 
Take Part in Councillor-led Budget Consultations
Your City Councillors have organized consultation sessions in the coming weeks during which you can share comments and provide input about what the City's priorities should be and where to find potential savings. Visit Engage Ottawa for the most up-to-date list of sessions. You can find additional resources and documents related to the City's 2023 budget at Engage Ottawa as well, and at ottawa.ca.
Virtual Public Planning Primers - Feb. 7 and 15
These sessions will provide the public with an overview of the legislative and policy basis under which land-use planning decisions are made, the way policy documents are amended and how to make a development application. 
Feb. 7, 1-4 pm on Zoom
Feb. 15, 6-9 pm on Zoom
Registration will open in the coming weeks here.
Additional Links:
Development information for residents | City of Ottawa
What's happening in your neighbourhood | City of Ottawa
New Official Plan | Engage Ottawa Page
Provincial Legislation affecting Planning, Real Estate and Economic Development | Engage Ottawa Page
New Zoning Bylaw | Engage Ottawa page
Free Wagon Rides in the ByWard Market - Feb. 14
The ByWard Market BIA offers complimentary horse-drawn wagon rides on Valentine's Day - Feb. 14 - from 5 to 7 pm. For details, visit byward-market.com/events
Revolutionaries & Resistance Movements - A Black History Month event - Feb. 16
Black History is a time to celebrate the achievements of civil rights movements, innovative trailblazers, and beauty in our diverse cultural expressions. The history of Black Canadians is an particularly diverse one – from the story of Black Canadians in Africville, to the wave of African and Caribbean migrants who arrived in Canada over the course of the 60s and 80s, and now at present day – the history of revolution and resistance is a recurring theme that is prevalent amongst Black communities. This Black History Month not only are we taking a moment to explore our past, but we are also taking the time to celebrate the work of contemporary Black scholars, activists, and leaders from our local communities.
Feb. 16 at 6 pm on Zoom and Facebook Live. Moderated by Dilaye Desta with guests Sarah George and Karine Coen-Sanchez.
Registration Link https://www.eventbrite.ca/e/revolutionaries-resistance-movements-bhm-tickets-532094497967
Maple Tree Tapping at the Vanier Museopark in Richelieu Park - Feb. 18
The Vanier Museopark team is very excited to launch its 2023 sugar season with a tapping event on Feb. 18 from 9 am to 12 pm in front of the Vanier Sugar Shack, 320 des Pères-Blancs Ave. in Vanier. Volunteers are needed to tap the maple trees in Richelieu Park. Bring your drills and snowshoes to get around the forest. Details: museoparc.ca
Accora Village Bed Race for the Kiwanis Club of Ottawa - Feb. 18
Decorated hospital beds (with a rider in costume) are pushed by 4 costumed teammates. Prizes are awarded for fastest, best-decorated bed, and best fundraisers. Happening on York Street near Dalhousie in the ByWard Market. Details: www.ottawakiwanis.org/bedrace
2023 Community Economic Development Program - Now open for project grant funding applications
Registered non-profit corporations with at least two years of financial statements are eligible to apply. Projects must be new, or scaling-up, activity to help targeted historically under-represented populations to overcome identified impediments to their participation in Ottawa's economy. Funds will be awarded in April 2023 and must be expended by November 30, 2023. Projects may not commence until funds are received by program recipients. The City will accept project applications until 4 pm on Feb. 24. For details, please click here.
Recruitment period extended for the Ottawa Police Services Board 
Council has extended the recruitment period for the public member of the Ottawa Police Services Board to the end of February 2023. For details and to apply, please click this link.
Virtual Summer Camp Fair - March 4
Showcasing Summer Camps for Children, Youth and Adults with disabilities in the City of Ottawa and surrounding areas
The Inclusive Recreation Unit of the City's Recreation, Culture and Facility Services Department is hosting a virtual Summer Camp Fair for people with disabilities. Join us online March 4 to meet with agencies and service providers to check out available options. There will be several summer camps presented and families/caregivers can choose the information sessions that they would like to attend. If you are interested in attending, would like to request accommodation supports, or have any questions, please contact Christina McCormick at [email protected] or call 613-580-2424 ext. 29300.
New Legislation Overview - Virtual Open House - March 7
Topics will include Bill 109, Bill 23, the Official Plan, and the impact Provincial legislation will have on planning-related matters. This session, scheduled for March 7 at 6:30 pm on Zoom, is open to the public and will provide a high-level update on the City's review of the impacts of Provincial legislation and an overview of how the City is adapting as a result of these changes. Register to attend here.
Vacant Unit Tax Declarations
Complete your Vacant Unit Tax declaration in just a few quick steps. A declaration is required for each property that you own, even if it is your principal residence. The deadline to submit declarations is March 16. The City has set up declaration options for residents who require accessibility related supports, and for those without access to the internet or digital devices – like computers, tablets and other hand-held devices:
Call Revenue Services at 613-580-2444 and select option 3 to complete a declaration over the phone, or to book an in-person appointment at the Mary Pitt Centre at 100 Constellation Drive.

Call 613-580-2400 to contact the City using Canada Video Relay Service. The service uses internet and mobile phone technologies to connect the caller with real-time sign language interpretation.
For details, please visit ottawa.ca/vut.
Ujima Job Fair - March 18
Jaku Konbit's team of youth leaders will once again plan and deliver the Ujima Job Fair in collaboration with community business partners. The Ujima Job Fair will promote opportunities and resources available to youth and adults seeking employment, volunteer, and entrepreneurial experience in the Ottawa/Gatineau region. March 18 from 11 am to 2:30 pm at City Hall, 110 Laurier Ave. W. Click here for more information.
Lifeguarding can take you places, no matter your age
The process to become a lifeguard with the City of Ottawa may seem long, but it is rewarding and necessary, now more than ever. The City works hard to keep aquatic programs running at full capacity and as a result is always in need of lifeguards. If you or someone you know has been thinking about starting the process, now is the time! Visit ottawa.ca today to read about the path to becoming a lifeguard and swim instructor.
Tree-Planting Requests for fall 2023
The City's Forestry Management Branch is currently planning and scheduling tree plantings for fall 2023 in Rideau-Rockcliffe Ward, including replacements for those downed on City property in the derecho storm on May 21, 2022. Trees are available from the City of Ottawa by request on a first-come, first-served basis. The City is currently accepting new requests for its fall 2023 tree-planting season. Residents can submit their tree-planting requests at the following link.
Simple safety tips to have fun while sledding
The City of Ottawa and Ottawa Public Health remind residents of the importance of wearing a hockey, ski or snowboard helmet while sledding. Proper head protection is critical when you're sliding down a hill. For details, please click here.
---
Ottawa Public Health News
Extreme cold weather assistance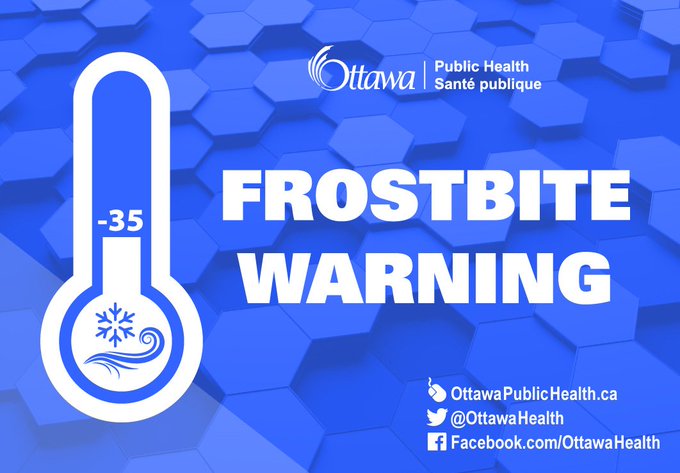 Ottawa has six emergency shelters that are available to those who may be experiencing homelessness. 

The Salvation Army operates a Mobile Outreach Van and responds to calls made to the City's Call Line. They encourage people to seek indoor shelter and are able to transport them to places they can seek refuge such as emergency shelters. In addition, they have warm clothing and other resources. 

The City's 3-1-1 Line is available to respond to calls 24 hours a day. Calls are answered by the City of Ottawa Call Centre on a priority basis and referred to appropriate service providers. 9-1-1 is available for emergency situations.

Ottawa Public Health has an interactive map of places to warm up during the day in Ottawa on the OPH

Cold Weather website

.  You can enter an address with a street number and street name and get a list of the 20 closest warm spaces where everyone is welcome.
Ottawa Public Health issues Frostbite Advisories (-25 windchill or colder) and Warnings (-35 C windchill or colder) via social media and by email to community agencies that assist people at risk during cold weather to alert them when Environment and Climate Change Canada (ECCC) forecasts windchill values at or below these thresholds. More information is available on Ottawa Public Health's website.   
Respiratory Viruses - Key Takeaways
Monitoring indicators continue to show an encouraging picture in terms of the overall levels of respiratory viruses circulating in Ottawa; though the levels of COVID-19 are still high. 

Vaccination (flu & COVID-19), wearing masks in indoor public places and staying home when sick remain our best tools at limiting the spread of these viruses. 

If you have questions about eligibility or intervals for flu or COVID-19 vaccines, or about COVID-19 treatment options, our website has helpful info for you

OttawaPublicHealth.ca

. You can also call 613-580-6744 to chat with an OPH nurse. 

You can find a complete breakdown of this week's monitoring indicators on OPH's Respiratory Virus dashboard, which is updated every Wednesday at 12:30 pm:

OttawaPublicHealth.ca/VirusReport
---
Emergency Services News
Ottawa Police Service
➤ 21 Officers recognized at Feb. 1 Badge Ceremony
The Ottawa Police Service welcomed 21 new recruits at a Badge Ceremony. While many of the new recruits were born and raised in Ottawa, others have immigrated to Canada from Hungary, the Netherlands, Somalia, Haiti, Brazil, and Botswana. Several more have decided to move from the GTA and make Ottawa their permanent home. These newest officers have passed their provincial training at the Ontario Police College. They will be in patrol cars throughout the city starting in February with their field training officer. For details, please click here.
➤ Draft 2023 Budget & Public Consultation Opportunities
The Ottawa Police Service (OPS) tabled its 2023 Draft Operating and Capital Budget with the Ottawa Police Services Board (OPSB) at a special meeting of the Board on Feb. 1. 
The OPS wants to hear from residents and businesses about their thoughts on the 2023 Budget. Please consider completing the 2023 Draft Budget questionnaire, located at

www.ottawapolice.ca/en/who-we-are/budget.aspx

Public delegations and questions from Ottawa City Councillors are welcome at the Feb. 15, 2023, Finance and Audit Committee meeting starting at 10 a.m. via Zoom at the following link:

https://us02web.zoom.us/j/82194776002 [us02web.zoom.us]

Comments are also welcome at the beginning of the regular meeting of the OPSB on Feb. 27, 2023, starting at 2 p.m. (via Zoom

- link to be announced by OPSB

).
The OPS 2023 Budget is scheduled for approval by the OPSB on Feb. 27, 2023. It will later be reviewed and scheduled for approval by Ottawa City Council on March 1, 2023. A complete copy of the OPS' 2023 Draft Operating and Capital Budget can be reviewed by visiting ottawapolice.ca/en/who-we-are/budget.aspx. You can also request a copy of the report by emailing [email protected].
Ottawa Police Services Board
➤ Special Meeting of the Ottawa Police Services Board: Presentation of the Auditor General's Reports regarding the Convoy Protest: Feb. 9 at 2 pm
Please visit this link for more information.
➤ Finance and Audit Committee Meeting: Feb. 15. 
Those looking to be added to the speakers list for this meeting are required to register before Feb. 14 at 4 pm. Click here for more information.
➤ Ottawa Police Services Board welcomes delegations to speak, written comments, on the draft 2023 Ottawa Police Budget. 
Click here for details.
➤ Regular Meeting: Feb. 27 
The Board will be permitting delegations at its Feb. 27 regular meeting, however, the deadline to register to speak to items of business on the agenda will be 9 am on Feb. 27, 2023. The existing deadline to speak to items not on the agenda will remain five (5) working days before the date of the meeting. For details, please click here.
---
City of Ottawa Committee and Council Updates
Meeting News
City Council - Feb. 1
Ottawa's Draft Budget 2023, tabled Feb. 1 at City Council, invests in the services residents rely on every day, and key priorities to make Ottawa better. Priority investment areas include:
Safe and reliable roads, sidewalks and pathways

Reliable and affordable public transportation

A cleaner and greener city

Affordable housing and protection for those most at risk in our community

Greater equity, inclusion and diversity
For details, please click here.  
Planning and Housing Committee - Jan. 31
The City's Planning and Housing Committee recommended approval of a

revised timeframe

for developing a new Zoning By-law for Ottawa. The Agriculture and Rural Affairs Committee will consider this matter on Thursday, February 24 before it rises to Council on Wednesday, March 8.

The Committee approved a zoning amendment to permit auto dealerships northwest of Dealership and

Strandherd

drives.  

In Sandy Hill, the Committee approved changes to certain standards of the existing zoning for a site on

Chapel

Street, between Mann Avenue and Templeton Street.  

Unless otherwise indicated, recommendations from today's meeting will rise to Council on Wednesday, February 8.
For more information, please click here.
Upcoming Meetings
➤ Finance and Corporate Services Committee - Feb. 7 at 9:30 am
➤ City Council - Feb. 8 at 10 am
➤ Transit Commission - Feb. 9 at 9:30 am
➤ Ottawa Police Services Board - Feb. 9 at 2 pm
➤ Emergency Preparedness and Protective Services Committee - Feb. 13 at 9:30 am
➤ Built Heritage Committee - Feb. 14 at 9:30 am
➤ Ottawa Public Library Board - Feb. 14 at 5 pm
➤ Planning and Housing Committee - Feb. 15 at 9:30 am
➤ Police Services Board Finance and Audit Committee - Feb. 15 at 10 am
➤ Audit Committee - Feb. 17 at 9:30 am
For the full list of upcoming Committee and Council meetings and to access the meeting agendas, please click here. Watch or listen to meetings in progress or access the video or audio of past meetings on YouTube or on the City's agendas and minutes web portal. Regular City Council meetings are also broadcast live on RogersTV Cable 22 and streamed live on the RogersTV website.