July 28, 2023 newsletter from Rawlson King, City Councillor for Rideau-Rockcliffe.
A Message from Councillor King
This week, OC Transpo had planned to restart light rail service by Monday, July 31. However due to continuing issues around remediating the train service, return to service will now be delayed at least an additional 10 days. 

Earlier this week, Alstom and Rideau Transit Group (RTG) agreed to implement design modifications to the wheel hub assembly on all light rail vehicles in order to strengthen the axle and bearings so that they can handle normal operating conditions. The axles and bearings are supposed to last 1.2 million kilometres, but have experienced degradation much earlier than that service threshold which has resulted in the trains being removed from service.

RTG and Alstom have conducted numerous instrumented bogie tests, which have resulted in the need for additional track infrastructure work to ensure that the train wheels do not make contact with the restraining rail. The need for this additional work means that the gradual resumption of service, initially anticipated to occur on July 31, will be delayed. OC Transpo is working with RTG to determine the next steps, including a new risk assessment for the work to ensure that the track infrastructure conforms to a new Safety Note issued by RTG.
At a high level, the Safety Note lays out plans for a new inspection and replacement regime that requires:
Continuing with all mitigation measures already in place,

Replacement of the leading and trailing wheel hub assemblies and axles every 60,000 kilometres; and

Implementing a new inspection regime for middle bogies.
Work on the risk assessment and next steps for adjusting rail infrastructure will proceed through the weekend. Once the risk assessment is complete, it will take approximately 10 days to complete the track infrastructure work. In the interim, RTG will continue to change the wheel hub assemblies. This will increase the number of light rail vehicles available for operation, when it is determined service can safely resume.
Before light rail service safely resumes, three milestones are required:
Inspection of all light rail vehicles: This was completed on July 24; six vehicles are undergoing additional investigations.

A report based on the manufacturer's disassembly and analysis of the out of tolerance hub: The disassembly has been done and inspection work is taking place. This report is expected for today, July 28.

A draft Safety Note from RTG, outlining the parameters of the new containment plan for the safe operations of Line 1 was received on July 26: RTG informed the City that the Safety Note requires additional actions to ensure that there is no contact between the train wheel and the restraining rail. OC Transpo and RTG are working collaboratively to finalize this document.
OC Transpo recognizes that the ongoing service disruption is frustrating for customers. However, the safety of customers and employees is paramount. Work will continue throughout the weekend to restore light rail service.

Mayor Sutciliffe, along with the Chair of the Transit Commission, the Chair of the Light Rail Sub-Committee and the rest of City Council, have indicated that our singular focus is on safety and implementation of all Ottawa Light Rail Transit Public Inquiry recommendations. The City is working collaboratively with RTG and the consortium to advance permanent solutions that will deliver the light rail service Ottawa residents expect and deserve and will continue to increase the level of communication about light rail service disruption and restoration to the public.
---
Your Councillor in the Community
There was an amazing community barbecue at BGC Ottawa's Don McGahan Clubhouse in Overbrook July 28 despite the rain. There were many youth and community partners present enjoying food, sports and games.
I enjoyed the Carivibe MANGO Caribbean Food and Music Fest at the ByWard Market on July 23. The event featured the very best in Caribbean literature, arts, crafts, music, cuisine and drinks and local businesses!
I enjoyed attending the proclamation for the Sri Chinmoy Peace Run on July 22 at the Canadian Tribute to Human Rights Monument with Councillors David Hill and Steve Desroches.
I was pleased to attend an amazing barbecue at Ottawa Community Housing's Carson Community House on July 22. The event was hosted by OCH staff, the Rideau-Rockcliffe Community Resource Centre and the Community Tenant Circle. Thank you to the volunteers for enhancing the community experience!
I enjoyed some fabulously delicious local eats and music at the fourth annual Manor Park Community Council's Pints in the Park event on July 22. It was great to see Incubator13 promoting its excellent programming during this event.
I had a g

reat time at the Beechwood Farmers' Market Farm Shop at

 1805 Gaspe Avenue in Manor Park the afternoon of July 21, featuring a visit from The Merry Dairy.
---
Rideau-Rockcliffe News, Events and Engagement Opportunities
Vanier BIA - Friday Family Fun Camp Out - July 28
Get ready for Friday Family Fun Night on July 28 with the Vanier BIA! The theme is Camp Out so be prepared for some spooky stories by the campfire, roasting marshmallows, camping games and more! Happening at the Vanier HUB from 6 to 8 pm. For details, please visit facebook.com/ZACVanierBIA.
Community Pull Up - July 29
Pearly Media and the Vanier BIA are proud to present 'The Community Pull Up' on Saturday, July 29 from 3 to 8 pm at 271 Marier Avenue. The Community Pull Up is a celebration highlighting musicians and artistry among the local creative community, with a spotlight on Vanier. This family friendly event features performances by local artists, vendor pop ups, kid friendly activities including face painting, an open mic segment and a live cypher by Cap City Cyphers. The Cypher portion will also be family friendly and led by local artists King Kimbit and Nico. Pull up and bring the fam! Proceeds from this event are being donated to Cap City Cyphers in support of their events, programming and workshops. Details: https://www.facebook.com/ZACVanierBIA
Wabano Culture Night - July 31
Kevin Chief and his daughter Amber Asp-Chief will host an evening of Anishinabemowin, teachings and traditional songs next Monday, July 31, from 5:30 to 7:30 pm at The Wabano Centre for Aboriginal Health. Culture Nights are open to the general public, so that we can all learn to walk together. For details, please click here. 
Shakespeare in the Park performances - July 31
The Company of Fools presents a Hamlet that's bigger and better than ever. For more information and for the full schedule, please visit fools.ca/hamlet.
Shows taking place in and around Rideau-Rockcliffe:
July 31 at 7 pm at Strathcona Park in Sandy Hill
August 7, 14 and 21 at 7 pm in Strathcona Park in Sandy Hill
NCC River House Reopens
The NCC River House, at 501 Sir George-Étienne-Cartier Parkway, reopened to the public on July 25. After a full rehabilitation, the heritage building is now universally accessible year-round. Click here for details. 
Stop by to swim, snack and enjoy the view:
Food services open daily 11 am - 9 pm

Lifeguards on duty daily 7 am to 7 pm
OC Transpo Detour: North River Road closure
Routes: 14, 18
Until Monday, August 7 at 6 pm, Routes 14 St-Laurent and 18 St-Laurent are being detoured due to the closure of North River Road to southbound traffic at Montreal Road for the Montreal Road Revitalization Project. Please allow extra time for your travels. For more details about this detour, the detour map and for the affected stops, please click here.
Hemlock Pumping Station Upgrades - mid to late July
Construction to complete upgrades to the existing Hemlock Pumping Station, located at 751 Hillsdale Road in Rockcliffe Park, will be starting soon. Mobilization at the site is expected for mid to late July.

What: This project will upgrade and update features at the Hemlock Pumping Station by installing a new bypass chamber outside of the station to enhance sewage and water flows, replacing electrical components inside the station and rehabilitating concrete, ladders, gratings and gates outside the station.

Why: The upgrade to the station is required to renew components of the station that have reached end of life and require replacement.

When: Construction is expected to begin in July 2023 and completion is anticipated in summer 2024.
Where: Hemlock Pumping Station located at 751 Hillsdale Road in Rockcliffe Park. All proposed upgrades will be installed within the City right of way.

Who: The City of Ottawa has retained the contractor, Thomas Fuller Construction, to complete the work.
Vanier BIA - Live music Wednesday evenings
Spend your evening with the Vanier BIA moving and grooving to music presented by local artists this summer! The St. Charles Market will be hosting Akoustik on the following Wednesdays: August 2, August 16, August 30, and September 13. Bring your loved ones and join the BIA for this free event from 7 to 9 pm at 135 Barrette Street.
Free Dental Screenings at the Rideau Community Hub - August 11 & 25
Ottawa Public Health is offering free dental screenings at its Neighbourhood Health and Wellness Hubs across Ottawa, including at the Rideau Community Hub at 815 St. Laurent Boulevard. The next screenings are JAugust 11 and 25, from 10:30 am to 12:30 pm and from 1:30 to 4 pm. All ages are welcome. No appointment is needed. First-come, first-served. For details, please click here. 
Refugee Stories in support of Carty House - at the St. Laurent Shopping Centre - Starting August 16
Each semester, DeSerres Art Store, at St. Laurent Shopping Centre, offers Ottawa-Carleton District School Board (OCDSB) high school co-op students a chance to work with a professional artist to learn develop their art skills, as well as relate to the wider community. Carty House, the only transitional home for female refugees in Ottawa, was selected as their community partner for their summer co-op program. Most of us will never have to fee our home country in search of safety. Most of us will never have to rebuild our lives from scratch. These women did. Carty House current and past residents will be sharing their experiences. The students will be using 100-year-old doors to bring their stories to life through art. They are very excited to create, to learn, to share. PASSAGES - Doors to Refugee Stories will be on display in Centre Court at the St. Laurent Shopping Centre beginning Wednesday, August 16. For more information on this project or Carty House, please visit CartyHouse.org.
Summer Corn Roast - August 19
Ottawa-Vanier MPP Lucille Collard hosts a Summer Corn Roast on August 19, from 11 am to 3 pm at Optimist Park, 43 Cécile Street in Vanier. Enjoy fresh corn on the cob and take part in a variety of family-friendly activities through the day, including face painting, yoga, live music and local artisans and artists. Click here for details. 
Starry Night Glamping Gala - August 31
BGC Ottawa hosts their annual gala, a unique and fun-focused night under the stars with lots of surprise experiences, on August 31. Funds raised during the upcoming Starry Night Glamping Gala will provide free programs and services to thousands of children. The event will take place on the great lawn adjacent to the Rideau Canoe Club, 804 Hog's Back Road. For details or to purchase a ticket, please click here. BGC Ottawa offers programming at its various clubhouses across Ottawa, including the Don McGahan Clubhouse on McArthur Avenue. 
Road Rehabilitation Works in Rideau-Rockcliffe 
As part of the City of Ottawa's annual infrastructure maintenance cycle, road resurfacing is taking place in the following locations.
The roads will remain open to traffic with lane closures expected. Traffic control personnel will direct traffic. The City has retained contractor R.W. Tomlinson to complete the work.
---
City of Ottawa News, Events, Meetings and Engagement Opportunities
Road Works - City of Ottawa
Beginning Friday, July 28, a series of weekend closures will impact one of two southbound lanes on Riverside Drive at Terminal Avenue. Traffic from Highway 417 heading south on Riverside towards Hurdman Station will experience delays. Click here for more information. 

Highway 417 and select ramps will be closed in both directions between Woodroffe Avenue and Greenbank Road from Friday, July 28 at 11 pm until Monday, July 31 at 5 am. Click here for details.
Register soon for fall recreation and culture programs
Starting Monday, July 31, browse register.ottawa.ca to start planning your fall activities and PA days for the 2023-2024 school year. Registration opens for:
Fall swimming lessons on Monday, August 14 at 9 pm
All other fall activities and PA days on Wednesday, August 16 at 9 pm
New for September, parents can book single days for after school programs. And for children who need a little extra help, the City's Inclusive Recreation team provides integration support. Visit Inclusive Recreation to learn more about Shared Care 1:1 support. For details, please click here. 
ByWard Market Night Market - July 29
The ByWard Night Market is on TOMORROW, July 29 from 12 to 8 pm! Don't miss this once-a-month shopping experience in the heart of downtown.  Over 15 small businesses will line the vibrant pedestrian pathway beside the historic market building, from 5 - 9 pm. Shop local and take in Emilie Darlington's street mural in one of our cozy Muskoka chairs on William Street! Follow the flowers to George Street Plaza for live performances from the city's hottest artists, check out the set list below
Hydro Ottawa Labour Relations Update

Talks involving Hydro Ottawa and the International Brotherhood of Electrical Workers are underway. Hydro Ottawa's contingency plans remain in place to maintain essential service to customers and the community. For the most recent update, please click here.
Do you have a health-related question? Here are some services that can help! 
Neighbourhood Health & Wellness Hubs
Ottawa Public Health works with the City of Ottawa and community partners to deliver integrated services closer to where people live, by providing additional access to drop-in health and social services at no cost. There are currently 15 Neighborhood Health and Wellness Hubs that offer a range of services, including:  
COVID-19, flu, school and routine childhood vaccination  

dental screenings  

mental health and substance use health services and wellbeing support 

parenting support and 

financial assistance services.  
The hubs provide an opportunity to speak in-person with OPH and/or City of Ottawa staff. No appointment is needed. Different services are offered at different locations. More information can be found at OttawaPublicHealth.ca/NeighbourhoodHub.
Did you know? There is a Neighbourhood Health and Wellness Hub in Rideau-Rockcliffe Ward 13 at The Rideau Community Hub, located at 815 St. Laurent Boulevard.
Ontario Health 811  
A free, secure and confidential service you can call or access online 24 hours a day, 7 days a week to get health advice from a registered nurse or to find health services or information. Toll free TTY line: 1-866-797-0007. You can visit Health 811 for more information.
211 is here to help! 
Dial 211 for local information and referrals on community, social, government and health services. 211 is a three-digit phone number that provides free, confidential and multilingual information and referrals to clients looking for community and social services in Ottawa. You can visit 211Ontario.ca for more information. 
How to use your green bin
Based on the City's most recent waste audit, 58 per cent of household waste currently going to the landfill belongs in the blue, black or green bins. All food waste or scraps of any kind belong in your green bin. This includes meat and fish, bones, egg shells, mouldy food and soiled paper and cardboard, kitty litter, household plants and soil, even barbecue ashes. Learn more at ottawa.ca/greenbin.
Accessible Taxi Service Pilot Program
On June 28, City Council approved a three-year pilot program to improve accessible taxi service for people with disabilities in Ottawa. As part of this pilot project, the City of Ottawa will negotiate a three-year contract with a centralized dispatch service for on-demand wheelchair accessible vehicles with the goal of increasing the availability of wheelchair accessible vehicles on the road. The Centralized Wheelchair Accessible Vehicle dispatch, which will launch in January 2024, will be available 24-hours a day, 7 days a week, and will ensure that all requests for wheelchair accessible vehicles are routed through a dedicated third-party app, website, and telephone number to be dispatched to the closest available wheelchair accessible vehicle to the benefit of both the client and the driver. Additionally, to encourage more accessible taxicab drivers to enter or re-enter the industry and get back on the road, the City will provide annual incentive grants to plate holders or owners of fully accessible vehicles, as well as to drivers, in addition to a $15 per trip contribution payable to the driver for each completed wheelchair accessible fare. Click here for more information.
Approval of the Alternate Response to Mental Health and Substance Use Crises
In July 2023, Council approved 

a plan for the first phase of a safer way to respond to mental health and substance use crises

. 

This plan includes creating a different phone number, instead of 9-1-1, for people to call when they need help. The calls will be answered by trained professionals who will assess the situation and send the appropriate support. The first phase of this plan will start in one specific area of Ottawa. This will allow time to see how well it works and evaluate the system. The results will help in expanding the program to other areas. Residents of Ottawa will have access to response services for mental health and substance use crises that are safe and tailored to their needs. A coordinated system will connect residents with civilian professionals who will offer compassionate and culturally appropriate help, available 24/7. They will focus on individual needs and provide ongoing support by connecting clients to additional services. Click here to learn more.
Mailout to residents from Service line Warranties of Canada
Service Line Warranties of Canada will be mailing letters in the coming weeks to provide City of Ottawa homeowners with details about voluntary and optional protection plans to assist with costs of possible future water and sewer/septic repairs. For more information about the Service Line Warranties program, visit ottawa.ca/slwp and check out the frequently asked questions to see if this program is right for you. More details are also available at this link.
Volunteer for City Committees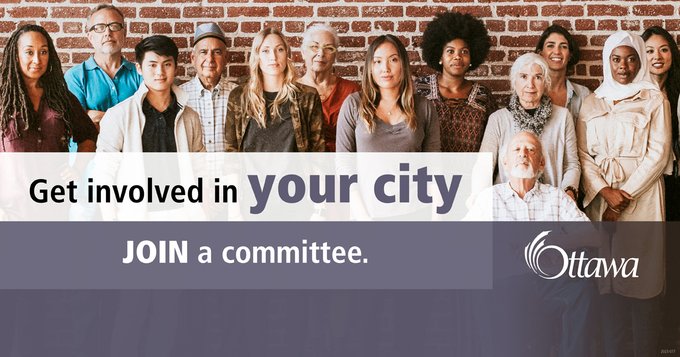 The City of Ottawa is currently recruiting public members to serve on the French Language Services Advisory Committee and the Planning Advisory Committee! Make a difference by becoming a volunteer member! The City could benefit greatly from your expertise and knowledge and in return, you would gain insight and knowledge of how the City works. Applications must be submitted by Thursday, August 24 at 4:30 pm. For more information, including the online application form, visit ottawa.ca/committees or contact Eric Pelot at 613-580-2424, ext. 22953, (TTY: 613-580-2401) or by email at [email protected]. 
Upcoming festivals and fun around the Capital
Thai Street Food Festival - July 30, 11 am to 6 pm at Lansdowne Park in the Horticultural Building. Details: thaifest.ca
Northern Lights Sound and Light Show on Parliament Hill - Thursday to Monday until Sept. 4. Details here.
Ottawa Chamberfest - until August 3, featuring 120 concerts by leading international ensemble and solo musical artists. chamberfest.com
Buskerfest is coming to Sparks Street August 4 to 6 from 11 am to 10 pm and August 7 from 11 am to the grand finale at 5 pm. Details: Sparks Street BIA.
The Great India Festival takes place August 10 to 13 at Ottawa City Hall. Details: www.tgifottawa.ca
Halal Ribfest at Lansdowne Park - August 11 to 13. This is North America's largest Halal food event, plus entertainment, shopping and activities. Details here.
Ottawa Greek Fest - August 11-13, 15, 18-20 at 1315 Prince of Wales Drive. Free admission. Click here for the schedule.
Capital Ukrainian Festival - August 19 at the Ukrainian Banquet Hall, 1000 Byron Avenue, and August 20 at Lansdowne Park. Details: capitalukrainianfestival.com
Capital Pride Festival - August 19 to 27. Details: capitalpride.ca/2023-festival
Capital Pride Parade - August 27, starting at 1 pm in Centretown. Click here for details.
Palestinian Festival Ottawa - August 25 to 27 at Marion Dewar Park near City Hall. Details: palestinianfestival.ca
City Sounds Live Summer Sounds Showcase
Enjoy 20 free outdoor concerts until Sept. 22. Details: ottawamic.com/citysoundslive
Performances in and near Rideau-Rockcliffe Ward:
August 2 from 6 to 8 pm at St. Charles Market - Beechwood at St. Charles. Featuring Tristan Guay, Sophie d'Orléans and Wassim
Sept. 14 from 6 to 8 pm at The Hub, located on Marier Avenue at Montreal Road in Vanier. 
Auditor General 2024 Workplan - Public Input Survey - until July 31
The Office of the Auditor General (OAG) for the City of Ottawa undertakes an annual risk-based assessment to identify audit priorities. The audits selected for inclusion arise through a systematic identification of all areas of significance from an audit perspective and the determination of audit project priorities by assessing criteria relating to risk, important organizational changes, new initiatives, emerging priorities, and other relevant factors. Furthermore, requests from external boards may also be taken into consideration. One of the steps of the OAG's risk-based assessment process includes consultation with stakeholders. New this year, the Auditor General is seeking public input into the areas that Ottawa residents and business owners believe could benefit from an independent audit. The survey will remain active until July 31, 2023. The survey will take approximately five minutes to complete. Survey results will be shared through the 2024 Audit Workplan, anticipated to be presented to the Audit Committee in December 2023. For more information, please contact the Office of the Auditor General (OAG) at [email protected]. You can view the OAG's current workplan here. To learn more about the OAG, please visit www.oagottawa.ca.
What's Happening at City Hall & Lansdowne Park
Enjoy Salsa dancing for free at the Rink of Dreams at City Hall on Wednesday evenings until August 30. Workshops begin at 6:30 pm/ Social dancing to Latin DJs takes place from 8 to 11 pm.
Latin at Lansdowne: Free outdoor classes on Saturdays at the Aberdeen Plaza until Saturday, August 26. Beginner- or improver-level dance lessons begin at 6 pm, and social dancing is from 8 to 11 pm. Solo and partnered-style dancing workshops.
Full Moon Yoga on the Great Lawn at Lansdowne - Free! August 1, from 8:30 to 9:30 pm. And August 30 from 8 to 9 pm. For details, please click here.
Lansdowne Summer Arts Showcase - Free musical performances at Lansdowne Park, every Thursday from 6:30 to 8 pm until August 31. Bring your lawn chair. 
Movies in the Park at Lansdowne Park - every Thursday until August 31 starting at sundown. 

Thursday, August 3: The Super Mario Bros. Movie

Thursday, August 10: A Knight's Tale

Thursday, August 17: Coda: Life with Music

Thursday, August 24: The Mummy

Thursday, August 31: Jurassic World
For details and for information about other activities this summer at City Hall and Lansdowne, please click here.
Caring and Sharing Exchange - Sharing in Student Success program
Every year during the back-to-school season, the Caring and Sharing Exchange offers assistance to children from Ottawa families in need by providing backpacks filled with all the grade-appropriate school supplies so they can begin school ready to learn and on an equal footing with their peers. In past years, the Exchange was able to assist children from kindergarten to Grade 8 and are thrilled that this year we will also be assisting Grade 9 students and hope to continue to grow each year. With the expansion and dramatic increase in the cost of living, they are expecting distribute over 4,000 backpacks this year. You can help by supporting the Sharing in Student Success program this year. Click here for details. Please click here to donate.
2023 Ottawa Urban Design Awards – Call for Submissions until Sept. 1
The City of Ottawa is pleased to announce the 2023 Ottawa Urban Design Awards competition. The awards will be presented in five categories: Urban Infill, Public Places & Civic Spaces, Urban Elements, Visions & Master Plans, and Student Projects. In our 10th instalment of the program, the 2023 awards will honour exceptional projects in Ottawa completed between September 1, 2021, and August 31, 2023. Winners of an Award of Excellence will be sent forward as the Ottawa entry to the National Urban Design Awards competition in 2024. The winning teams of all Urban Design Awards will be presented their award at an in-person gala hosted by the City of Ottawa in November 2023. Electronic and hard copy submissions must be received by 4 pm on September 1, 2023. Submission entry forms and program guidelines are available on the City's website Urban design awards | City of Ottawa. Submissions will be juried in October 2023 by an independent panel of urban design experts. The applicants of winning projects will be notified in late October 2023 by email.  For more information, please contact [email protected]
The Order of Ottawa and Brian Kilrea Award for Excellence in Coaching - Nomination Period Open
The City is accepting nominations for the 2023 Order of Ottawa and the Brian Kilrea Award for Excellence in Coaching. You can complete nominations for both awards either online or by downloading a nomination form from Ottawa.ca/orderofottawa. The submission deadline is Friday, Sept. 8 at 11:59 pm. Nominations will be considered every year for five consecutive years from the date of submission.
For meeting agendas, please visit ottawa.ca/agendas or call 3-1-1.
For information on how to participate in individual meetings, please consult the specific meeting's agenda at ottawa.ca/agendas.
To watch the meetings on Youtube, please click here.
Upcoming meetings:
Election Compliance Audit Committee - July 31 at 9 am
Police Services Board Policy and Governance Committee - August 1 at 1 pm
For recent Council and Committee news, please click here.