March 17, 2023 newsletter from Rawlson King, City Councillor for Rideau-Rockcliffe.
A Message from Councillor King
Since April 2020, a total of five physical distancing centres have been opened as temporary measures to support efforts to reduce the overall capacity within the single adult shelter system and provide adequate space for users to physically distance and mitigate the spread of COVID-19. The creation of the centres was in response to the unprecedented increase in the number of unsheltered individuals and homeless encampments which increased exponentially across the city.
 
Many individuals who normally resided in shelters opted to "live on the streets," citing personal safety and fear of exposure to the virus. In response to this emergency, the City worked collectively to develop and implement a strategic action plan to address the immediate short-term needs of unsheltered individuals. 
 
As we start to emerge from the pandemic, it will be important that the City explore all alternative options and formulate an action plan to ensure that temporary emergency housing at recreation and community centres are ultimately closed with the objective of transitioning unsheltered residents to permanent housing.

This is why I was happy to work with Alta Vista Councillor Marty Carr on a series of successful motions, passed at the March 8 Council meeting, which provide City staff direction to work on an action plan and develop tangible options to ultimately close these centres to give their occupants the safety and dignity they deserve. It will be important that we align this plan with the federal Rapid Housing Initiative, the program designed to address the urgent housing needs of vulnerable residents through the rapid construction of affordable housing.
 
The motions encourage the enhanced use of this federal program to reduce chronic homelessness and ensure that more Ottawa residents have a place to call home. These motions also ensure that Council monitors and measures progress on a bi-annual basis to resolutely ascertain how many vulnerable individuals and families are gaining access to affordable, accessible, and supportive homes.
 
It is important the City does all it can to transition as many unsheltered people to permanent housing as quickly as possible to improve the quality of life for those who need it the most. 
 
This is the reason why I also successfully passed a subsequent motion on March 8 asking the provincial government to formulate a serious plan to address homelessness with the Association of Municipalities of Ontario (AMO). The subsequent motion is part of an effort by AMO to encourage greater collaboration to end the housing and homelessness crisis within both Ottawa and throughout the province.
---
Councillor King in the Community
Wonderful to attend the Embassy of Ireland's March 16 St. Patrick's Day celebration at the residence of the Irish Ambassador with my Council colleagues and meet General John de Chastelain, who oversaw decommissioning in Northern Ireland as part of the Belfast Agreement peace process. During the Rockcliffe Park Residents Association Volunteer Reception and AGM on March 15, I expressed my thanks to the many volunteers in appreciation for their dedication and contributions. Congratulations to the new directors.
Honoured to attend the Leading Ladies Canada event at City Hall on March 12 to celebrate Black leadership and excellence in honour of International Women's Day. Happy to acknowledge the community contributions of Marie-Caroline Badjeck on International Women's Day. She was recently honoured with an Ottawa-Vanier Leading Women and Girls Recognition Award. Councillor Stephanie Plante and I recently spoke with youth in Vanier about creating opportunities to contribute their talent, passion, and ideas to enhance our communities. 
---
Rideau-Rockcliffe News, Events and Engagement Opportunities
Help the fire-impacted Overbrook residents
March 16 Update: Once again, at the request of community members, the Overbrook Community Association has agreed to extend their fundraiser until Sunday, March 19. The OCA has also increased the fundraising goal to $15,000 to encourage those who have not yet had an opportunity to donate to do so. They you again for your generosity and kindness. For details and to donate, please click here.
For residents wishing to help those affected by the fire, you can also visit this Canada Helps page to make donations. Please select Fund 10- Presland Road Fire Victims.
Gift Cards, including for groceries, restaurants, fast food, or Wal-Mart, can be sent to:
First Unitarian Congregation of Ottawa, 30 Cleary Road, Ottawa ON K2A 4A1
E-cards can be emailed to [email protected] to the attention of Jen.
For both mail and email, please ensure your correspondence notes that your donations are for the Presland Road Fire victims.
Manor Park Sip & Shop Monthly Market - March 25
The next Sip & Shop Monthly Market is on March 25 at the Hub, 1805 Gaspe, 3-7pm. A licensed event, you can grab a drink, enjoy a meal and wander the vendors. 
For details, please click here.
Free Income Tax Clinic - until April 28
The Rideau-Rockcliffe Community Resource Centre is hosting a free income tax clinic for residents with a K1K (and some K1M and K1G) postal code until April 28, 2023. To register and for details, please visit crcrr.org.
---
Funding Opportunities
City of Ottawa Community Environmental Projects Grant Program - Applications due March 31
Are you looking for an opportunity to put your environmental ideas into action? The City of Ottawa is accepting applications for the 2023 Community Environmental Projects Grant Program (CEPGP). 
CEPGP provides funding to non-profit organizations interested in undertaking small-scale, community-based initiatives that support an environmentally sustainable Ottawa.
The application deadline is Friday, March 31 at 4 pm. 
Successful CEPGP grant recipients must complete their projects by June 30, 2024. For details on eligibility criteria, the application process, profiles of past projects, and to submit an application, please visit Ottawa.ca/cepgp.  
For more information on CEPGP, please contact Tara Redpath, CEPGP Coordinator, at 613-580-2424 ext. 16822 or at [email protected].
Upcoming Deadline for Cultural Facilities Fund, Major Capital Projects - March 31
The Cultural Facilities Fund - Major Capital program has an upcoming deadline of March 31, 2023 at 11:59 PM.  
This program supports:
     - pre-feasibility studies for new capital projects over $60,000
     - feasibility studies for more advanced capital projects over $200,000
     - purchase of specialized equipment for programming
     - renovation, restoration or construction projects for major capital assets
COVID-19 highlighted the need for HVAC and ventilation improvements to reduce airborne transmission in indoor spaces. For the March 2023 deadline, the City will contribute up to 90% of total eligible costs for ventilation improvement projects in public programming spaces.
Newly revised submission requirements include a reduction in required tenant lease duration (from 10 to 5 years) and removal of the requirement for projects under $100,000 to have received previous funding from the City of Ottawa.
Program guidelines are available online.
If your organization is considering a submission, please contact Thomas Radford, Cultural Developer, Cultural Development and Initiatives at [email protected].
Community project funding application period now open - April 13
The project funding stream of Community Funding is now open for applications. Project funding will be allocated as one-year or three-year project
funding. This is the first time that this funding stream opens, as part of the new Community Funding Framework.
For more information and to apply, please visit ottawa.ca, and select One-time nonrenewable community project funding.
• Deadline for application: April 13 at 5 pm
• Maximum funding per agency: $30,000 for One-Year Project and $90,000 for Three-Year Project
• Applicants are advised of the results: June 1, 2023
For questions and inquiries on this funding process, email [email protected].
City of Ottawa Community Partnership Minor Capital Program - Application deadlines for 2023 are May 1 and Sept. 1
The Community Partnership Minor Capital Program is an initiative available for minor capital improvements to city-owned parks, recreation and cultural facilities on a cost-sharing basis with community groups. Examples include play equipment, basketball courts, park furniture, tree planting, landscape improvements, minor community facility improvements, etc. Projects on school board land and other public lands that are accessible to the public may also be eligible. The 2023 deadlines to apply are May 1 and Sept. 1. For details, contacts and to apply, please click here.
---
City of Ottawa News, Events, Meetings and Engagement Opportunities
Winter Operations Update
The forecast keeps changing but as of the latest, it looks like it will mostly come down as rain. 10 to 15 millimeters are possible before the event clears this evening, at which point the forecast is showing that the temperature is expected to drop below zero. Please monitor your local forecast for the most up-to-date information.  
Please exercise caution if you will be travelling this evening. Areas such as sidewalks, roads, pathways and the winter cycling network that are wet as we enter the evening hours could freeze, creating hazardous travelling conditions. Please adjust to the conditions of the network.

Finally, wind gusts of 30 to 40 kilometres an hour are also expected throughout the day, with gusts possibly increasing to 40 to 50 during the overnight hours. In the meantime, we are asking for anyone who can, to please ensure that your local catch basin is clear and able to take in water. With over 100,000 catch basins in the City, we cannot do it alone and would appreciate any support you can offer.
Can't find your nearest catch basin or need help clearing one out? Please visit Ottawa.ca.
Pothole Season
The City's Roads and Parking Services team has sprung into action to address pothole repairs.  
How are Potholes Formed?
Potholes are formed when water (from rain or melted snow and ice) seeps into small cracks or holes in the road. As temperatures drop, the water under the road freezes and expands pushing up on the road above, creating larger cracks – when the temperature rises above zero, the water evaporates and leaves an open space under the road. The weight of cars and trucks travelling over these weak spots breaks the asphalt, resulting in potholes. 
How do we Repair Potholes?
Potholes are filled by cleaning the hole of debris and water, then packing it with asphalt and rolling or pounding it down. At this time of year, some potholes in high traffic areas may need to be refilled more than once. This happens because water works its way back into the hole preventing the asphalt from forming an adhesive bond with the pavement.
A service request can be created online to report a pothole.
Registration for the City's Cleaning the Capital Campaign - March 15 to May 1
Spring is on its way and the Cleaning the Capital Spring Campaign will proceed with
registration starting March 15th, and cleanup projects taking place between April 15 and
May 31.

March 15, 2023:  Registration opens
April 15, 2023 - May 31, 2023:  Spring Cleaning the Capital campaign
April 22, 2023:  Earth Day
May 1, 2023:  Registration closes
June 15, 2023:  Deadline to submit your online cleanup report
Ujima Job Fair - March 18
Jaku Konbit's team of youth leaders will once again deliver the Ujima Job Fair in collaboration with community business partners. The Ujima Job Fair will promote opportunities and resources available to youth and adults seeking employment, volunteer, and entrepreneurial experience in the Ottawa/Gatineau region. The event takes place March 18 from 11 am to 2:30 pm at City Hall, 110 Laurier Ave. W. Click here for more information.
Community Partner Insurance Program - Consultation Survey
The purpose of this survey is to consult with the diverse resident-led groups and organizations offering programs, activities and events across the City, in preparation of seeking direction from Ottawa City Council on the Community Partners Insurance Program.
For details, please click here.
Spring Freshet 2023
The City of Ottawa's Spring Flood 2023 Facebook group has opened for the season. It will provide information to those affected by spring flooding or anyone who wishes to keep up to date with any developments. Relevant information will be provided as it becomes available. This information can be shared with neighbours, friends and/or family. Residents can also visit ottawa.ca/springflooding to get valuable information such as current conditions, any road, pathway or park closures, planning and prevention tips, and sandbag depot locations.
Last call for the Young at Art 2023 program - March 20
Visual artists in Ottawa aged 12 to 19 years can apply for a chance to display their work in a professionally held exhibition and be eligible for a number of awards. The application deadline is March 20 at 4 pm.
Details: Ottawa.ca/youngatart
City of Ottawa's Commemoration Policy - hybrid public engagement session - March 20
Capital Heritage Connexion will host a hybrid, bilingual public engagement session on Monday, March 20 in the morning to receive public input and feedback on a draft City of Ottawa Commemoration Policy.
In-person at Ottawa City Hall or online via Zoom, this hybrid session will complete the public consultation and engagement activities for the commemoration policy development project. Ottawa residents will have the opportunity to express their views in facilitated, in-person, break out groups or in online discussion groups. Feedback will be welcome for a period of two weeks following the March 20 session. Further information on this public engagement opportunity, supported through a CDI strategic cultural partnership, can be obtained by sending an email to [email protected].
City of Ottawa Summer Programs - Browse March 21. Swim registration opens April 3. Summer camp and program registration opens April 4.
Browse summer camps and activities on register.ottawa.ca starting Tuesday, March 21
Register for summer learn to swim and other aquatics programs on Monday, April 3 at 9 pm
Register for summer camps and all other summer programs on Tuesday, April 4 at 9 pm
Applications now open for the 2023 Paint it Up! mural program - Info sessions March 22; Mural design & location due March 23
Looking for a way to help deter vandalism and beautify the community while empowering our City's youth through community arts? Look no further than the Paint it Up! mural program. The Paint it Up! mural program is done in partnership with Crime Prevention Ottawa.
More than 2,831 youth between the ages of 12 and 25 have participated in the program since it began in 2010. Almost 96 funded murals are now beautifying many areas of the city with local art.
Crime Prevention Ottawa is hosting two virtual information sessions on Wednesday, March 22 at 1:30 pm and 6:30 pm. You can register for one of these sessions by visiting crimepreventionottawa.ca.
Those interested in participating will need to keep two deadlines in mind:
You must submit your mural design and location for approval by Thursday, March 23 via the City of Ottawa's By-Law and Regulatory Services 

online form

.

The complete 

application

 will need to be submitted to Crime Prevention Ottawa by Friday, April 14.
For more information on the Paint it Up! mural program, visit 
crimepreventionottawa.ca
.
Mayor for A Day Contest  - applications due by March 24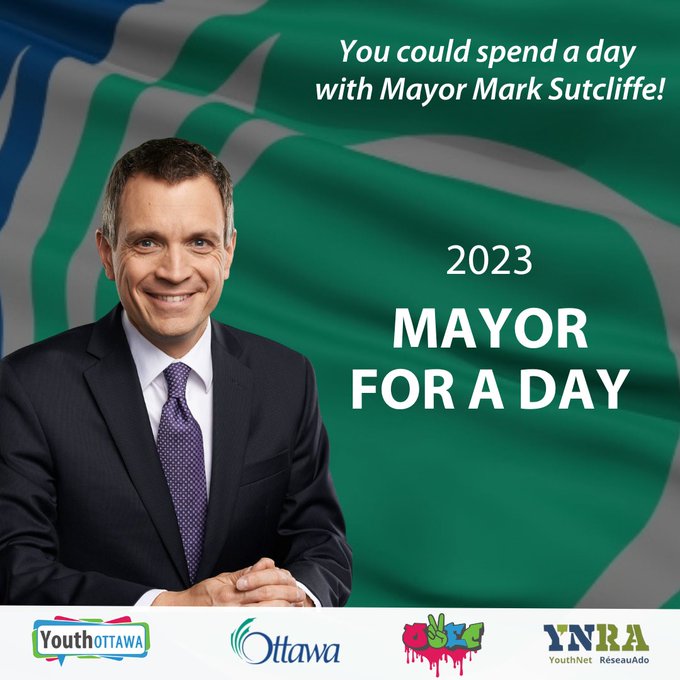 Youth Ottawa is proud to host its first Mayor for a Day contest with the new Mayor Mark Sutcliffe's, in collaboration with the City of Ottawa and Youth Ottawa's Ottawa Youth Engagement Committee. Nominations are officially open for any Ottawa high school students from Grade 9 to 12. The deadline to submit is March 24, 2023 and contest winners will be contacted shortly after. Two winners will chosen based on the quality of their ideas and they will be shadowing the Mayor throughout the day on May 4, 2023. For details and to apply, please click here.
Lansdowne Park is in need of significant renovations. The City of Ottawa and Ottawa Sports and Entertainment Group have worked together to create a plan that reflects the history, unique location and role of Lansdowne as a year-round gathering place for Canada's capital. For all the details, schedules, background and information, visit engage.ottawa.ca/Lansdowne. You can start by completing this survey. This is only the first of many opportunities you will have to provide input about Lansdowne 2.0. 
RBC Spirit of the Capital Youth Awards - Nominations open until March 22
The awards are an annual event that celebrates the extraordinary accomplishments of youth who are making our community, and the world a better place. The event itself is a complete celebration of young people. The awards aim to highlight the dedicated work, courage and achievements of young Ottawans between the ages of 14 and 21. There are seven categories for which nominations are accepted: Arts & Culture, Entrepreneurship & Innovation, Strength through Diversity, Take a Stand, Max Keeping for Personal Courage, Academic Perseverance and Service & Caring. To submit a nomination by March 22, please click here.
Gloucester 50+ Seniors Centre - Spring Tea and Sale - March 25
The Gloucester 50+ Seniors Centre is hosting a Spring Tea and Craft Sale on March 25, from 10 am to 2 pm, at 4355 Halmont Drive. There will be a tea room, crafts, baked goods, jewelry and more.
Vanier Museopark: Sugar Festival 2023 - March 27 to April 2

After three editions disrupted by the pandemic and the devastating fire at the sugar shack, the Vanier Sugar Festival is back in person from March 27 to April 2, at Richelieu Park. A flagship event in the Museopark's public programming, the Sugar Festival celebrates the sugar season and allows visitors to reconnect or become familiar with the artisanal way of producing maple syrup. For details, please visit museoparc.ca/sugar-festival.
The Great Egg Race - April 1
The City of Ottawa hosts The Great Egg Race at the Horticulture Building at Lansdowne Park on Saturday, April 1 from 9 am to 4 pm.
Design an egg car, build it, and compete in The Great Egg Race at the Horticulture Building in Lansdowne Park. There'll be three races plus free family activities! All materials are provided.
---
Emergency Services News
Ottawa Police Service
➤ Ottawa Police Service launches Operation Interlude for 2023
The Ottawa Police Service will launch Operation Interlude on Monday, March 20 to coincide with many students' return to class, following March Break. For more information, please click here.
---
City of Ottawa Committee and Council
Upcoming Meetings:
For the upcoming meeting schedule and for each meeting agenda, please visit ottawa.ca/agendas or call 3-1-1. Committee and Council meetings are broadcast live on Youtube.