November 18, 2022 newsletter from Rawlson King, City Councillor for Rideau-Rockcliffe.
This week, the Government of Canada announced an investment of over $78 million to support the construction of 271 affordable rental units in Rideau-Rockcliffe.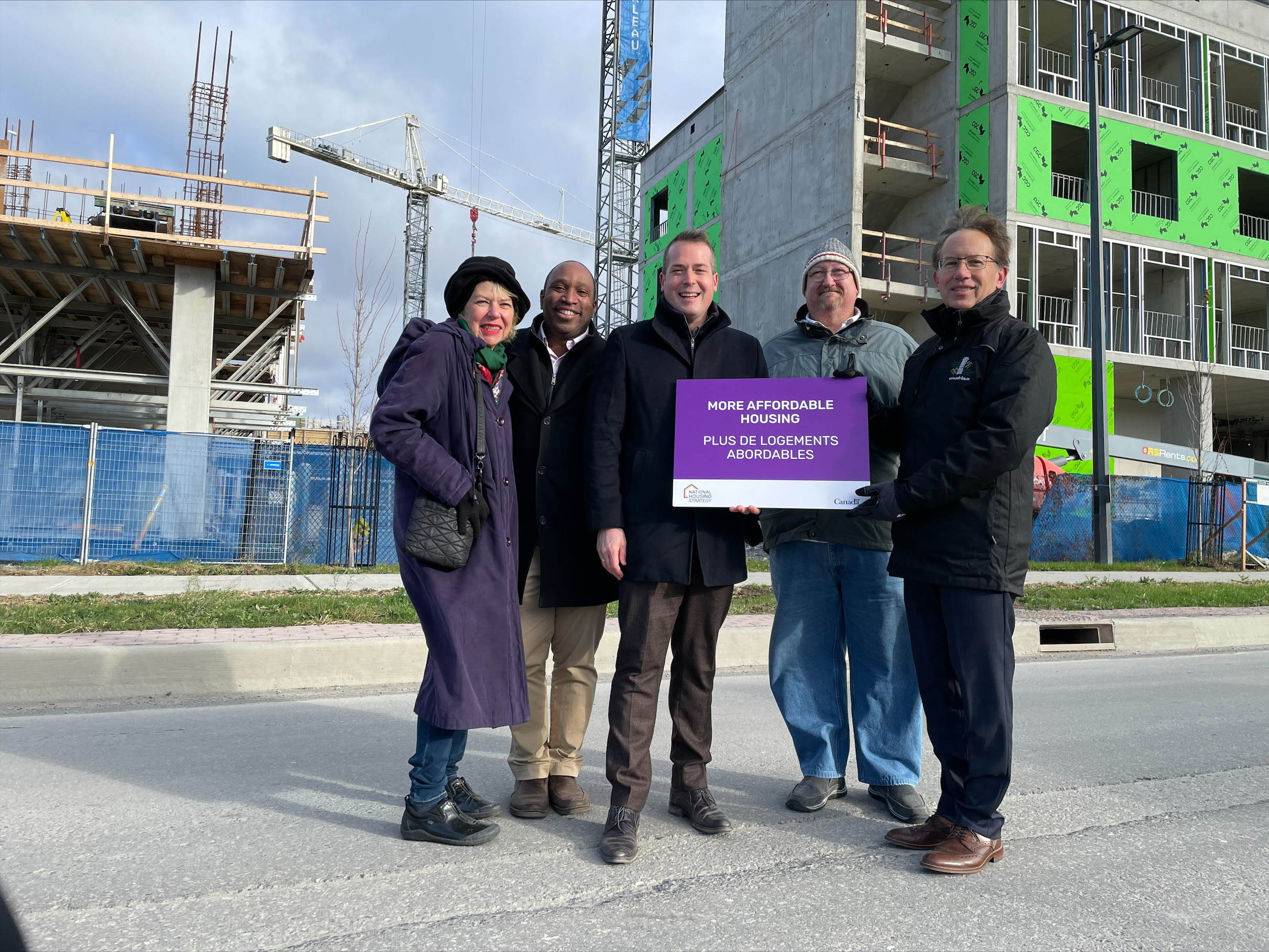 The Honourable Ahmed Hussen, Minister of Housing and Diversity and Inclusion, and the Honourable Mona Fortier, President of the Treasury Board and Member of Parliament for Ottawa–Vanier were joined by Jim Watson, Mayor of Ottawa, Stéphane Giguère, CEO of Ottawa Community Housing (OCH), Councillor Mathieu Fleury, Board Chair of OCH, and Rideau-Rockcliffe Councillor Rawlson King, to make this significant announcement for the City of Ottawa.

The Mikinak Community, located at 715 Mikinak Road in Rideau-Rockcliffe Ward, is a 271-unit housing community. The project will provide a mix of unit sizes with varying levels of affordability, including average market rent units and below market rent units. The development will help benefit women and children, Indigenous peoples, and households on the Centralized Waiting List.

The initiative is receiving federal funding through the National Housing Co-Investment Fund (NHCF), a $13.2 billion dollar pillar of the National Housing Strategy, as well as the Federal Lands Initiative (FLI), a $200 million fund that supports the transfer of surplus federal lands and buildings to be used as affordable housing. The FLI is a National Housing Strategy initiative delivered by Canada Mortgage and Housing Corporation (CMHC), Public Service and Procurement Canada (PSPC), Employment and Social Development Canada (ESDC), and Canada Lands Company. The project is also receiving over $2.6 million from the Ontario Priorities Housing Initiative (OPHI), which is a cost-shared program between Ontario and the Government of Canada aimed at creating new housing and increasing housing affordability.

Letter Opposing Bill 23

Rideau-Rockcliffe Councillor Rawlson King provided the following submission to Queen's Park on Bill 23, the More Homes Built Faster Act, 2022:

On behalf of Rideau-Rockcliffe residents in the City of Ottawa, I wish to register dissatisfaction with Bill 23, More Homes Built Faster Act, 2022.
I agree with Ward residents and community associations that this omnibus bill, which proposes sweeping changes to land use planning in Ontario, will have serious economic, social, and environmental implications for the City of Ottawa.

The legislation proposes to exempt developers from paying development charges and community benefit charges, and lesser parkland dedication fees.  The Bill also includes changes to the method for determining development charges, and reductions in costs associated with rental residential construction. The cumulative impact of these proposed changes is significant, and contrary to the widely accepted concept that "growth pays for growth".  Under the proposed legislation, the City of Ottawa will not have the financial resources to provide local infrastructure in tandem with new development, leading to a choice between increased costs for taxpayers or less infrastructure.

Consequently, I am opposed to Bill 23, and I urge the Provincial Government to pause the legislative process, and not pass this legislation until ample opportunity is given for the Legislature to fully receive and consider input from Ontarians through meaningful public consultation, as well as comprehensive analysis from Ontario's municipalities.

The proposed legislation, as currently drafted, perpetrates an unnecessary assault on the exercise of local democracy, by precluding opportunities for citizen engagement and intervention in municipal decision-making.  It is evident that the Provincial Government timed Bill 23's rollout so that it would be impossible to provide a comprehensive municipal response within the proposed consultation timeline and designed the rollout such that there would be no Committee hearings in the City of Ottawa.

Bill 23 imposes Province-wide norms for "as-of-right" infill development heights and densities, and restricts the municipality's tools for controlling and regulating built form, thereby sacrificing local planning autonomy.  While Ottawa residents are committed to the worthy goal of accelerating the rate in which we build new homes, their expectation is to be able to meaningfully engage in a fair and transparent urban planning process that encourages context sensitive intensification.  The Bill also abolishes third-party appeals by residents to the Ontario Land Tribunal (OLT).

The proposed legislation also makes the administration of the Ontario Heritage Act a logistical nightmare for the City, especially the two-year deadline for processing a very lengthy City heritage registry list for the purpose of transitioning these properties to heritage designations.  Under proposed changes, when a property is de-listed from the City's registry because of inaction in obtaining designation within two years of being listed, that property cannot be added again to the registry list for a period of five years.

Most dishearteningly, Bill 23 allows development permits to be issued without due consideration for the conservation of land in ecologically vulnerable areas.  The Bill also eliminates the mandate for conservation authorities to provide planning services, to guide municipalities in decision-making regarding natural hazards such as flooding, water quality and wetlands protection issues.  The result will have a profound impact on protecting our environment from urban sprawl.

While we can all agree on the need for more affordable homes, it is evident that this legislation is not the way to achieve this goal.  The cost to the environment, to the municipal finance structure, and most importantly to our democratic rights is too high a price to pay.

I therefore add my voice to those opposed to this legislation, which includes many concerned constituents within Rideau-Rockcliffe Ward and throughout the City of Ottawa, as well as many City-wide stakeholder groups who regularly make constructive contributions to the land use planning process in order to promote livable and healthy communities, cultural heritage protection, and the preservation of our natural environment.


Province Recommends Health and Safety Measures to Combat the Rise of Respiratory Infections

On Monday November 14, Ontario's Chief Medical Officer of Health strongly recommended using layers of protection, including the use of masks in all indoor public settings, to help combat the rise of respiratory infections, including COVID-19, Influenza and Respiratory Syncytial Virus (RSV), within the community.  
The Province and Ottawa Public Health recommend the following to prevent the spread of infection: 
Staying home when sick 

Wearing a 

well-fitted mask

 

Practicing personal hand hygiene 

Maintaining physical distancing and reducing physical contact with others where possible 

Avoiding contact with surfaces touched by others as much as possible 
Whether you choose to wear a mask or not, please respect each other's personal safety decisions, which may be based on individual health and family circumstances.  Please remember to stay at home if you are sick. We all have a role to play in creating and maintaining a respectful workplace by treating one another with dignity, respect and empathy. 


O-Train Line 1 planned closure on November 19 for vehicle and system testing
There is a planned, full O-Train Line 1 closure on Saturday, November 19 to allow Rideau Transit Group (RTG) to perform vehicle and system testing. Starting at 6 am, R1 replacement bus service will be provided to customers and will operate at a similar frequency to O-Train Line 1. Full O-Train Line 1 service will resume on Sunday, November 20 at 8 am.

To improve R1 travel times, buses will not stop at Cyrville Station; instead customers travelling to and from Cyrville Station can use a shuttle bus that will run between St-Laurent Station Stop C and Cyrville Station Stop B.

Additional testing will occur between November 16 and 24, during off-peak and overnight engineering hours, and will not impact normal service for customers. Customers may notice out-of-service trains clearly marked for testing purposes running along the line.

This testing will allow RTG to continue their investigation work into the root cause of the axle hub failure that occurred in July 2022.

Customers can visit octranspo.com for travel planning assistance or call 613-560-5000. Schedules are available by calling 613-560-5000 or texting 560560 plus the bus stop number. OC Transpo red vest staff will be present across the system and stationed at key areas to assist customers throughout the one-day closure.

Montreal Road Revitalization

Over the next two weeks (November 14 to November 25), work along Montreal Road will be winding down as crews begin to shut down for the winter months. The following work is ongoing:


Lafontaine/Montreal Road intersection

– Construction of concrete curbs and sidewalks at the intersection should be completed by early next week (weather pending). Hard surface reinstatement along the cycle track will follow.




Lafontaine to St. Laurent Boulevard

– Crews are continuing installation of demarcation tiles over the next two weeks as well as driveway reinstatements. Line painting for the three lane Montreal Road cross section was completed earlier this week, delineating two westbound lanes and one eastbound lane. All three lanes will be open before the winter shut down. 




Side street and intersection work

– The three intersections that remain closed (St-Anne, Olmstead North, Granville, Mona and de L'Église) will be finished and cleaned up this month to allow all sides streets to open before the winter shutdown. 

Rideau-Rockcliffe Community Resource Centre Seeks Board Members

The Rideau-Rockcliffe Community Resource Centre is seeking volunteers to sit on its Board of Directors.   
The Centre

The RRCRC is perhaps little known in our neighbourhoods but plays a very important role in providing a range of quality, diverse and innovative community and social services to Ward 13 residents in the areas of community support & development and poverty reduction. RRCRC is currently looking for Board members to assist in the management of the Centre.

The Board of Directors 

The Centre is well-managed. It is overseen by a volunteer Board of Directors. The Board currently has some vacant positions and would like to recruit new members from the community. This may be particularly interesting if you would like to contribute to the community-based sector in your own neighbourhood. 

We have specific needs for persons with HR and accounting backgrounds but would also look to add to the Board's skillset in other areas, such as leadership & management, fundraising, communications, and experience with NFP organizations.

As a member of the Board, you would help the Centre to attain its goals of building stronger and more solid programs, including more community-led projects and to be a leader in social services to support our community and address poverty. 

The Board generally meets monthly from September to May, using a hybrid approach (in person and online) and Board members normally also participate in one of the Board's committees. The Centre's offices are located at the Rideau High School Community Hub.
Centre's programs and activities 
A few examples of the work of the RRCRC:   The Centre houses an innovative entrepreneurship program for youths, Incubator 13, and offers children and youth digital skills programs, employment skills development, internships, and after-school programs. These programs supported over 600 children and youths in 2021. The Centre also provides to residents crisis support, short-term counselling, and referrals. It has an emergency food bank that supports thousands of Ward 13 residents. In 2021, the Centre provided services and programs to over 27,000 persons. The Centre is also one of the main points of contact for the food security programs across Ottawa's community centres network. As part of these horizontal activities, it also provides IT services for non-profit organizations and manages a program collecting 'gifts in kind' from merchants and distributes them across the community network.  
Contact

If you are interested in joining the Board or would like to discuss this possibility, please get in touch with Micheline Delorme, President, Board of Directors, RRCRC, ("[email protected]" - 613-745-6132)


Rideau Winter Trail Public Meeting

Would you like to learn more about the free Rideau Winter Trail for cross country skiing, fat biking, snowshoeing and walking in the centre of Ottawa? Join us on November 30 at 7:30 pm to learn about our plans for the  season. Spread the word!




Register Here: https://us02web.zoom.us/meeting/register/tZYpcuChrDgrHNDYemLLfrhpDnXX18R2VOTW