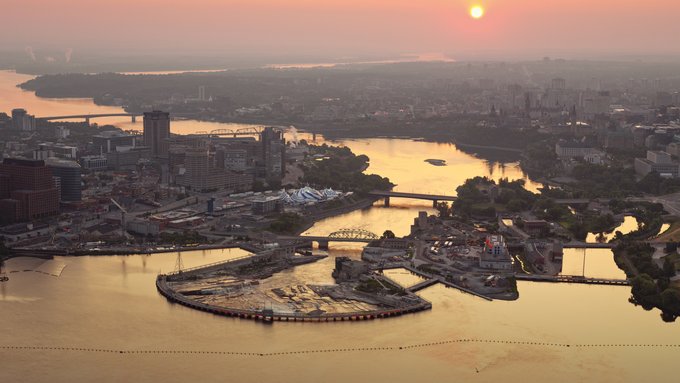 Outdoor Air Quality and Special Events
Smoke from forest fires in northern Ontario and Quebec have been affecting air quality in Ottawa. Depending on the evolution of the situation, wildfire smoke may continue to affect air quality in Ottawa throughout the summer. Air pollutants can be harmful to health. There are simple steps that everyone can take to protect themselves when air quality is poor, including:
What is the AQHI?
The Air Quality Health Index (AQHI) is a scale that describes regional air quality and what it means to your health. The scale is numbered from 1 to 10+ and shows the relative health risk associated with the air pollution level in the community. The higher the value of the AQHI the greater the risk and the need to take precautions.
What happens when the AQHI is high?
When the AQHI is 7 or greater (high) for 1 hour or more, or if the AQHI has not reached the high risk category but there is an air quality concern for a particular area that is expected to last for at least three hours, Environment and Climate Change Canada (ECCC) and the Ontario Ministry of the Environment, Conservation and Parks (MECP) will jointly issue a Special Air Quality Statement or a Smog and Air Health Advisory.
When an alert has been issued by ECCC and MECP, Ottawa Public Health notifies service providers of vulnerable residents and provides standard information on precautions. OPH also amplifies ECCC and MECP messaging to the public via social media.
Planning outdoor activities when air quality is poor
Residents may wonder how outdoor activities and events may be affected by air quality. Just as outdoor events and activities may be rescheduled due to thunderstorms or extreme heat, organizers should consider air quality when making decisions about events, including the types of activities offered, and whether to reschedule. For example, organizers of outdoor sporting events should take the AQHI into consideration because of the greater risk from outdoor physical exertion when air quality is poor.
Everyone can take steps to reduce their health risk when air quality is poor:
Check the AQHI every day to find the air quality forecast for Ottawa.

Avoid strenuous outdoor work, exercise, and playtime.

Stay indoors in a cool, well-ventilated place and plan indoor activities for children.

If you experience symptoms such as tightness in your chest, wheezing, or shortness of breath, seek medical attention.

People who must be outside for extended periods of time in smoky or dusty air may benefit from a well-fitting respirator type mask (such as a NIOSH certified N95 or equivalent respirator) that does not allow air to leak through small openings between the mask and face. 
Find more information on OPH's Outdoor Air Pollution webpage.
Residents who have questions about the impact of poor air quality on their health can call the OPH at 613-580-6744 (TTY: 613-580-9656). Connect with us on Facebook, Twitter and Instagram.