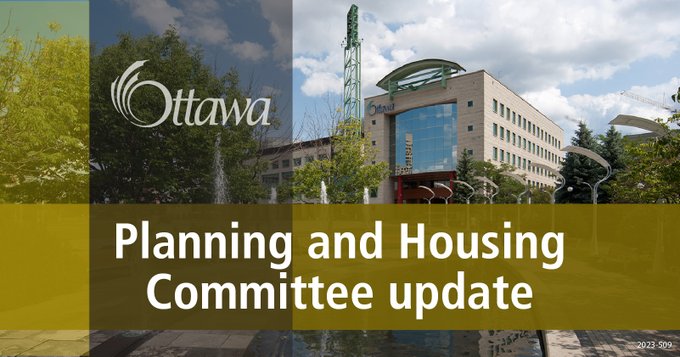 The City's Planning and Housing Committee today approved new guidelines to encourage vibrant, accessible commercial patios on both private property and in the public right of way.
The Urban Design Guidelines for Commercial Patios outline design options for various types of patios, and provide details about subjects such as furniture, partitions and vegetation. The City would use the guidelines to evaluate new patio proposals, ultimately creating more outdoor commercial spaces that:
Are safe and accessible

Support local businesses and economic growth

Encourage a more animated and vibrant public realm

Foster social connections and community building
The Committee also approved several zoning amendments that would facilitate infill housing projects across Ottawa, including a four-storey residential care facility with 224 long-term care beds on Famille-Laporte Avenue, east of Trim Road. A future retirement home is also planned for the same site.
Closer to downtown, the Committee approved a zoning amendment to permit a four-storey, 40-unit apartment building on Wilbrod Street in Sandy Hill. The amendment provides relief from several performance standards of the existing zoning to encourage more residential density. In Overbrook, an approved zoning amendment would allow for a five-storey, 45-unit residential building on North River Road consistent with the City's new Official Plan, which permits heights up to six storeys in this area. 
Farther west, the Committee approved a zoning amendment to allow a pair of three-storey, eight-unit apartment buildings on Winona Avenue in Westboro, while in Kanata, another approved amendment would permit a three-storey, nine-unit residential building on Klondike Road. Both amendments would provide zoning relief to encourage low-scale intensification within existing communities.
Recommendations from today's meeting will rise to Council on Wednesday, April 12.