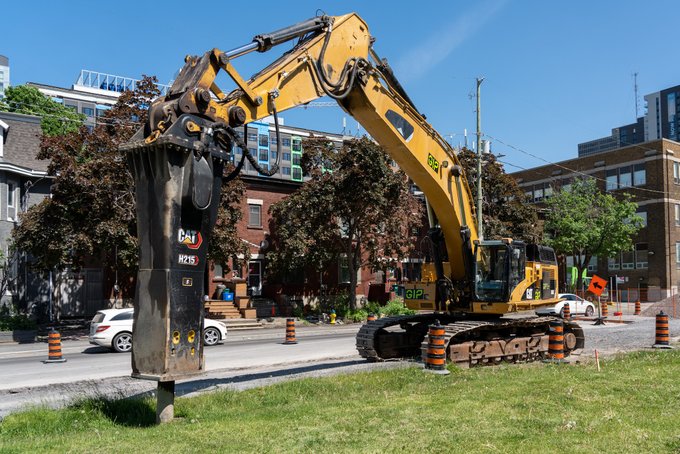 Today, Mayor Mark Sutcliffe was joined by Transportation Committee Vice-Chair Catherine Kitts, Environment and Climate Change Committee Chair Shawn Menard, and Councillor for Somerset Ward Ariel Troster for an official kick-off to the 2023 construction season.
The event was held at the site of the reconstruction of Albert Street, Queen Street, Slater Street, and Bronson Avenue, one of many key infrastructure projects in the city.  With an investment of approximately $47 million, the project will include the replacement of aging sewers and watermains, and allow for combined sewer separation, which will reduce the potential for combined sewer overflows and basement flooding. The project will also include full reconstruction of the roads, curbs and sidewalks, and add new cycle tracks, bus stops and protected intersections, which will significantly improve active transportation within this busy area of the city. 
In 2023, the City will invest over $800 million in city infrastructure. Some highlights include:
$136 million for road rehabilitation including resurfacing, geotechnical, guiderails, rural road upgrades and preservation treatments  
$34.4 million for bridge structures
$61 million buildings and parks
$7.7 million to renew sidewalks and pathways
$245.9 million for integrated road-water-sewer reconstruction projects
$15.7 million for culverts (stormwater structures)
*This does not include investment for light rail transit, Police Budget, or the Ottawa Public Library and Library and Archives Joint Facility (Ādisōke). 
There are many new and returning construction projects happening in Ottawa this year. Some of these projects include:
The City of Ottawa recognizes the impacts of construction on day-to-day activities, and strives to complete projects in an efficient, coordinated and timely manner to minimize disruption to the public, businesses and tourists.
Stay informed on traffic impacts
The City is committed to keeping residents informed on current and forecasted construction projects. You can search the Capital Construction Forecast Online Map for planned infrastructure projects.
Quotes
"I am pleased to officially kick-off Ottawa's 2023 construction season. With over $800 million in investments in hundreds of projects ongoing across the city, Ottawa will effectively cater to the diverse needs of our communities. These investments in our infrastructure come at a crucial time, supporting Ottawa's rapid growth. Thank you to the residents for their continued patience and support during the bustling construction season that lies ahead."
-  His Worship Mark Sutcliffe, Mayor of the City of Ottawa
"The work being done here at the reconstruction of Albert, Queen, Slater and Bronson is one of many projects across the city that will see the renewal of aging infrastructure combined with new finishing elements designed to offer increased safety, comfort and mobility for all users. This extensive corridor in a busy part of our city is on track for completion in the fall of 2024."
-  City Councillor Tim Tierney, Transportation Committee Chair