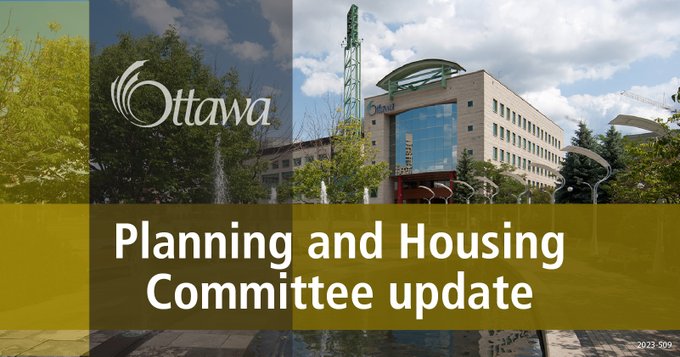 On May 3, the City's Planning and Housing Committee today received a report called Our City Starts with Home, which could help inform future policies and actions aimed at increasing the supply of affordable housing in Ottawa.
The report presents options to help foster and build more deeply affordable housing, with a focus on providing support to the non-profit housing sector. It was prepared for The Alliance to End Homelessness Ottawa and The Starts with Home Coalition.
The Committee also approved zoning amendments to facilitate several smaller residential infill projects. A four-storey apartment building with 26 units is proposed on a double-wide lot on Larch Street in Little Italy. The amendment would increase the permitted number of units within a single building on this property, recognizing the site is large enough to accommodate two 12-unit buildings.
A six-storey, 60-unit building with ground floor commercial space is proposed southeast of Winona and Picton avenues in Westboro. The amendment would provide minor relief from several performance standards of the current zoning and require setbacks above the fourth storey to ensure appropriate height transitions to the existing homes to the north.
On Moodie Drive in Bells Corners, the Jami Omar Mosque has proposed a three-and-a-half-storey building with six townhouses next to this place of worship. The approved amendment would permit stacked dwellings within the site's current Minor Institutional zoning.
Recommendations from today's meeting will rise to Council on Wednesday, May 10.