A Message from Councillor King
Councillor King in the Community
On March 8 I attended the Rockcliffe Park Residents Association's Speaker Series evening featuring Thomas d'Aquino marking the publication of his newly published memoir, "Private Power ~ Public Purpose: Adventures in Business, Politics, and the Arts." On March 7 I enjoyed the launch of "My Thali: A Simple Indian Kitchen" cookbook by Chef Joe Thottungal with Anne DesBrisay. Thank you for all that you do for our community. On March 4 I had an incredible opportunity to tour the Rockcliffe Flying Club with Mayor Mark Sutcliffe and the club's board of directors. I was pleased to attend the launch on March 2 of the Ottawa Safety Council's new RoadSMARTS4Kids program with the Safety Council's executive director Jamie Kwong, CEPEO school board trustee Sonia Boudreault, Mayor Mark Sutcliffe and Councillors Tim Tierney and Stephanie Plante. This program is a digital library service helping kids learn road safety in a fun and engaging way. Click here for details.
---
Rideau-Rockcliffe News, Events and Engagement Opportunities
Fieldhouse Films - A new series launches in New Edinburgh
GoFundMe Campaign for fire-impacted Overbrook residents
At the request of community members, the Overbrook Community Association is leaving its fundraiser, in support of residents who were displaced by the fire on Presland Road, open for a few more days until Sunday, March 12.  Click here to learn more or to contribute.
Manor Park - Spring programs and camps


Enjoy a wide variety of programming and events in the Manor Park community, including adult art classes, spring sports for kids, sound baths, summer camps and licensed childcare, children's programs, Hoppy Easter Home Delivery, the Sip & Shop Monthly Market, adult fitness and yoga, and much more. For details please visit manorpark.ca. To register, please click this link.
---
Funding Opportunities
---
City of Ottawa News, Events, Meetings and Engagement Opportunities
March Break Programs at the Ottawa Public Library 
Snow Removal Operations Update
This winter season, Ottawa has received total of 308.5 centimetres of snow. The City's Roads and Parking Services team recognize that snowbanks encroaching on our transportation network make it difficult to navigate when walking, driving and cycling; please know that crews are working as quickly as they can to provide relief by opening up our network. This week, our crews have been continuing to focus on snowbank removal throughout the City. Since Sunday morning, 124 crews have been deployed to work on snow removal. Please be patient as this work takes time to complete. Teams will also be out addressing drainage issues caused by the melt and treating icy conditions on our sidewalks. Click here for the full update.
As snow removal operations are going on, temporary pothole repairs have resumed. The city has experienced 45 freeze thaw cycles and these fluctuating temperatures make for prime pothole making conditions. Ottawa winters are hard on our infrastructure, and this year in particular, we have seen an increased number of potholes. We will be taking advantage of the mild weather, and residents can expect to see our pothole crews across the City. Since mid-February, more than 170 crews have been on the job and managed to bring this year's fill total to 23,515 potholes.
For residents wishing to report a pothole, a service request can be created online.
Rideau River Flood Control Operations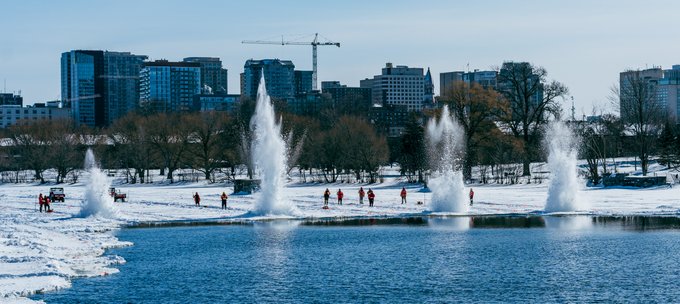 Rideau River Flood Control operations are well underway with ice blasting having started March 6. With more blasting possible, stay off the river and away from the banks as these operations can create dangerous conditions. To read more, please click here.
Emergency Services News
Ottawa Police Service
➤ Statement of support for city council's declaration of IPV as epidemic
March is Fraud prevention month
March is Fraud Prevention Month and the Ottawa Police Service wants to equip residents with information on how to avoid some common scams. Click here for details.

➤ Calling all local charities: Apply to be the beneficiary of the 12th annual OPS Gala
The Ottawa Police Service is pleased to announce that it is now accepting applications for its 12thannual Gala to be held November 4 at the Shaw Centre. Click here for more information.
City of Ottawa Committee and Council News
➤ Council approves new timeline for developing Zoning By-law
➤ Built Heritage Committee maintains heritage status of Crabtree House
Upcoming Meetings:
For the upcoming meeting schedule and for each meeting agenda, please visit ottawa.ca/agendas or call 3-1-1. Committee and Council meetings are broadcast live on Youtube.