October 13, 2023 newsletter from Rawlson King, City Councillor for Rideau-Rockcliffe.
A Message from Councillor King
Rideau-Rockcliffe Ward residents will have several opportunities in the coming weeks to inform the City's draft budget for 2024. My office is organizing two consultation sessions where residents can share comments and provide input on the City's priorities and where to find potential savings. For resources and documents related to the City's 2024 budget, please visit: engage.ottawa.ca/city-budget-2024.
I also invite you to take a short survey to tell me your budget priorities. The link to the Ward 13 Budget Priority Survey is available here. 
Ward 13 Budget Consultation
I will be hosting a virtual budget consultation for Ward 13 residents on October 30, 2023 at 6:30 pm. Please register to receive the Zoom meeting link by clicking here.
2024 Equity Budget Consultation
Ottawa's Black, Indigenous and racialized communities are also invited to join myself, in my capacity as Council Liaison for Antiracism and Ethnocultural Relations, and City staff for a hybrid equity budget consultation on Wednesday, November 1, 2023 at 6:30 pm. Attend in person at the Ottawa Black Business Alliance, HUB 235 at 235 Montreal Road. Doors open at 6 pm. Appetizers and light refreshments will be available. Advance registration is required. Please register to attend in person by emailing [email protected] or calling 613-580-2483. The consultation will also be virtual. Please register to receive the Zoom meeting link by clicking here. Ottawa's Black, Indigenous and racialized communities are invited to share their budget priorities by completing an Equity Budget Priority Survey at this link.
---
Your Councillor in the Community
Thank you to Mayor Mark Sutcliffe for joining me on a tour of Rideau-Rockcliffe Ward 13 earlier today, Oct. 13, and thank you to the many community groups that joined us along the way. 
Mayor Sutcliffe and I had an amazing tour of The Rideau Community Hub, located in the former Rideau High School, which includes our community's food bank. My thanks to the incredible staff and board members with the Rideau-Rockcliffe Community Resource Centre.
It was amazing to learn about the urban farming occurring at The Rideau Community Hub in Rideau-Rockcliffe with Mayor Sutcliffe

. This urban farming project is part of the Social Harvest enterprise, 

which helps feed the most vulnerable in our community.
We also visited the Centre's gifts-in-kind program operated at The Rideau Community Hub, which

helps non-profit agencies share charitably-received items with their clients or use them internally to carry out their mission.
I was excited to say hello with Mayor Sutcliffe

 to seniors engaged in the Rideau-Rockcliffe Community Resource Centre's

 workshops for people aged 55+. The Centre offers a wide variety of technology workshops and social events, along with physical activities.

Mayor Sutcliffe and I also stopped by the Ottawa Good Food Box food programming and social enterprise at The Rideau Community Hub. Their mission is to make fruits and vegetables more accessible and affordable to residents facing barriers to accessing fresh food. 
Thank you to representatives with the North Gloucester Giants Community Football Club, Youth Ottawa and the Overbrook Community Association for taking Mayor Sutcliffe and I on a tour of the Gil O Julien Park Fieldhouse in Overbrook. Youth Ottawa is working on a project to renovate the Fieldhouse in order to bring free recreational and educational programming to youth through its Rise Up Now project.
This morning, Oct. 13, I attended the Rideau-Vanier Small Business Week Networking Breakfast held by the Ottawa Coalition of Business Improvement Areas, along with Ottawa-Vanier MP Mona Fortier and Rideau-Vanier Councillor Stéphanie Plante.
I attended the third and final reinterment service for Barrack Hill Cemetery at Beechwood Cemetery on Oct. 12. This service laid to rest the final remains originally uncovered in 2013 and 2016 during construction excavation in the City's downtown core. Since the remains were uncovered, specialists at the Canadian Museum of History, led by archaeologist Janet Young, have carried out extensive archaeological research. This research has allowed for a greater understanding of those who lived and worked in Bytown nearly 200 years ago. A series of blog posts on this work can be found on historymuseum.ca.


I attended Harvest Fest on Oct. 12 during which the Rideau-Rockcliffe Community Resource Centre received $25,000 from RBC for the Centre's Social Harvest food security social enterprise. Congratulations!
I was pleased to joined Mayor Mark Sutcliffe, Ottawa-Vanier MP Mona Fortier and Rideau-Vanier Councillor Stéphanie Plante on Oct. 11 to celebrate the Vanier BIA recently receiving the Downtown Achievement Award of Excellence from the International Downtown Association for the Vanier HUB, a placemaking project on Montreal Road at Marier Avenue.
---
Rideau-Rockcliffe News, Events and Engagement Opportunities
Adàwe Crossing Bird Walk in Overbrook - Oct. 14
See and learn about shore and water birds with Bird Friendly Ottawa and the Ottawa Field-Naturalists' Club. Meet on Oct. 14 at 10:30 am at 1 Donald Street in Overbrook near the Adàwe Crossing bridge. The walk goes until 11:30 am, then you can explore the bird friendly boulevard gardens being planted on Donald Street. There will be native plant specialists on hand to help you identify plants and learn about invasive species so that you can create your own bird-friendly garden. For details, please click this link.
Noise exemption for Oct. 14 & 15 in Overbrook
The City has received a noise exemption application from Dunamis Army for special event noise associated with announcements and live music. The JON Christian music festival is scheduled for Oct. 15 at RCGT Park at 302 Coventry Road. Event noise is expected between 6 am and 10:30 pm, which includes time for sound checks. The festival is scheduled to end on Oct. 15 at 7 pm. The day prior, on Oct. 14, the exemption is from 6 am to 10:30 pm to allow for preparations and sound checks. 
Christmas Hamper registration now open for Rideau-Rockcliffe residents
Rideau-Rockcliffe residents in need of some assistance during the holidays are invited to register for the Rideau-Rockcliffe Community Resource Centre's Lending Hand program to receive a Christmas Hamper or a voucher. Space is limited and registration is required. For details and to register, visit www.crcrr.org and click on the blue snowflake at the top of the web page. 
Be Safe, Be Seen campaign - Drop by your local fire station for reflective bands and flashing lights
Throughout October 2023, Ottawa Fire Services will be distributing reflective bands and flashing lights at select fire stations throughout Ottawa. Please note that even within times listed below, should all station personnel be responding to an emergency call, items will be unavailable. Thank you for your understanding. On October 13, 16, 18, 20, 23, 25, 27, 30 from 4 to 6 pm, the following urban area stations in and nearby Rideau-Rockcliffe Ward 13 will be open to distribute the safety items: 
Click here for more details.
New Pedestrian Crossover Coming to North River Road/Stevens Avenue intersection 
Beginning in late September 2023, the City of Ottawa was scheduled to begin constructing a pedestrian crossover in Rideau-Rockcliffe Ward 13.
What: Pedestrian crossovers are designated areas that allow pedestrians to safely cross the road, where vehicles must yield to pedestrians when crossing. Pedestrian crossovers (PXOs) are identified by specific signs and pavement markings. In some cases, but not always, they may also have pedestrian activated flashing beacons. More information on PXOs is available at this link.
Why: This work is required to improve mobility and safety for pedestrians.
When: This work is scheduled to begin in late September 2023 and is anticipated to be completed by mid-October 2023.
Where: The PXO will be constructed on the north leg of the North River Road/Stevens Avenue intersection. Work will involve removal and replacement of sections of sidewalk along North River Road, asphalt and landscaping reinstatement, signs and pavement markings.
Who: The City of Ottawa has retained the contractor, Mopri Construction, to complete the work.

Rideau Street westbound closed Oct. 13 to 15
City of Ottawa News, Events, Meetings and Engagement Opportunities

Antisemitism Conference - Oct. 16 and 17
Antisemitism is very much alive, thriving in Canada as it is around the world. It manifests not only in the streets but also in the virtual world.  It's time to show that we have seen enough, heard enough, and had enough. We need to face it, and we need to fight it. Join hundreds of members from the Canadian Jewish community and its allies on October 16 and 17 at the Shaw Centre for Antisemitism: Face It, Fight It, organized by CIJA, the Jewish Federation of Ottawa, and Jewish Federations across Canada. At the conference, we will unite our voices and empower ourselves to show up, speak up, and step up against Jew-hatred. Join engaging panel discussions about antisemitism, online hate, activism, and politics with a wide array of experts, including many opportunities to network with community members, thought leaders, ethnic and faith community leaders, and public office holders. Learn more and register at www.fightit.ca.
Ottawa Public Health to start offering flu vaccines & new updated Covid-19 vaccines for eligible residents
Ottawa Public Health (OPH) expects the 2023/2024 respiratory season to be atypical when compared to pre-pandemic years, with early activity of respiratory viruses such as influenza (flu) and respiratory syncytial virus (RSV) circulating simultaneously with COVID-19. OPH recommends that everyone 6 months and older get the annual flu vaccine and the updated XBB 1.5-containing COVID-19 mRNA vaccine. Flu and COVID-19 vaccines are particularly recommended for people at high risk of severe illness from flu and/or COVID-19 as well as health care workers and first responders. Click here for more information.
Repair Café
 at City Hall - Oct. 14
Throw it away? No way! In honour of Circular Economy Month, the City of Ottawa is sponsoring a free Repair Café on Saturday, October 14, from 10 am to 2 pm, at City Hall (Jean Pigott Place), 110 Laurier Avenue West. Repair Cafés are an international concept with the goal of reducing landfill waste, teaching new skills, and building community! This free, community-led event is hosted by the Ottawa Tool Library. Volunteers will be ready to help repair your items and share their expertise around everything from darning socks to re-wiring kettles. Bring your small appliances, textiles, jewelry, electronics and furniture. Come and learn more about the Ottawa Tool Library and waste reduction, while saving an item from the landfill! Visit ottawa.ca/wastereduction for more. 
Heritage Ottawa Workshop: Who can help me with this old house? - Oct. 14
Heritage Ottawa has developed an essential Introductory Workshop designed for owners and prospective owners of older homes to help you learn how to care for your historic property. You will have access to professional experts who will share their knowledge and practical know-how, whether your house is Victorian, Arts & Crafts or Mid-century Modern. The day-long workshop includes six sessions, each developed by professionals in their fields, covering a range of topics on the conservation of your older home, including how to research its history, where to find restoration grants, how best to approach its maintenance and repair, and more. The workshop is Oct. 14 from 9 am to 4:30 pm at Bayview Yards Innovation centre or on Zoom. Advance registration is required and to purchase your spot. Click this link for details.


Small Business Week - Instagram Contest begins Oct. 15
You probably know someone who owns or works at one of Ottawa's estimated 28,000 small businesses. We all enjoy the variety, service and convenience of shopping local. Did you know that there are ways you can show support without spending money? One way is to enter the Instagram Small Business Week Contest, which the City will launch on Sunday, October 15. Follow @cityofottawa on Instagram, follow the contest instructions, and you will be entered in a draw to win one of five $100 gift cards to the local small business of your choice. The complete rules can be found at ottawa.ca/local, starting Sunday. Supporting your local BIA often results in supporting local small businesses.

Heritage Grant Program for Building Restoration - Applications accepted until Dec. 8
The Heritage Planning Branch, Planning Real Estate and Economic Development Department, has changed the application period for the Heritage Grant Program for Building Restoration. The program offers funding to property owners of designated heritage buildings to undertake restoration and rehabilitation work. Applications for 2024 heritage restoration projects will now be accepted until Dec. 8, 2023. If you would like to learn more about the Heritage Grant Program, please visit Built Heritage Funding Programs | City of Ottawa. Questions can be submitted by email to 

[email protected]

.


City of Ottawa - Planning Primer Elective - Committee of Adjustment - Oct. 18 and 24
The Planning, Real Estate and Economic Development Department offers the Planning Primer Program to help residents become more aware of, and more involved in, the land-use planning process.  
Date: October 18, 2023, from 6 to 8 pm (offered in English)

Date: October 24, 2023, from 1 to 3 pm (offered in English)
Location: a Zoom link will be sent to those who register. You can register here for the course. Please send any questions to [email protected].


Highway 417 will close October 19 to 24 for bridge replacement - Starting Oct. 19
The Ministry of Transportation Ontario will be closing the following sections of Highway 417 for the rapid bridge replacement over Percy Street, starting at 8 pm on Thursday, October 19 until around 6 am on Tuesday, October 24:

Eastbound lanes between Carling/Kirkwood and Metcalfe

Westbound lanes between Metcalfe/Catherine and Bronson
Lane reductions and ramp closures are scheduled to start at 7 pm on Thursday, October 19, with the full closure of Highway 417 scheduled to be in place by 8 pm. The replacement timeline has been extended beyond the usual Monday reopening to accommodate any fall weather that could impact concrete and paving work.
The following access ramps will also close:
O'Connor westbound

Lyon westbound (ongoing)

Maitland eastbound

Carling eastbound

Parkdale eastbound


Immigrant Entrepreneur Awards - Nominate someone by Oct. 20
Each year the City of Ottawa proudly celebrates and recognizes the success and economic contributions of local immigrant entrepreneurs through its annual Immigrant Entrepreneur Awards. 

New this year, the awards will feature a category to honour the drive and enthusiasm of young immigrant entrepreneurs. If you know an immigrant to Canada who embodies extraordinary entrepreneurial spirit and deserves recognition for their contributions to the Ottawa economy, the City is now accepting nominations online until Friday, October 20. Nominate a friend, colleague, client, employee or employer who deserves to be celebrated for their contributions. Click here for details.
Heritage Funding Program - Funding application deadline is Oct. 24


Resilient Communities Fund - Ontario Trillium Foundation - Deadline is Oct. 25
The Resilient Communities Fund supports community-based organizations that deliver programs and services in Ontario and need funding to recover and build capacity, resilience and sustainability. Eligible applicants can apply for a grant to develop and implement medium to long-term plans that address current organizational challenges they are facing to recover and build resilience. Submission deadline: October 25,2023. Click here for more information.
Wildlife speaker series – Bats 101: All about our night flying friends - Oct. 26
The Wildlife Speaker Series is bringing bats into the spotlight, to help demystify these creatures of the night! We invite Ottawa residents to spend the evening with us learning about the various types of bats that share our city, what they do in the winter, and the threats that they face. Did you know that several of our local bats are nationally and provincially endangered, and others may soon be added to the list of species at risk? Now that's spooky! We hope you'll join us online… same bat-time, same bat-channel! This event takes place on Oct. 26 from 7 to 9 pm on Zoom. Please click here to register and receive the Zoom link. Please click here for more information.
Trick or Swim or Skate Tickets - Now Available!
Trick or Swim or Skate tickets are now available for purchase. Purchase 10 tickets to public swim or skate sessions for $10 - a great alternative to candy treats during the spooky season. 

Check for participating facilities.


Ottawa Public Library wants to hear from you!
The Library offers so much and has something for everyone. Knowledgeable library staff are passionate about helping every OPL client pursue their goals and interests. Library staff want to hear about your awareness of OPL and gain some insight into your perceptions and impressions of the Library. This information will be used to strengthen and improve OPL's efforts to bring the valuable benefits of the Library to more people in our city. Please complete our survey. The survey takes between 10 and 15 minutes to complete. While the survey is confidential, you do have the option to provide your email address to be entered in a random draw to win one of 100 $50 Visa gift cards. OPL staff can help you complete the survey online at any OPL branch or by contacting InfoService by phone, chat or email. The survey is available on paper upon request at any OPL branch. And one more thing: because the Library is for everyone, please share the survey with friends and family who may not use the Library. We need to hear from a broad and diverse range of residents. Your help will help us reach and include more communities and individuals across Ottawa. 


Lansdowne 2.0
Since the launch of the Lansdowne 2.0 Project, City Staff have worked to ensure a robust public engagement process has taken place. This has included a dedicated project website for residents to review information, a dedicated email address for residents to send in questions and concerns, four public information sessions, multiple surveys, weekly coffee chats, pop-up events, and weekly meetings with the Ward Councillor. The results of the City's engagement can be found in the final As We Heard It report on the project website. The Lansdowne project team would like to thank everyone for taking the time to provide their feedback. Following months of engagement and review, the City will be considering the Lansdowne Partnership Plan - Authorization to Proceed to the Next Steps in the Redevelopment Report and recommendations at:
November 2, 2023 - Joint Finance and Corporate Services and Planning and Housing Committee

November 6, 2023 - Built Heritage Committee

November 10, 2023 - City Council
Should City Council approve of this report and continue with the project, there will be many more opportunities to engage with staff and the City. Some of the next decision points that will come back to Council in the future include:
A report of the construction procurement model

Event Centre Site Plan

Issue the Request For Offers (RFO) for mixed-use towers

Construction Procurement tender price
For more information, please visit the project webpage here.
Enter the Get Rain Ready Contest for a chance to win a rain ready project for your home! 
Become rain ready for your chance to win a rain garden, soakaway pit, or professional landscape design for your property! All you need to do is submit proof of you taking action at home and becoming rain ready by redirecting your downspout or installing rainwater collection. Easy actions like these can have a significant impact on how ready your property is, and our city is for rain. Plus, by taking these actions, you'll contribute to making Ottawa's waterways healthier. Contest winners will be announced in mid-October, with first prize installation in Spring 2024. For more details on the contest and how to enter, visit Ottawa.ca/rain.

Community Capital Funding stream now open
Capital Funding is intended for capital improvements to City owned, agency owned or long-term leased properties. Funding will be provided in collaboration with social service agencies on a cost-sharing basis. The 2023 Capital Funding priority will be centered around addressing the needs of food security. For more information, please visit Ottawa.ca. If you have any questions or concerns, please contact 

[email protected]

.
Funding available: $200,000.00
Maximum funding per agency: $50,000.00
Applicants are advised of the results: Within 30 business days after the deadline for application.


Better Homes Ottawa - Survey Open
The City of Ottawa is developing the Better Homes Ottawa Portal. This online tool will allow Ottawa homeowners to learn about their home's, estimated energy consumption, greenhouse gas emissions, and steps they can take to reduce their utility bills. The launch of the Better Homes Ottawa Portal is scheduled for Q2 2024. The City of Ottawa is welcoming feedback on this tool. Please complete this short survey to provide your thoughts. For more information, please click here.
---
Ottawa Police News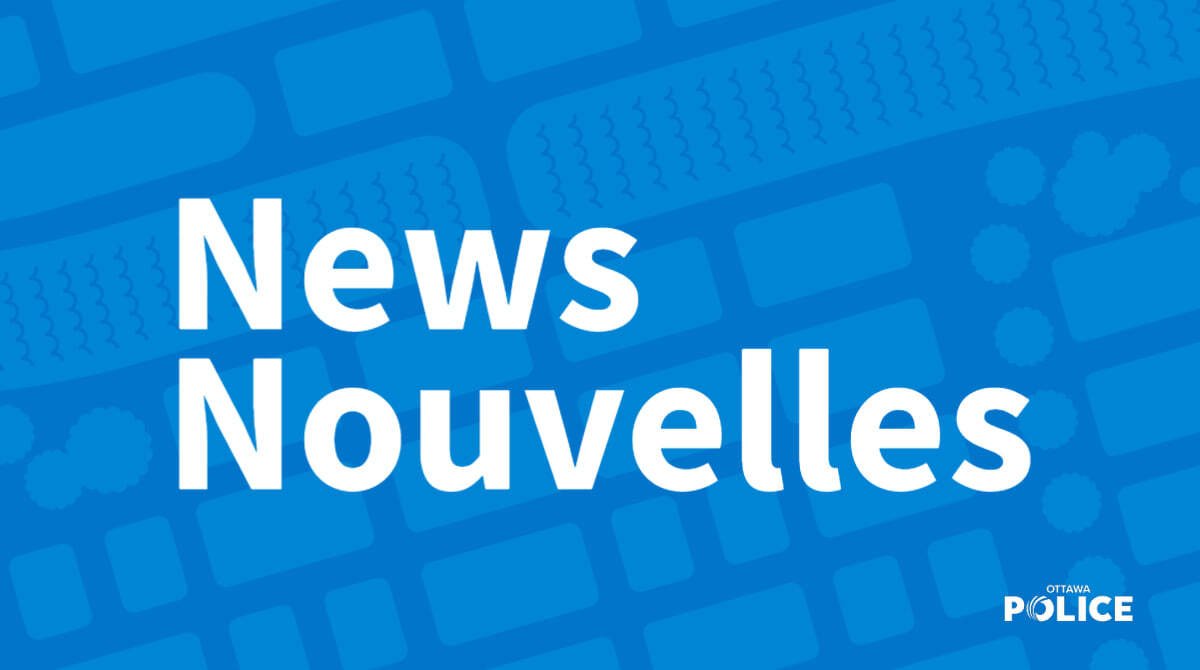 Statement from the Ottawa Police Service
The Ottawa Police Service remains deeply concerned about the local impact of the ongoing conflict in Israel and Gaza. We understand how the conflict there has affected the Jewish and Palestinian communities and many others here in Ottawa. We are fully committed to community safety, and we are actively engaged with our local Jewish and Palestinian communities to hear, understand and address their concerns and ensure their safety. Our intelligence and investigative units continue to work with federal and provincial police and security partners and monitor the local situation. There is no credible information about threats locally, but we remain vigilant. We have increased police patrols and presence in areas of cultural and religious significance, and we will maintain open lines of communication with community leaders. For the full statement, please click here.
The Ottawa Police Services Board wants your input on its Draft Strategic Plan!
At a special meeting on October 6, the Ottawa Police Services Board (OPSB) presented its Draft Strategic Plan for the Ottawa Police Service (OPS). The plan will guide the priorities for the OPS over the next three years. As part of the OPSB and Service's commitment to continuous community engagement, and following initial community outreach, the OPSB is now looking to re-engage residents and other stakeholders to ensure the draft strategic plan and priorities are reflective of the feedback previously received. Please take a moment to provide your feedback by completing this survey. The deadline to complete the survey is October 16, 2023. The feedback will be incorporated into the final strategic plan, to be considered by the Board for approval at its November 27 regular meeting. The survey is being released in English and French. If you wish to obtain a copy of the survey in a different language that you can send to us by mail once completed, please email [email protected].
---
City Council and Committee News
For meeting agendas, please visit ottawa.ca/agendas or call 3-1-1.For information on how to participate in individual meetings, please consult the specific meeting's agenda at ottawa.ca/agendas.
To watch the meetings on Youtube, please click here.


Upcoming meetings:
Environment and Climate Change Committee - Tuesday, October 17, 2023 at 9:30 am
Accessibility Advisory Committee - Tuesday, October 17, 2023 at 6 pm
Emergency Preparedness and Protective Services Committee - Thursday, October 19, 2023 at 9:30 am
For recent Council and Committee news, please click here.