September 15, 2023 newsletter from Rawlson King, City Councillor for Rideau-Rockcliffe.
A Message from Councillor King
This week, I voted against budget direction at City Council that would limit 2024 tax increases to 2.5 per cent. I told City Council that building an affordable city requires investment. Despite objections from myself and other like-minded urban City councillors, Council chose to accept the tax and levy increases as proposed by City staff.

By placing an arbitrary cap on budget direction, the City hampers its ability to provide essential services and infrastructure improvements. From social services to a lack of affordable housing, to increasing rates of homelessness and encampments of unsheltered people, to poor roads and sidewalks and unreliable transit, I hear complaints from residents day after day about declining and degrading quality of our amenities, services and infrastructure. I believe the only way to redress these concerns is by investing in services beyond the rate of inflation, so that the city can positively enhance the quality of life for its residents, especially in affordable housing, social services and transit. More investment in our crumbling infrastructure also creates a more conducive environment for economic growth and job creation. If we are serious about improving affordability in our city, it will be imperative that we realistically assess the city's needs and requirements and then invest accordingly. 
One of the key services that require additional investment is transit. As your City Councillor, I continue to advocate for reliable transit service. Today, I released a position paper focused on optimizing OC Transpo bus routes in Rideau-Rockcliffe Ward to enhance efficiency and improve passenger experience. The paper explores the challenges with current routes that serve our area and the importance of route optimization for the main bus routes which serve this Ward. Additionally, the position paper showcases the benefits of optimization, such as reduced travel time, improved reliability, and increased ridership and makes recommendations concerning bus route improvements based upon resident input from both a transit survey and virtual townhall session that my office conducted, in conjunction with Rideau-Vanier Councillor Stéphanie Plante and Somerset Councillor Ariel Troster earlier this year. The paper can be accessed here: https://shorturl.at/fsBZ7.
---
Your Councillor in the Community
Today, Sept. 15 I participated in the official unveiling of the crosswalks on Montreal Road at Bradley and St-Charles along with Rideau-Vanier Councillor Stéphanie Plante. The Vanier BIA unveiled these crosswalks featuring and spotlighting the Franco-Ontarian and Indigenous communities which both thrive in the Business Improvement Area.
I attended a preview tour of 1805 Gaspe Avenue, an exciting and spacious new community hub in Manor Park. The exterior of the building features a beautiful new mural, created with input from the community and made possible by a Crime Prevention Ottawa grant. The hub's official opening celebration is scheduled for Sept. 19 from 5 to 7 pm. Everyone welcome.
I was proud to present a proclamation on behalf of Mayor Mark Sutcliffe to the Ottawa New Edinburgh Club during its "Roaring Twenties" charity gala in celebration of its 140th anniversary and 100 years in the historic River House on the Ottawa River. The event, held the evening of Sept. 14, raised more than $80,000 in support of the Club's recreation programs.
I was pleased to help unveil a wonderful new mural at École élémentaire catholique Horizon-Jeunesse on MacArthur Avenue on Sept. 14 with Rideau-Vanier Councillor Stéphanie Plante.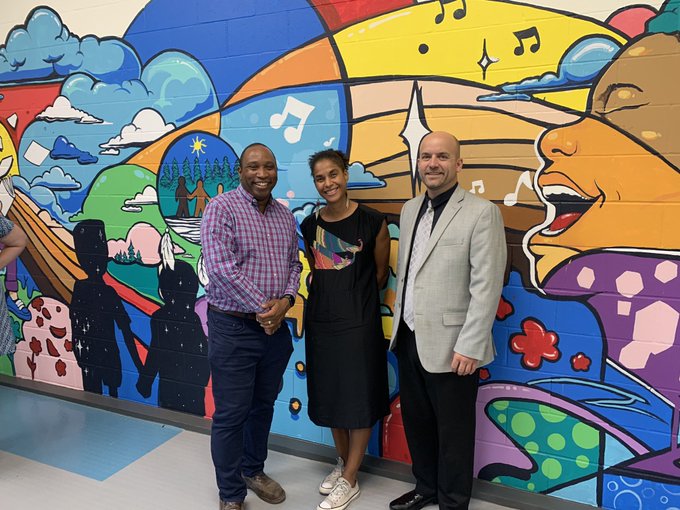 I presented the Rich Little Award to this deserved young Ukrainian dance student at The School of Dance in New Edinburgh on Sept. 14. The presentation coincided with the launch of the school's 45th season.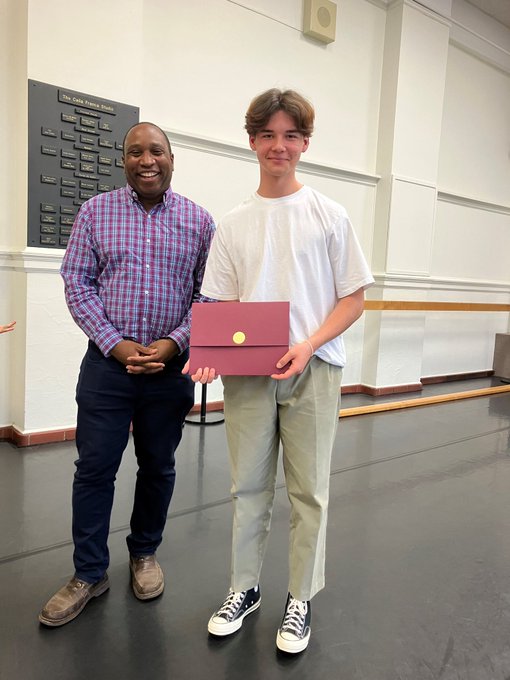 I attended Harvest: A Feast for Fall at All Saints / Working Title Kitchen in Sandy Hill on Sept. 13  in support of Youturn Youth Support Services. Enjoyed wonderful creations by BiBi's Middle Eastern Kitchen.
I enjoyed a great barbecue on Sept. 13 at Veteran's House in Wateridge Village with residents and my Council colleagues, David Hill and Matt Luloff. 
It is wonderful that a future park in Wateridge Village will honour Lieutenant-Colonel William G. Barker, VC. Members of the Royal Canadian Air Force Association and RCAF Foundation turned the soil on the new park on Sept. 12. In the skies over France and Italy, William Barker became one of the great air aces of the First World War. Born in Dauphin, Manitoba, he joined the Canadian Expeditionary Force in 1914, later transferring to the Royal Flying Corps. He gained renown in 1917 and 1918, downing 50 enemy aircraft and winning a reputation as the pre-eminent fighter pilot on the Italian front. William Barker was also respected as a leader, never losing a man in his command. Awarded the Victoria Cross and eight other gallantry medals, he is remembered as one of Canada's most decorated servicemen.

I enjoyed Beechwood Cemetery's annual historical tour on Sept. 10 celebrating its 150th anniversary, with a descent of James Mather, one of Ottawa's earliest architects and one of the cemetery's founders.
Mayor Mark Sutcliffe and I joined leaders from Ottawa's Jewish community on Sept. 11 at the Soloway Jewish Community Centre to discuss issues of concern to the Jewish community. 
I was pleased to be invited to attend the New Edinburgh Studio Tour's reception on Sept. 10. The New Edinburgh Studio Tour returns this year on Sept. 23 and 24, featuring 27 artists in 10 studios. For details about the upcoming event, please click here.
It was wonderful meeting with community members at the Canadian and Turkish Women's Association of Ottawa's Family Picnic in Vincent Massey Park on Sept. 10.
It was a beautiful day for the BeechFest celebration along Beechwood Avenue on Sept. 9. An estimated 5,000 people came out to enjoy the entertainment, tasty food offered by local businesses and a corn roast I co-hosted with Ottawa-Vanier MP Mona Fortier, Ottawa-Vanier MPP Lucille Collard and Rideau-Vanier Councillor Stéphanie Plante. Thanks to the Vanier BIA's incredible organizing efforts. Thank you also to Kitchissippi Councillor Jeff Leiper for stopping by. 
I had a great time celebrating the music and heritage of New Edinburgh during the New Edinburgh StreetFest on Sept. 9, which was supported by more than 100 community volunteers.
---
Rideau-Rockcliffe News, Events and Engagement Opportunities
NCC River House - Swimming extended until Oct. 1
Enjoy swimming at the NCC River House on weekends, from 10 am to 6 pm, until Oct. 1. The River House is located at 501 Sir-George-Étienne-Cartier Parkway in Ward 13.
Lots of bicycle parking available
Bytown Catering kiosk open from 11 am to 9 pm (expect a wait!)
Pets are not permitted in the NCC River House or on the docks
Notice of Sewer Cleaning Activity 
Water Services is projected to perform routine sanitary sewer cleaning in Rideau-Rockcliffe and Rideau-Vanier. Please refer to the following link for Scheduled Streets by Ward. For more information on wastewater collection, please visit ottawa.ca or contact 3-1-1.
New Edinburgh Neighbourhood Sale and Grill & Chill Barbecue - Sept. 16
The New Edinburgh Neighbourhood Sale, organized by the Crichton Community Council, takes place on Sept. 16 from 8 am until 2 pm. There will be a vendor market at the New Edinburgh Park Fieldhouse at 203 Stanley Avenue. Homeowners, condominium groups, religious congregations, businesses, non-profit organizations and artists are encouraged to hold sales on private property throughout New Edinburgh. For more information, please click here.
Later that same day, Sept. 16 from 4 to 7 pm at the New Edinburgh Park Fieldhouse, 203 Stanley Avenue, the Crichton Community Council is celebrating its 30th birthday featuring a community barbecue, with hamburgers, hot-dogs, including options for vegetarians. Refreshments, both alcoholic and non-alcoholic, will also be available. A talented face-painter will be on site. Game play areas will be set up on the lawns. Live music will fill the air. For details, please click here.
Overbrook Community Cleanup - Sept. 16
Help make a difference in the Overbrook community! In celebration of the 30th anniversary of the "Cleaning the Capital" initiative, the Overbrook Community Association is organizing a neighborhood cleanup event in Overbrook. Come together and show some love to the beautiful surroundings.
 🗓 Date: September 16
 🕛 Time: 12 pm
 📍 Location: Overbrook Community Centre
 📍 Address: 33 Quill Street, Ottawa
🧹 All necessary cleaning supplies will be provided, so just bring your enthusiasm and energy. Whether you're a long-time resident or a newcomer to the area, your participation matters. Let's create a cleaner and greener environment for everyone to enjoy.
Canada Army Run - Coming through Rideau-Rockcliffe Sept. 17
The 16th annual Canada Army Run takes place this weekend, Sept. 17, raising important funds for Support Our Troops and Soldier On. Canada Army Run is an opportunity to show your support to the military by raising funds that will directly impact the lives of ill and injured soldiers, veterans and their families. Participants will be passing along routes in New Edinburgh, Rockcliffe Park, Beechwood Cemetery and Manor Park. The maps for the 5K, 10K and the half marathon 21.1K course maps are available at this link. Transit Service: OC Transpo routes will be detoured due to the street closures. Additionally, O-Train Line 1 service will begin one hour early at 7 am to help participants get to the event and service will run until 11 pm. For more information about the event, please click here.
Hemlock Park Lifecycle Project  - Comment before Sept. 18
Live in Manor Park? The City is seeking your feedback on replacing the junior play equipment and swings at Hemlock Park in Ward 13, located at 361 Meadow Park Place. Updates to the junior play equipment will include:
Replacement of existing junior equipment with 2-3 new pieces of play equipment

New bay of swings including two belt swings, two junior buckets swings and an accessible swing

Engineered wood fiber of the projective surfacing material to meet accessibility requirements

Two accessible benches

Relocate existing ATV Spring Toy
The existing senior play structure in sand material will remain. Click here for details. The survey will remain open until Sept. 18.
Beechwood Cemetery Guided Walk - Sept. 19
Join Ottawa-Vanier MPP Lucille Collard for Beechwood Cemetery month. Learn about many famous historians who reside there thanks to English and French guides. Beverages and scones will be available afterwards. The event takes place Sept. 19 from 3 to 4 pm, with the social chat from 4 to 5 pm. Advance registration is required by emailing [email protected]. 

1805 Gaspe Grand Opening in Manor Park - Sept. 19
Join the Manor Park Community Council to celebrate the grand opening of their new community space! Tour newly renovated rooms, learn about new programs and events, sample foods from Baccanalle! Activities for children in the brand new child care centre, demos from fitness and art staff. Visit with friends and neighbours while seeing all the tenants have to offer! PLUS - the MPCC will be unveiling its new three-storey public mural. The event takes place Sept. 19 from 5 to 7 pm at 1805 Gaspe. The event is free to attend.
Overnight Work on McArthur Avenue - Sept. 19 and 20
As part of the City of Ottawa's annual infrastructure maintenance cycle, road resurfacing continues along McArthur Avenue. Work will involve milling or pulverizing of the existing surface, possible granular material placement, adjustment of maintenance hole and catch basin grates, concrete repairs, and roadway resurfacing. Increased noise levels to be expected in order to facilitate the work.
Why: The City of Ottawa will be resurfacing roads as preventative maintenance aimed at extending the City's roadway network lifecycle.
When: This work started in July and completion is anticipated by fall 2023. Nighttime construction is expected to occur on Tuesday, September 19 and Wednesday September 20, between 6 pm and 6 am. The road will remain open to traffic with lane closures expected. Traffic control personnel will direct traffic through the site.
Where: The following roadway will be resurfaced during the day and night and will involve lane interruptions:
• McArthur Avenue from Lafontaine Avenue to St. Laurent Boulevard
Who: The City of Ottawa has retained the contractor, R.W. Tomlinson, to complete the work.
Volunteer Expo at The Rideau Hub - Sept. 22
Join Volunteer Ottawa on Sept. 22 from 2 to 5 pm at The Rideau Hub, 815 St. Laurent Boulevard, for the biggest Volunteer Expo of the year! Meet in-person with charities and non-profits who need your help and learn more about their work. For details, please visit volunteerottawa.ca/events/calendar/expo. Watch Volunteer Ottawa's video "Ottawa's Volunteer Connection" to learn more about how volunteering can make a difference to you and the community! 
Eugène Martineau Park Grand Opening in Wateridge Village - Sept. 23
Canada Lands Company invites Wateridge Village residents for a day of fun and excitement to celebrate the grand opening of Eugène Martineau Park! The namesake for one of the largest parks in the Wateridge Village community honours Ottawa's first Francophone Mayor. Festivities will kick off with a town crier announcement and ribbon cutting ceremony with local dignitaries, followed by activities for people of all ages that will include performances by Wacky Chad, the extreme pogo performer, jugglers and a magician. Activities will also include bouncy castles, face painting, sidewalk chalk artists and a DJ. Admission is free.
What: Grand opening of Eugène Martineau Park
When: Saturday, September 23 - Ribbon cutting ceremony at 10 am; Family activities from 11 am to 4 pm
Where: Eugène Martineau Park - 710 Mikinak Road, Ottawa
Street parking only. The parking lot will be closed to the public. 
NCC Open House - Sept. 23
Want to know more about the newly renovated NCC River House? Curious about the big ideas behind Building LeBreton? Passionate about archeology? Join the NCC for an Open House on Saturday, September 23. This free event will take you behind the scenes for a closer look at the NCC's work and projects.
Walking and cycling tours
Free chartered buses to certain sites
Free boat tour offered by EKEAU to discover the Rideau Canal (registration required)
Self-guided tours at a Greenbelt farm
Find details and registration here
ncc-ccn.gc.ca/events/open-ncc
New Edinburgh Artists' Studio Tour - Sept. 23 & 24
The New Edinburgh Studio Tour takes place Sept. 23 and 24, from 10 am to 4 pm. There will be 27 artists featured in 10 studios within walking distance around the area. Artists will be exhibiting paintings, photography, pottery, glass, jewellery, mixed media and fabric art as well as music and more. In between studios there are a range of delightful cafes and coffee houses to sit and sip, as well as other retail locations to tempt you. Why not jmake a day of it? For studio maps and artists information, please visit www.nestudiotour.ca.
Films at the Fieldhouse - 2 showings - Sept. 24
The Crichton Community Council presents The Wizard of Oz on Sept. 24 from 2 to 4 pm at the New Edinburgh Park Fieldhouse, located at 203 Stanley Avenue. For more information, please click here. 
Later that evening, from 7 to 9 pm, enjoy That's Entertainment. When unable to screen all of the classic musicals, That's Entertainment is the next best thing. Featuring clips from more than 50 golden age classics starring Judy Garland, Frank Sinatra, Fred Astaire, Gene Kelly, Elizabeth Taylor, James Stewart, Bing Crosby, Clark Gable, Lena Horne, Ginger Rogers, Esther Williams and so many more! More than a movie! It's an all-singing, all-dancing celebration! For details, please click here.
Heritage Ottawa Walking Tour - Sept. 24
Rockcliffe Park - Sept. 24 at 2 pm
Tours last 1.5 hours, rain or shine. Members: $10; Non-members: $25 Pre-registration is required. For more information, please click here.
Free Cooking Classes at the Rideau Community Hub - Sept. 26 - Advance registration required.
The Rideau-Rockcliffe Community Resource Centre will be offering free evening cooking classes starting Sept. 26, from 6 to 7:30 pm at the Rideau Community Hub, 815 St. Laurent Boulevard. Four classes will be given by a nutritionist at the Centre to teach participants how to make healthy meals and snacks on a budget. Places are limited and registration is required. Click here for details.
Road Closure - Maple Lane - Sept. 27
The City has authorized a road closure for Maple Lane from Acacia Avenue to Maple Place on Sept. 27. Contractor, Campbell Tree Experts, will be installing a large mobile crane to remove a tree. Affected residents/businesses will receive advance notice. Local traffic only will be permitted. Pedestrian and cycling access will be permitted through the work zone. 
Rock the Block in Manor Park - Sept. 29
Gather up your friends and neighbours and head to 100 Thornwood for this free Rock the Block event on Sept. 29. Come hungry and enjoy one of the local food vendors for dinner! Or skip to dessert and grab a slice of pie from the pie baking contest entries! Stick around for games, glitter tattoos and an outdoor movie starting around 7:30 pm! Don't forget your camp chairs and blankets! 
5:30 pm: Food, drinks, live music, games, glitter tattoos, vendors, community displays, ice cream, pie baking contest and more! 
8 pm: Outdoor movie! Pie Baking Contest at Rock the Block: Do you have what it takes to become Manor Park's newest Pie Baking Champion? Start testing out your recipes! Bakers will submit their pies to the MPCC prior to Rock the Block starting time. Pies will be judged by a panel of prestigious judges. Click here for more information.