September 22, 2023 newsletter from Rawlson King, City Councillor for Rideau-Rockcliffe.
A Message from Councillor King
Did you know that Ottawa Public Health works with the City of Ottawa and community partners to deliver integrated services closer to where people live, by providing additional access to drop-in health and social services at no cost. There are currently 15 Neighborhood Health and Wellness Hubs, including one that is located at the Rideau Community Hub, that offer a range of services, including:
COVID-19, flu, school and routine childhood vaccination 

dental screenings 

mental health and substance use health services and wellbeing support

parenting support, and

financial assistance services. 
The hubs provide an opportunity to speak in-person with OPH and/or City of Ottawa staff. No appointment is needed. Different services are offered at different locations. More information can be found at OttawaPublicHealth.ca/NeighbourhoodHub.
As a member of the Board of Health, I encourage you to take advantage of vaccination, dental screenings and vision health services that are available for children in our community. Vaccines are one of the greatest public health accomplishments of the 20th century. Vaccines have saved countless lives and in fact, save an estimated four million lives globally each year!
As children and youth head back to school this fall, it is an important time to ensure they are up to date on their routine vaccinations. The COVID-19 pandemic significantly impacted access to and delivery of routine childhood vaccines. In Ottawa alone, children and youth missed an estimated 40,000 doses of routine vaccines over the course of the pandemic. This means that many children are not fully protected against serious diseases that can have long-term impacts and result in hospitalization and even death. As children head back to school and resume their regular activities, getting caught up on vaccines not only helps protect each child, but it also helps protect the people they spend time with too. It helps keep children in school and doing the activities they love!
In Ontario, all children attending school need to be immunized against nine diseases including diphtheria, tetanus, polio, measles, mumps, rubella, meningococcal disease, whooping cough and chickenpox (for children born in 2010 or later). Over the past year, Ottawa Public Health has been working to notify families if their child's record with Ottawa Public Health shows a vaccine is missing. This year, Ottawa Public Health will mail notices to children born in 2006 and 2016 who are missing one or more vaccines required for school.
What is Ottawa Public Health asking parents to do?
Don't have a regular health care provider or are having trouble seeing one?
Ottawa Public Health is working with community partners, including the Kids Come First Health Team and organizations from across Eastern Ontario, to help make it easier for children and youth to catch up on routine vaccines. Parents can now:
Book an appointment on the Kids Come First website to review their child's vaccine record or receive vaccines.
Alternatively, Ottawa Public Health is offering routine vaccines through its Neighbourhood Health and Wellness Hubs, on a walk-in basis. Parents can drop into one of the locations to review their child's vaccine record and/or receive vaccines.  On a personal note, I am working with Mayor and other Council and community members to encourage the retention and recruitment of doctors in our community.
Dental Screening
Last school year, close to 10% of children screened in elementary schools presented with urgent dental needs such as cavities, signs of infection, and/or pain. School surveillance of grade 2 students and dental screening in other grades will resume in September. This year, three new schools will be offered dental screening services by our OPH registered dental hygienists, for a total of 228 elementary schools. The dental screening is done using a disposable tongue depressor and a flashlight to look into the child's mouth. The dental screening is important as it helps identify children in pain and those who require urgent dental care. The school dental hygienists support families with referrals to our OPH dental clinics or to a private dental office and can help low-income families apply to the Healthy Smiles Ontario program. Dental problems can affect children in different ways, by leading to issues such as poor concentration and learning difficulties in school, limited choice of foods due to inability to chew properly, lower self-esteem and much more.
Vision Health
In September, OPH will distribute vision health cards to over 16,000 junior and senior kindergarten students. This vision health information will remind parents of the importance of taking their children to the optometrist for an annual eye exam. Vision problems can affect children's learning abilities, social development, self-esteem and hand-eye coordination. If not identified early, some problems can permanently reduce a child's vision. During Children's Vision Month (October), OPH will be publishing a series of posts on social media (Facebook/Instagram), supported by a social media advertising campaign. This campaign will educate the audience on the importance of visual health, while also encouraging parents to take their children to their local optometrist for an annual eye exam. On October 19, a local optometrist will be invited to be a guest on Parenting in Ottawa's Facebook and Instagram pages. The optometrist will address questions and concerns about common issues around children's vision and eye health.
---
Your Councillor in the Community
Had an amazing tour of Volunteer Ottawa's Volunteer Expo with Ottawa-Vanier MPP Lucille Collard at The Rideau Community Hub this afternoon, Sept. 22. Hundreds of people were in attendance to learn how to actively participate in and contribute to the community!
My thanks to the many Meadowcroft-area residents who dropped by my Rideau-Rockcliffe Roundtable event on Sept. 21. My staff and I appreciated the opportunity to discuss community and City issues with you. My Roundtable event also inadvertently reunited two friends who hadn't seen each other in 40 years. Such a wonderful reunion!
It was amazing to celebrate the official unveiling of a community mural by youth at the Manor Park Community Council's new community space at 1805 Gaspe Avenue on Sept. 19.
It was great to thank Overbrook residents who participated in the 30th anniversary edition of the City's "Cleaning the Capital" initiative on Sept. 16! Thank you for keeping Overbrook Park, Riverside Memorial Park, and the rest of the neighborhood beautiful!
That same day on Sept. 16, the Crichton Community Council celebrated its 30th anniversary, coinciding with the New Edinburgh Neighbourhood Sale, vendor market, barbecue, activities and live music. Congratulations to the Council for 30 years of giving back to the New Edinburgh community. Your dedication is truly appreciated.
Also on Sept. 16, it was wonderful to join former city councillor Marianne Wilkinson, along with Council on Aging of Ottawa Board members, at their annual fundraising walk held at the Rideau Community Hub.
---
Rideau-Rockcliffe News, Events and Engagement Opportunities
Eugène Martineau Park Grand Opening in Wateridge Village - Sept. 23
Canada Lands Company invites Wateridge Village residents for a day of fun and excitement to celebrate the grand opening of Eugène Martineau Park! The namesake for one of the largest parks in the Wateridge Village community honours Ottawa's first Francophone Mayor. Festivities will kick off with a town crier announcement and ribbon cutting ceremony with local dignitaries, followed by activities for people of all ages that will include performances by Wacky Chad, the extreme pogo performer, jugglers and a magician. Activities will also include bouncy castles, face painting, sidewalk chalk artists and a DJ. Admission is free.
What: Grand opening of Eugène Martineau Park
When: Saturday, September 23 - Ribbon cutting ceremony at 10 am; Family activities from 11 am to 4 pm
Where: Eugène Martineau Park - 710 Mikinak Road, Ottawa. Street parking only. The parking lot will be closed to the public. 
Vanier HUB - Orange T-Shirt-Making Day - Sept. 23
Join the Vanier BIA for orange T-shirt-making day on Sept. 23 from 11 am to 3 pm at the Vanier Hub, located on Marier Avenue at Montreal Road. 
NCC Open House - Sept. 23
Want to know more about the newly renovated NCC River House? Curious about the big ideas behind Building LeBreton? Passionate about archeology? Join the NCC for an Open House on Saturday, September 23. This free event will take you behind the scenes for a closer look at the NCC's work and projects.
Walking and cycling tours
Free chartered buses to certain sites
Free boat tour offered by EKEAU to discover the Rideau Canal (registration required)
Self-guided tours at a Greenbelt farm
Find details and registration here
ncc-ccn.gc.ca/events/open-ncc
New Edinburgh Artists' Studio Tour - Sept. 23 & 24
The New Edinburgh Studio Tour takes place Sept. 23 and 24, from 10 am to 4 pm. There will be 27 artists featured in 10 studios within walking distance around the area. Artists will be exhibiting paintings, photography, pottery, glass, jewellery, mixed media and fabric art as well as music and more. In between studios there are a range of delightful cafes and coffee houses to sit and sip, as well as other retail locations to tempt you. Why not jmake a day of it? For studio maps and artists information, please visit www.nestudiotour.ca.
Films at the Fieldhouse - 2 showings - Sept. 24
The Crichton Community Council presents The Wizard of Oz on Sept. 24 from 2 to 4 pm at the New Edinburgh Park Fieldhouse, located at 203 Stanley Avenue. For more information, please click here. 
Later that evening, from 7 to 9 pm, enjoy That's Entertainment. When unable to screen all of the classic musicals, That's Entertainment is the next best thing. Featuring clips from more than 50 golden age classics starring Judy Garland, Frank Sinatra, Fred Astaire, Gene Kelly, Elizabeth Taylor, James Stewart, Bing Crosby, Clark Gable, Lena Horne, Ginger Rogers, Esther Williams and so many more! More than a movie! It's an all-singing, all-dancing celebration! For details, please click here.
New Pedestrian Crossover Coming to North River Road/Stevens Avenue intersection - Work to begin week of Sept. 25
Beginning in late September 2023, the City of Ottawa will begin constructing a pedestrian crossover in Rideau-Rockcliffe Ward 13.

What: Pedestrian crossovers are designated areas that allow pedestrians to safely cross the road, where vehicles must yield to pedestrians when crossing. Pedestrian crossovers (PXOs) are identified by specific signs and pavement markings. In some cases, but not always, they may also have pedestrian activated flashing beacons. More information on PXOs is available at this link.
Why: This work is required to improve mobility and safety for pedestrians.
When: This work is scheduled to begin in late September 2023 and is anticipated to be completed by mid-October 2023. It is anticipated that the contractor will be deploying to North River Road the week of Sept. 25.
Where: The PXO will be constructed on the north leg of the North River Road/Stevens Avenue intersection. Work will involve removal and replacement of sections of sidewalk along North River Road, asphalt and landscaping reinstatement, signs and pavement markings.
Who: The City of Ottawa has retained the contractor, Mopri Construction, to complete the work.
For details, please click here. 
Crack Sealing in Ward 13 - Starting Sept. 25
The Contractor for the 2023 Crack Sealing program is expected to be working along two streets within Ward 13 over a period of 10 days starting Monday, Sept. 25. The locations and approximate dates are below:
Coventry Road between Vanier Parkway and St. Laurent Boulevard. - Work at this location is planned to begin on Monday, Sept. 25, 2023 and take approximately 5 working days to complete.
North River Road between Donald Street and Selkirk Street. - This work will begin immediately after completion along Coventry and should only take 1 to 2 working days.
The work is a moving operation and will be completed during off-peak hours for Coventry Road. Traffic will be controlled by flagging personal and at least one travel lane will be maintained at all times at both locations.
Renewal of Shopping Center Road Overpass - St. Laurent Boulevard - Upcoming road closures Sept. 25 to 29
My office has been advised that the overhead Shopping Centre Road sign will be installed to the new parapet wall on the Shopping Centre Road overpass on St. Laurent Boulevard. The contractor will be performing nightly northbound lane closures on St. Laurent Boulevard, located between Highway 417 and Lemieux Street, from Monday, Sept. 25 to Friday, Sept. 29 to perform the installation of this overhead sign support for the overpass bridge. Closures will be between 9 pm and 6 am.
Free Cooking Classes at the Rideau Community Hub - Sept. 26 - Advance registration required.
The Rideau-Rockcliffe Community Resource Centre will be offering free evening cooking classes starting Sept. 26, from 6 to 7:30 pm at the Rideau Community Hub, 815 St. Laurent Boulevard. Four classes will be given by a nutritionist at the Centre to teach participants how to make healthy meals and snacks on a budget. Places are limited and registration is required. Click here for details.
Road Closure - Maple Lane - Sept. 27
The City has authorized a road closure for Maple Lane from Acacia Avenue to Maple Place on Sept. 27. Contractor, Campbell Tree Experts, will be installing a large mobile crane to remove a tree. Affected residents/businesses will receive advance notice. Local traffic only will be permitted. Pedestrian and cycling access will be permitted through the work zone. 
Rock the Block in Manor Park - Sept. 29
Gather up your friends and neighbours and head to 100 Thornwood for this free Rock the Block event on Sept. 29. Come hungry and enjoy one of the local food vendors for dinner! Or skip to dessert and grab a slice of pie from the pie baking contest entries! Stick around for games, glitter tattoos and an outdoor movie starting around 7:30 pm! Don't forget your camp chairs and blankets! 
5:30 pm: Food, drinks, live music, games, glitter tattoos, vendors, community displays, ice cream, pie baking contest and more! 
8 pm: Outdoor movie! Pie Baking Contest at Rock the Block: Do you have what it takes to become Manor Park's newest Pie Baking Champion? Start testing out your recipes! Bakers will submit their pies to the MPCC prior to Rock the Block starting time. Pies will be judged by a panel of prestigious judges. Click here for more information.
On Saturday, Sept. 30, seven branches of Ottawa Public Library (OPL) will be open for the public to learn more about the impact of the residential school system, which an estimated 150,000 Indigenous children from across Canada were forced to attend. The National Day for Truth and Reconciliation is an important occasion to reflect upon the ongoing trauma faced by the Indigenous community, as the last residential school closed as recently as 1996. In or near Rideau-Rockcliffe Ward 13, visit the Main library branch at 120 Metcalfe Street or drop by the St. Laurent branch at 515 Côté Street, from 10 am to 5 pm.  OPL will offer programs and resources for all age groups on Sept. 30 and in the lead up to that day. Please click here for details.
Renewal of St. Patrick Street Bridge: Noise By-law exemption - Oct. 1
To support the design of the St. Patrick Street Bridge renewal, overnight geotechnical drilling will start on Oct. 1, 2023. The work will be carried out between 7 pm and 7 am for approximately 1 week.
What: Geotechnical drilling will be carried out in support of the design of St. Patrick Street bridge renewal.
Why: One traffic lane must be closed to facilitate drilling activities. Due to hours restrictions for work requiring lane closures on St. Patrick Street, this work will be carried out at night. Noise exemptions will be applied according to the City of Ottawa Noise By-law.
When: The night work will start on October 1 and occur between the hours of 7 pm and 7 am for approximately 1 week.
Where: St. Patrick Street Bridge is located on St. Patrick Street between Vanier Parkway and Cobourg Street.
Who: The City of Ottawa contractor, Thurber Engineering, will complete the work.


CIBC Run for the Cure - 1200 Montreal Road - Oct. 1
Free Community Dental Screenings at The Rideau Community Hub - Oct. 6 and 20
Beechwood Avenue lane closures - Oct. 7 and 8
Mothers Walking for Mothers - Oct. 7
Put on your running shoes and register to walk with us on Saturday, Oct. 7 at Mama Imara's first annual walk supporting the Amani Family Centre midwifery clinic in Kampala, Uganda! The walk starts off at 10 am from Strathcona Park, along the Ottawa River to New Edinburgh Park and back (5 km). Every day, approximately 830 women die from preventable causes related to childbirth and pregnancy. Mama Imara is a Canadian not for profit organization, providing financial support and leadership to midwifery-led clinics in rural and slum communities. Our partnership with Amani Family Centre in Kampala, Uganda means that your donations go straight to the mothers who need it. Your participating is directly helping to save lives of mother's and babies! Register to walk or sponsor a walker. For details, please click here.
City of Ottawa News, Events, Meetings and Engagement Opportunities
Transit Commission Update
OC Transpo provided updates on on-demand transit, O-Train Line 1 and much more at the Sept. 15 Transit Commission meeting. You can watch the presentation here or check out the highlights below.
On-demand transit pilot project to start this fall: A pilot project will bring on-demand transit service to Blackburn Hamlet this fall. The goal of the pilot project is to improve the customer experience on OC Transpo by reducing waiting times and travel times. The on-demand service will operate on weekends in place of Route 28, connecting customers within the community and to Blair Station. Route 28 will operate as usual during weekdays, while Route 25 serving Innes Road will continue to operate seven days a week. The on-demand service will use minibuses that are already in the OC Transpo fleet. As the pilot will run on weekends only, there will be no impact on the availability of vehicles to deliver Para Transpo service, which uses the same minibuses, and has fewer booked trips on weekends. Results from the pilot will be used to inform possible expansions of on-demand service across Ottawa in response to changing travel habits since the COVID-19 pandemic.
O-Train Line 1 update: In early September, trains in operation have increased with some double-car trains running throughout the day to provide more frequent service. Based on current ridership levels, peak period Shuttle Express service to and from Blair Station will continue while service between Tunney's Pasture Station and downtown has ended. For more on changes to service during peak periods, visit Alerts | OC Transpo.
Bus fleet availability: During the Line 1 disruption, additional buses were deployed for the R1 replacement bus service. As a result, buses logged more kilometres than the average month. This led to unscheduled preventative maintenance needs and an increase in bus trip cancellations. OC Transpo's transit fleet team are working to reduce this backlog and improve service as quickly as possible.
Station cleanliness: OC Transpo is also committing to ensuring stations along O-Train Line 1 are clean. Rideau Transit Maintenance (RTM) have hired additional staff and will be conducting detailed daily, weekly and seasonal cleaning of all O-Train Line 1 transit stations. For more information on OC Transpo, visit octranspo.com, or follow us on Facebook, Twitter and Instagram.
OC Transpo - Increase in bus trip cancellations
Customers may experience an increase in cancelled bus trips. During the Line 1 disruption, additional buses were deployed for the R1 replacement bus service. As a result, buses logged more kilometres than the average month. This led to unscheduled preventative maintenance needs. OC Transpo staff are always working to fill as many trips as possible to minimize the impact to customers. The number of cancellations is expected to gradually decrease. There will be a difference between the online schedules and the printed ones at the bus stops until this issue is resolved. For the most up-to-date information:
Going forward, OC Transpo will be providing additional training for mechanics and supervisors. OC Transpo will also establish or renew partnerships with other transit agencies or contracted suppliers to ensure their maintenance team has the resources to meet service demands.
Hydro Ottawa Labour Relations Update
Statement from Hydro Ottawa: After resuming talks last week with the support of a mediator, Hydro Ottawa and the IBEW signed a Memorandum of Settlement last Thursday, which was fully ratified by both parties earlier this week for a four-year collective agreement. As a result, we were pleased to welcome our full complement of employees on Sept. 20, 2023. We know that some of our customers are anxious to complete projects that have a dependency on us. As the labour disruption has now come to an end, we expect there will continue to be some service delays while our teams work through the backlog of appointments and requests. We have established a plan that addresses all service requests that were delayed due to the strike and are actively engaged in the process of rescheduling all affected appointments. Click here for more information.
Budget Technical Briefing - Sept. 25
The City of Ottawa will host a Budget 101 technical briefing on its budget development process and engagement opportunities on Monday, Sept. 25 at 10 am. Residents will be able to watch the technical briefing and media availability on the City's YouTube channel.
LeBreton Flats Walking Tour at Open NCC - Sept. 23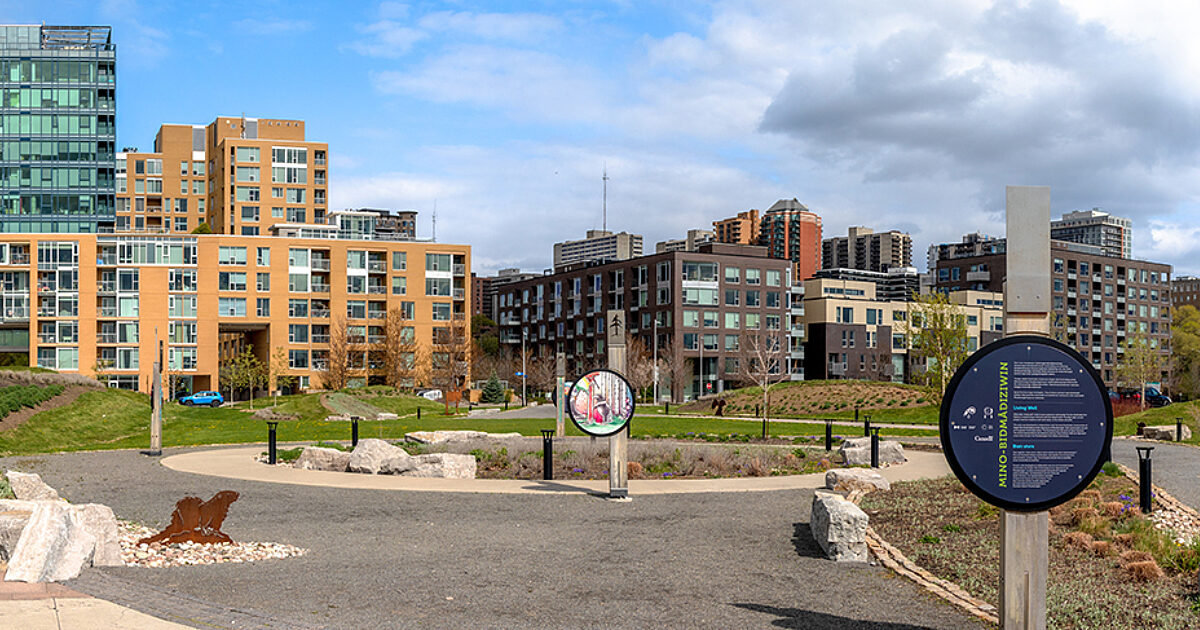 Curious about the big ideas behind Building LeBreton? Join the NCC for a free walking tour of LeBreton Flats this Saturday, Sept. 23, and see the progress made so far. The Building LeBreton team will be on site to discuss the plans for the future and answer your questions. Spots are limited. Click here for more information and to register.
New Zoning By-law Review September Open Houses - Sept. 23
Join the City of Ottawa for a series of three interactive open houses this September. These open houses mark the initial steps in our New Zoning By-law Project. They offer you the chance to learn what zoning means, understand how the new Zoning By-law implements the recently approved Official Plan, and receive a high-level overview of key zoning topics. Make a note of the dates and locations:
September 23 - Ray Friel Recreation Complex: 2:30 PM to 5:00 PM
A virtual open house will be hosted at the end of September. Stay tuned for more details.
On Sept. 24 join Bike Ottawa, For Our Kids, and School Streets Ottawa for a fun celebration of biking geared towards children and their unique needs in our city. They will meet at 9:30 am at Sylvia Holden Children's Park and ride at 10 am along the Queen Elizabeth Drive active-use Parkway. Everyone is welcome! More information at www.eventbrite.com/e/kidical-mass-ottawa-tickets-700794895397
City of Ottawa to celebrate Franco-Ontarian Day with a flag raising ceremony at City Hall - Sept. 25
Monday, Sept. 25, is Franco-Ontarian Day - a day to celebrate all the Francophones and Francophiles in our community and learn more about the rich francophone history and heritage in Ontario. Join the City of Ottawa for a flag raising ceremony in celebration of this important day. Click here for details.
Human Library - Sept. 27
Ever wanted to read a person like a book? Are you curious to explore the diverse stories and experiences of other members within our community? Now you can! On Wednesday, Sept. 27, between 11 am and 3 pm the City of Ottawa and Ottawa Public Library invite you to the Main Branch Library to check out the Human Library event. Imagine being able to "borrow" people instead of books. At the Human Library, our "books" are residents dedicated to making Ottawa's communities healthy, safe and inclusive and whose profession is connected to the Community Safety and Well-Being Plan (CSWB Plan)'s six priorities. You can take a "book" out for 20-minutes to learn more about their story, ask questions and learn about the services and programs offered by the City and its community partners which benefit you. This event was built upon the Caring for the Community travelling photo exhibit you may have seen at your local library branch. Please click here for more details about the event.
Upcoming Deadlines for City of Ottawa Cultural Funding Programs
Cultural facilities fund (minor projects) - Sept. 27 at 4 pm - Details here.
Equity and inclusion in the arts fund - Oct. 4 at 4 pm. Details here.
Heritage funding program - Oct. 24 at 4 pm - Details here.
Climate Resiliency Strategy - Submit your ideas before Sept. 30
The City has received many great ideas for how individuals, communities and the City can prepare for the impacts of climate change. Thanks to everyone who has provided their input. All the ideas shared will be used to inform the draft Climate Resiliency Strategy.

Some of the top ideas so far include:
Increase the tree canopy by planting more trees, protecting existing trees and replacing downed or dead trees

Increase the amount of greenspace and plant more native plants and pollinators

Bolster electricity grid infrastructure to reduce the risk of power outages during extreme weather

Preserve wetlands and prevent development on floodplains

Create covered sidewalks, bike lanes and transit stops

Share more information about how to take action and prepare for climate change
If haven't yet shared your ideas, don't worry, there's still time. The ideas page will remain open until the end of September. Visit the Climate Resiliency Strategy Engage Ottawa page to learn more and share your ideas.
Cleaning the Capital Fall Campaign - Registration open until Oct. 1
Registration for this year's Cleaning the Capital Fall campaign is now underway for cleanup projects taking place between September 15 and October 15. Participants can register their cleanup projects by using the online registration form available at ottawa.ca/clean. The registration form populates an interactive map, showing which locations have been chosen for cleanup projects. Cleanup kits, which include garbage bags, recycling bags, and gloves, will be made available for pick-up by registrants at one of ten City of Ottawa facilities across the city. Organize a cleanup project with your family, friends, neighbours, or colleagues and help keep the City of Ottawa clean and green. Register your project by October 1.
Key Fall campaign dates:
August 15: Registration begins
September 15 to October 15: Cleaning the Capital Fall campaign
October 1: Deadline to register
October 31: Deadline to submit online cleanup reports
Heritage Grant Program for Building Restoration - Applications accepted Oct. 9 to Dec. 8
The Heritage Planning Branch, Planning Real Estate and Economic Development Department, has changed the application period for the Heritage Grant Program for Building Restoration. The program offers funding to property owners of designated heritage buildings to undertake restoration and rehabilitation work. Applications for 2024 heritage restoration projects will now be accepted from Oct. 9 to Dec. 8, 2023. If you would like to learn more about the Heritage Grant Program, please visit Built Heritage Funding Programs | City of Ottawa. Questions can be submitted by email to [email protected].
Request for Input! A Proposed Amendment to streamline the City of Ottawa's Tree Protection By-law - Survey open until Oct. 10
In June 2022, Council directed staff to consult with the public on amending the Tree Protection By-law to reduce the size of Distinctive Trees in the suburban area of Ottawa from 50 to 30 cm in diameter measured at breast height. This change would bring the tree by-law permitting rules for the suburbs in line with those for the inner urban area of Ottawa. City staff are requesting your input through a survey available on Engage Ottawa, which will be available until Oct. 10, 2023. For more information on the City's Tree Protection By-law, please visit ottawa.ca/treebylaw.
City of Ottawa Repair Café - Oct 14 at City Hall
Throw it away? No way! In honour of Circular Economy Month, the City of Ottawa is sponsoring a free Repair Café on Saturday, October 14, from 10 am to 2 pm, at City Hall (Jean Pigott Place), 110 Laurier Avenue West. Repair Cafés are an international concept with the goal of reducing landfill waste, teaching new skills, and building community!  This event is hosted by the Ottawa Tool Library. Volunteers will be ready to help repair your items and share their expertise around everything from darning socks to re-wiring kettles. Come and learn more about the Ottawa Tool Library and waste reduction, while saving an item from the landfill! Visit ottawa.ca/wastereduction for more. 
Solid Waste Services Educational videos!
The City of Ottawa is pleased to present a suite of educational videos for residents to learn how solid waste is managed by the City of Ottawa. The videos are available at Ottawa.ca/wastevideos:    
We hope you find these videos educational and that they inspire you to reduce waste whenever possible. 
Enter the Get Rain Ready Contest for a chance to win a rain ready project for your home!
Become rain ready for your chance to win a rain garden, soakaway pit, or professional landscape design for your property! All you need to do is submit proof of you taking action at home and becoming rain ready by redirecting your downspout or installing rainwater collection. Easy actions like these can have a significant impact on how ready your property is, and our city is for rain. Plus, by taking these actions, you'll contribute to making Ottawa's waterways healthier. Contest winners will be announced in mid-October, with first prize installation in Spring 2024. For more details on the contest and how to enter, visit Ottawa.ca/rain.
Community Capital Funding stream now open
Capital Funding is intended for capital improvements to City owned, agency owned or long-term leased properties. Funding will be provided in collaboration with social service agencies on a cost-sharing basis. The 2023 Capital Funding priority will be centered around addressing the needs of food security. For more information, please visit Ottawa.ca. If you have any questions or concerns, please contact [email protected].
Funding available: $200,000.00
Maximum funding per agency: $50,000.00
Applicants are advised of the results: Within 30 business days after the deadline for application. 
Get involved in Draft Budget 2024!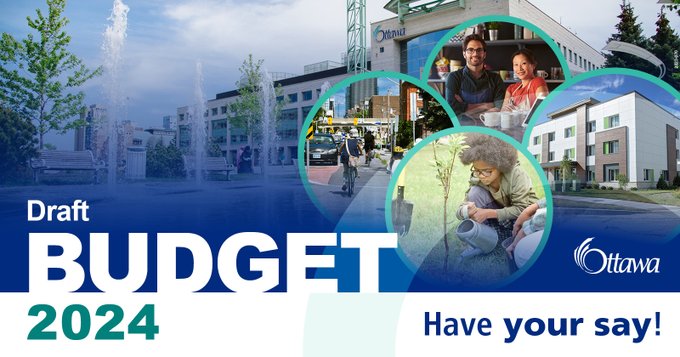 You will have several opportunities in the coming weeks to inform the City's draft budget for 2024. Resident feedback is integral to the development of the City's budget. It's your city and your budget, so have your say! Visit the Engage Ottawa Budget 2024 page today to complete a survey so we can first hear from you on your budget priorities. The survey will close at the end of October and the results will be posted on Engage Ottawa. For more details, please visit the Rideau-Rockcliffe Ward website.
I will again be hosting a budget consultation opportunity for Rideau-Rockcliffe residents as well as a race equity budget consultation for Ottawa's Black, Indigenous and racialized communities. Stay tuned for those details.
Better Homes Ottawa - Survey Open
The City of Ottawa is developing the Better Homes Ottawa Portal. This online tool will allow Ottawa homeowners to learn about their home's, estimated energy consumption, greenhouse gas emissions, and steps they can take to reduce their utility bills. The launch of the Better Homes Ottawa Portal is scheduled for Q2 2024. The City of Ottawa is welcoming feedback on this tool. Please complete this short survey to provide your thoughts. For more information, please click here.
Have Your Say – City of Ottawa Electric Vehicle Strategy
The City of Ottawa's Climate Change and Resiliency team is collecting input to inform the personal electric vehicle strategy that will be considered at Environment and Climate Change Committee. Electric vehicle uptake in condos and rental properties has been slower than that of single-family dwellings. A variety of barriers exist for those living in condos and rental properties that make it more challenging to switch to an electric vehicle. We want to hear what those are to better support the adoption of electric vehicles of all kinds, for all residents. Please click here to access the survey.
---
Emergency Services News
Wounded Warriors Canada, National Service Dogs, Pair Peer Support Dog with Ottawa Police Service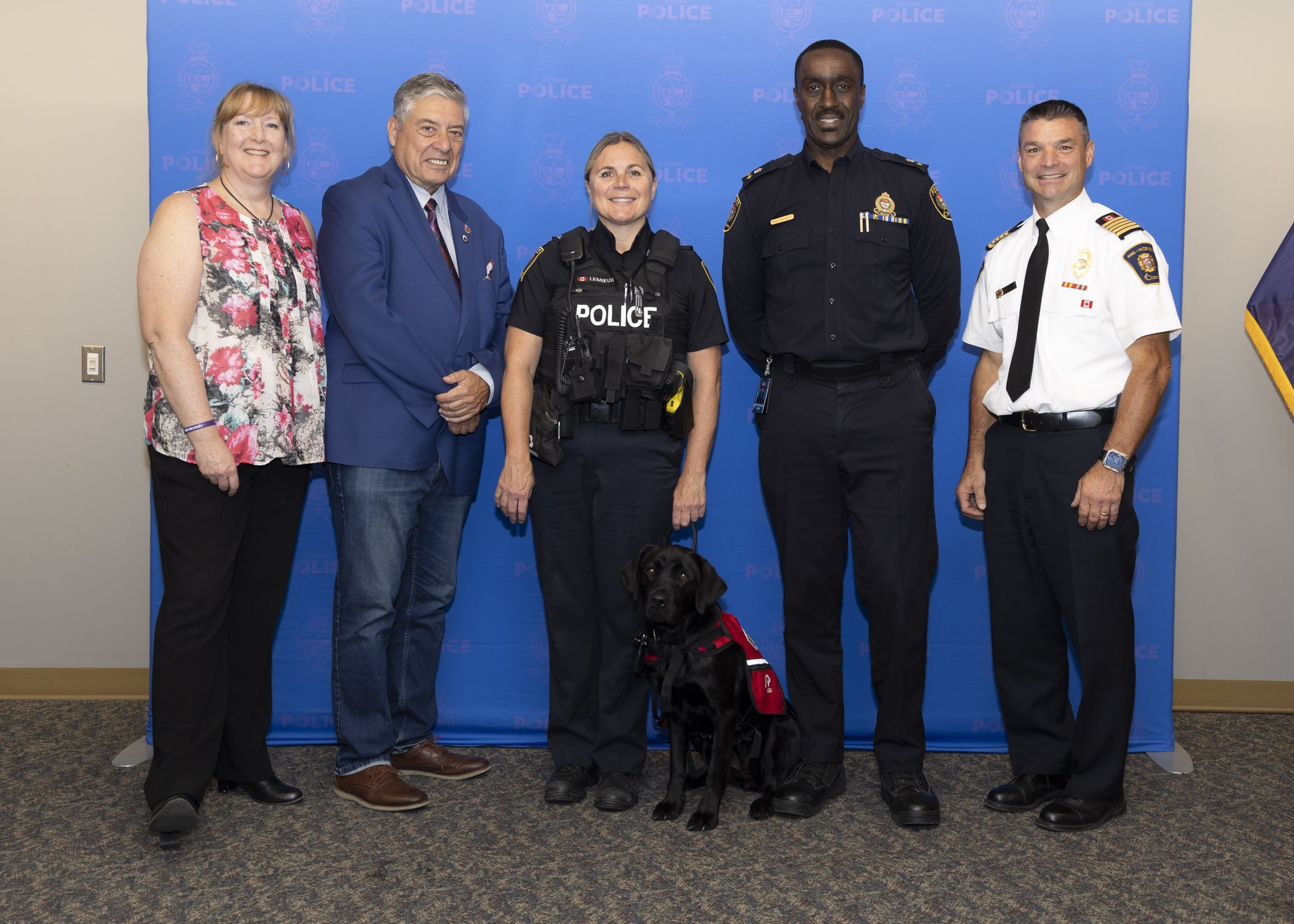 Wounded Warriors Canada is proud to announce that NSD Cindy, a three-year-old black lab, has been placed with the Ottawa Police Service. For the full story, please click here.
Working Smoke Alarms Save Lives - A message from Ottawa Fire Services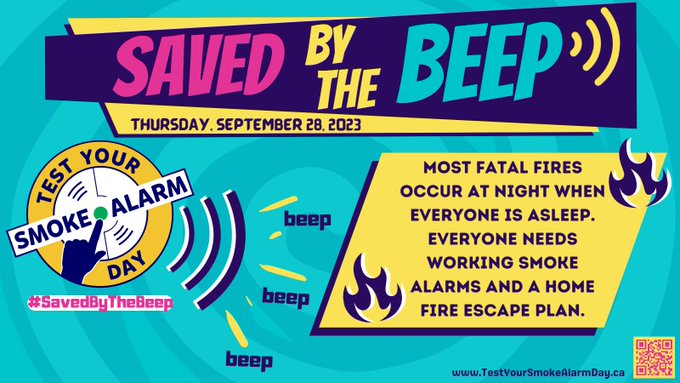 133 - That is the total number of fire fatalities last year in Canada - the most in 20 years. Protect yourself and your loved ones. Parents, protect your children. A working smoke alarm saves lives. On Sept. 28 - check your smoke alarm.
---
City Council and Committee News