September 8, 2023 newsletter from Rawlson King, City Councillor for Rideau-Rockcliffe.
A Message from Councillor King
Rat infestations continue to crop up in neighbourhoods all over Ottawa, including in Rideau-Rockcliffe, due to an increase in construction and infrastructure projects. Due to a rise in rat complaints in recent years, City staff gave notification this June that it will re-establish its anti-rat working group to work on rat abatement strategies. Currently, the City deals with rodent complaints through education, park maintenance and some baiting on City property, as well as property standards and food service inspections. 
The first step to deal with rat issues is to contact 3-1-1. If the rat issue is on public property, including in sewers, a service request will be issued to the Public Works and Environmental Services department. If the issue is on private property, 3-1-1 will issue a service request for a property standards review from By-Law and Regulatory Services. By-law and Regulatory Services administers the Property Standards By-law, which requires that residential and non-residential properties be maintained free of vermin, including rats and rodents. 
During the last term of Council, I was pleased to second and support a successful motion at Council to address surface rats in city parks, infrastructure projects, backyards, and city streets. The motion ensured that the City pre-baits parks and any City-run infrastructure projects, creates a framework that allows By-law Enforcement Services to inspect abandoned or vacant buildings and properties and bait accordingly, and determine methods to legally require property owners to pre-bait prior to demolition. The establishment of the new rat mitigation working group will allow staff to explore additional methods to deal with the issue in Ottawa, including studying how other municipalities deal with rats, along with sharing information and best practices for coordinating rat control strategies.

It is important to note that implementing control measures on one's own property is the responsibility of the property owner. The owner is recommended to refer to the educational guidance on our website and may elect to hire a professional pest control company for assistance. 
By-law and Regulatory Services within the Emergency and Protective Services department, along with the Public Works and Environmental Services department and Ottawa Public Health, work collaboratively in responding to rat and rodent control issues. The role of Ottawa Public Health is largely educational in nature. OPH provides advice and guidance to those experiencing a rodent infestation on their property or in their home. As well, rodent issues are addressed during regular public health inspections conducted at facilities located in your neighborhood, including restaurants, grocery stores, and corner stores, etc.  
On the OPH website, you will find a Rat Control page with resources and advice on how best to protect your property and home from rats and other rodents, including a guide for property owners and tenants, Preventing Rats on Your Property. This material is available in French, English, Somali and Arabic and makes use of pictures and information to help you understand the steps that can be taken to address the rat issue. Residents can call 613-580-6744 and speak with a Public Health Inspector.  
---
Your Councillor in the Community
I was honoured to join Mayor Mark Sutcliffe and my Council colleagues at the official Civic Call by Her Excellency the Right Honourable Mary Simon, Governor General and Commander-in-Chief of Canada, to City Hall on Sept. 7.
I had a wonderful visit to an art exhibition by local art co-op students last weekend at the St. Laurent Shopping Centre that celebrates refugees in Canada. The art installation is in support of Carty House and will continue to be on display until Sept. 12. To learn more, please click here.
I was pleased to participate in the coin toss with Councillor Laura Dudas for the Active Newcomer Youth Ottawa (ANYO) annual soccer championship on Sept. 1 at TD Place Lansdowne.
---
Rideau-Rockcliffe News, Events and Engagement Opportunities
Notice of Sewer Cleaning Activity 
Water Services is projected to perform routine sanitary sewer cleaning in Rideau-Rockcliffe and Rideau-Vanier, starting Sept. 5. Please refer to the following link for Scheduled Streets by Ward. For more information on wastewater collection, please visit ottawa.ca or contact 3-1-1.
Classes, sports and fitness in Manor Park
The Manor Park Community Council is hosting a wide variety of new fitness classes as well as the ones you already know and love. Click here for more information.
Lindenlea Outdoor Movie Night - Sept. 8
Join the Lindenlea Community Association for an outdoor movie night in Lindenlea Park. Presenting Spider-Man: Across the Spider-Verse. Happening Sept. 8 at dusk. Admission is free. Snacks will be provided. Please bring something to sit on.
New Edinburgh StreetFest - Sept. 9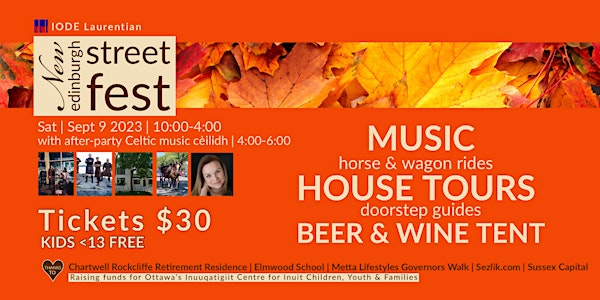 New Edinburgh StreetFest is Sept. 9, from 10 am to 4 pm. Opening ceremonies are at 10 am at 62 John Street. Visitors can stroll the streets of New Edinburgh for free, listening to porch musicians and the doorstep guides, but the purchase of a ticket gives you entrance to three open houses and the concerts at St. Bartholomew's Church. The horse and wagon rides also require a ticket, but children under 13 ride for free. A fundraiser for IODE Laurentian, proceeds from the day will go to the Inuuqatigiit Centre for Inuit Children, Youth and Families. Tickets are available for purchase online at Eventbrite or at Books on Beechwood or on the day at the welcome tent. The day ends with a Celtic music ceilidh from 4 to 6 pm at 62 John Street. For more details, please visit the IODE Laurentian website. 
BeechFest - Sept. 9
Celebrate Beechwood Avenue, between St. Charles and Marier, in Ward 12 and 13 on Sept. 9, from 3 to 9 pm, including a free corn roast. There will be plenty of family-friendly activities for everyone to enjoy. The Manor Park Community Council will be there hosting the Pints in the Park Beer Garden featuring two local breweries and 1 Niagara Region winery. For details, please visit the Vanier BIA on Facebook. A reminder that this section of Beechwood Avenue will be closed to motor vehicles from 1 to 11:30 pm.
Rockcliffe Park Book Drive - Sept. 10
The Rockcliffe Park Spring Book Sale volunteers will host their first autumn Book Drive of 2023 on Sept. 10 from 11 am to 1 pm. Please start preparing those gently used English and French books. Remember to place your books in wine-sized boxes. On Sunday, put the boxes in your trunk and head over to the Rockcliffe Park Library/Community Centre parking lot at 380 Springfield. Enter from Springfield and the volunteers will guide you. No need to exit your car. Just pop open the trunk and volunteers will remove your books. All proceeds go to the Library. Updates: www.facebook.com/springbooksale
Crack Sealing on Hemlock Road - Sept. 11 to 14
The crack sealing program is a yearly implemented program by the City to improve and increase the longevity of City Roads. Work along Hemlock Road from 92m north of Oakhill Road to St. Laurent Boulevard is anticipated to begin Sept. 11. The work along this stretch of road is anticipated to be complete by Sept. 14. This work is a moving operation and will be completed during off peak-hours. This work will require lane reductions and traffic will be controlled by flagging personnel.
Refugee Stories in support of Carty House - at the St. Laurent Shopping Centre - Extended until Sept. 12
Each semester, DeSerres Art Store, at St. Laurent Shopping Centre, offers Ottawa-Carleton District School Board (OCDSB) high school co-op students a chance to work with a professional artist to learn develop their art skills, as well as relate to the wider community. Carty House, the only transitional home for female refugees in Ottawa, was selected as their community partner for their summer co-op program. Most of us will never have to fee our home country in search of safety. Most of us will never have to rebuild our lives from scratch. These women did. Carty House current and past residents are sharing their experiences. The students are using 100-year-old doors to bring their stories to life through art. They are very excited to create, to learn, to share. PASSAGES - Doors to Refugee Stories will be on display in Centre Court at the St. Laurent Shopping Centre until September 12. For more information on this project or Carty House, please visit CartyHouse.org.
LCol William G. Barker, VC Park Groundbreaking in Wateridge Village - Sept. 12
Canada Lands Company and the RCAF Foundation host a groundbreaking ceremony to mark the opening of the LCol William G. Barker, VC Park in Wateridge Village at 1335 Hemlock Road on Sept. 12 from 10 to 11 am. Rain or shine.
Vanier BIA - Live music Sept. 13
Spend your evening with the Vanier BIA moving and grooving to music presented by local artists this summer! The St. Charles Market will be hosting its final Akoustik on Sept. 13. Bring your loved ones and join the BIA for this free event from 6 to 8 pm at 135 Barrette Street.
City Sounds Live Summer Sounds Showcase - Sept. 14
Enjoy 20 free outdoor concerts until Sept. 22. Details: ottawamic.com/citysoundslive
Performances in and near Rideau-Rockcliffe Ward:
Sept. 14 from 6 to 8 pm at The Hub, located on Marier Avenue at Montreal Road in Vanier. 
New Edinburgh Neighbourhood Sale & Grill and Chill barbecue - Sept. 16
The New Edinburgh Neighbourhood Sale, organized by the Crichton Community Council, will take place this year on Sept. 16 from 8 am until 2 pm. Homeowners, condominium groups, religious congregations, businesses, non-profit organizations and artists are encouraged to hold sales on private property throughout New Edinburgh. For more information, please click here.
Later that same day, Sept. 16 from 4 to 7 pm at the New Edinburgh Park Fieldhouse, 203 Stanley Avenue, the Crichton Community Council is celebrating its 30th birthday featuring a community barbecue, with hamburgers, hot-dogs, including options for vegetarians. Refreshments, both alcoholic and non-alcoholic, will also be available. A talented face-painter will be on site. Game play areas will be set up on the lawns. Live music will fill the air. For details, please click here.
Creative Expressions - Free eight-week in-person program at The Rideau Hub - Sept. 16 to Nov. 4
Canadian Women of Colour Leadership Network is thrilled to share  that our Creative Expressions program is back! Exclusively designed for Black and racialized women and femmes, this is an invitation to a transformative in-person experience. This workshop celebrates our ancestral heritage as a wellspring of inspiration for personal growth and communal empowerment. By delving into creative expressions inspired by our roots, such as the dynamic Jam Board, the elemental journey of mood exploration through the Five Elements, the performing art form of Body Movement, evocative Blackout Poetry, and more we will embark on a profound journey of self-discovery and rejuvenation. This program is an opportunity to embrace your heritage, nurture your growth, and contribute to community healing. 

PROGRAM DETAILS
Dates: Every Saturday from September 16 to November 4, 2023
Time: 11 am - 1 pm
Location: 815 St. Laurent Blvd, Suite 235 
Cost: FREE
Participant Information & Registration: canadianwomenofcolour.ca/event/creative-expressions-intersections-free-8-week-program
Overbrook Community Cleanup - Sept. 16
Help make a difference in the Overbrook community! In celebration of the 30th anniversary of the "Cleaning the Capital" initiative, the Overbrook Community Association is organizing a neighborhood cleanup event in Overbrook. Come together and show some love to the beautiful surroundings.
 📍 Location: Overbrook Community Centre
 📍 Address: 33 Quill Street, Ottawa
🧹 All necessary cleaning supplies will be provided, so just bring your enthusiasm and energy. Whether you're a long-time resident or a newcomer to the area, your participation matters. Let's create a cleaner and greener environment for everyone to enjoy.
Hemlock Park Lifecycle Project  - Comment before Sept. 18
Live in Manor Park? The City is seeking your feedback on replacing the junior play equipment and swings at Hemlock Park in Ward 13. Hemlock Park is located at 361 Meadow Park Place. Updates to the junior play equipment will include:
Replacement of existing junior equipment with 2-3 new pieces of play equipment

New bay of swings including two belt swings, two junior buckets swings and an accessible swing

Engineered wood fiber of the projective surfacing material to meet accessibility requirements

Two accessible benches

Relocate existing ATV Spring Toy
The existing senior play structure in sand material will remain. Click here for details. The survey will remain open until Sept. 18.
1805 Gaspe Grand Opening in Manor Park - Sept. 19
Join the Manor Park Community Council to celebrate the grand opening of their new community space! Tour newly renovated rooms, learn about new programs and events, sample foods from Baccanalle! Activities for children in the brand new child care centre, demos from fitness and art staff. Visit with friends and neighbours while seeing all the tenants have to offer! PLUS - the MPCC will be unveiling our new three-storey public mural. The event takes place Sept. 19 from 5 to 7 pm at 1805 Gaspe. The event is free to attend.
Volunteer Expo at The Rideau Hub - Sept. 22
Join Volunteer Ottawa on Sept. 22 from 2 to 5 pm at The Rideau Hub, 815 St. Laurent Boulevard, for the biggest Volunteer Expo of the year! Meet in-person with charities and non-profits who need your help and learn more about their work. For details, please visit volunteerottawa.ca/events/calendar/expo. Watch Volunteer Ottawa's video "Ottawa's Volunteer Connection" to learn more about how volunteering can make a difference to you and the community! 
Eugène Martineau Park Grand Opening in Wateridge Village - Sept. 23
Canada Lands Company will host its grand opening of the largest park at its Wateridge Village Community - Eugène Martineau Park on Sept. 23. The official opening ceremonies take place from 10 to 11 am, and the community celebration and activities for families will take place from 11 am to 4 pm.
New Edinburgh Artists' Studio Tour - Sept. 23 & 24
The New Edinburgh Studio Tour takes place Sept. 23 and 24, from 10 am to 4 pm. There will be 27 artists featured in 10 studios within walking distance around the area. Artists will be exhibiting paintings, photography, pottery, glass, jewellery, mixed media and fabric art as well as music and more. In between studios there are a range of delightful cafes and coffee houses to sit and sip, as well as other retail locations to tempt you. Why not join us and make a day of it? For studio maps and artists information please visit our website at www.nestudiotour.ca.
Films at the Fieldhouse - 2 showings - Sept. 24
The Crichton Community Council presents The Wizard of Oz on Sept. 24 from 2 to 4 pm at the New Edinburgh Park Fieldhouse, located at 203 Stanley Avenue. For more information, please click here. Later that evening, from 7 to 9 pm, enjoy That's Entertainment. When unable to screen all of the classic musicals, That's Entertainment is the next best thing. Featuring clips from over 50 golden age classics starring Judy Garland, Frank Sinatra, Fred Astaire, Gene Kelly, Elizabeth Taylor, James Stewart, Bing Crosby, Clark Gable, Lena Horne, Ginger Rogers, Esther Williams and so many more! More than a movie! It's an all singing, all dancing celebration! For details, please click here.
Heritage Ottawa Walking Tour - Sept. 24
Rockcliffe Park - Sept. 24 at 2 pm
Tours last 1.5 hours, rain or shine. Members: $10; Non-members: $25 Pre-registration is required. For more information, please click here.
Free Cooking Classes at the Rideau Community Hub - Sept. 26 - Advance registration required.
Rideau-Rockcliffe Community Resource Centre will be offering free evening cooking classes starting Sept. 26, from 6 to 7:30 pm at the Rideau Community Hub, 815 St. Laurent Boulevard. Four classes will be given by a nutritionist at our Centre to teach participants how to make healthy meals and snacks on a budget. Places are limited and registration is required. Click here for details.
Road Closure - Maple Lane - Sept. 27
The City has authorized a road closure for Maple Lane from Acacia Avenue to Maple Place on Sept. 27. The contractor, Campbell Tree Experts, will be installing a large mobile crane to remove a tree. Affected residents/businesses will receive advance notice. Local traffic only will be permitted. Pedestrian and cycling access will be permitted through the work zone. 
Rock the Block in Manor Park - Sept. 29
Gather up your friends and neighbours and head to 100 Thornwood for this free event on Sept. 29! Come hungry and enjoy one of the local food vendors for dinner! Or skip to dessert and grab a slice of pie from the pie baking contest entries! Stick around for games, glitter tattoos and an outdoor movie starting around 7:30 pm! Don't forget your camp chairs and blankets! 5:30 pm: Food, drinks, live music, games, glitter tattoos, vendors, community displays, ice cream, pie baking contest and more! 8 pm: Outdoor movie! Pie Baking Contest at Rock the Block: Do you have what it takes to become Manor Park's newest Pie Baking Champion? Start testing out your recipes! Bakers will submit their pies to the MPCC prior to Rock the Block starting time. Pies will be judged by a panel of prestigious judges. Full details coming soon!
Youth Performance and Artist Program in Rideau-Rockcliffe - Registration Now Open
Rideau-Rockcliffe Community Resource Centre and the Ottawa School of Theater are excited to get this brand-new Youth Performance and Artist Program off the ground in the heart of Ward 13.
EXPLORE YOUR PERFORMATIVE AND ARTISTIC TALENTS
Acting, movement and voice workshops taught by actor Cassandre Mentor

Tickets to 2 plays for the group to attend together

The chance to meet local theatre professionals.

Judgement-free zone for youth age 14+

Fridays 4:30-6pm, 815 St. Laurent Blvd (former Rideau High-School)
October 6 to December 15
Please note advance registration is required. Click here for details. 
City of Ottawa News, Events, Meetings and Engagement Opportunities
O-Train Line 1: Peak-period service starting Sept. 11
OC Transpo committed to monitoring and responding to anticipated increases in Line 1 customer volumes as the system continues to operate with single-car trains. OC Transpo is proactively planning to adjust the service level next week as it is anticipated that customer demand may be higher during the morning and afternoon peak periods. Beginning on Monday, September 11, OC Transpo will introduce double-car trains as an enhancement to rail service. The number of single-car trains in operation will increase from 13 to 17, with some of these operating in the two-car configuration throughout the day to provide customers with frequent service. Trains will operate approximately every four minutes at the busiest times of the morning and afternoon commute. OC Transpo anticipates that this service frequency will provide sufficient capacity for customers. The operations team will continue to closely monitor and adjust service as needed.
In addition, the Shuttle Express continues to operate every 10 minutes during weekday morning and afternoon rush hours. Ridership on the shuttle service between Blair Station and downtown has remained steady with about 50 customers per trip. Ridership between Tunney's Pasture Station and downtown is significantly lower with approximately five to 10 customers per trip. As a result, the last day of operations for the Shuttle Express service between Tunney's Pasture and downtown will be today, September 8. The western shuttle will not operate beginning on Monday, September 11. The shuttle service in the east will continue to operate. OC Transpo will continue to monitor ridership levels. Customers looking for the most up-to-date information about their trips, can use the travel planner, call 613-560-1000 or text 560560 and enter your bus stop number.
For more information, please click here.
2023 Commuter Attitude Survey - Starting Sept. 11
The City of Ottawa and its partner agencies are planning to conduct a telephone survey in September-October 2023. During the survey, information on residents' travel attitudes and perspectives will be collected from approximately 3500 randomly selected individuals, complementing the results from the 2022 Origin-Destination (OD) Survey. The survey aims to achieve a representative sample of responses throughout the National Capital Region, including commuters within the urban and rural areas who make regular trips for work, school, or volunteer purposes. The Commuter Attitude Survey is completely voluntary and will be conducted through confidential phone interviews. The information collected will be used to help understand current mobility patterns and the factors that influence people's travel choices. The survey also includes questions related to hybrid work to better understand how commuting patterns are evolving. The results will be used to help plan the region's walking, cycling, transit, and road networks and inform investment priorities. Response targets have been set for different areas of the region to ensure a broad representation of respondents. The first wave of survey phone calls is expected to start the week of Sept. 11 and continue throughout October. For details, please click here.
Important information about the garden or lending library in your front yard
More than ever, residents have been installing free lending libraries and gardens in front of their homes close to the roadway or sidewalk. Often, these are installed within the City's right of way (ROW) and when this occurs, you have to follow certain requirements to make sure you do it right. Before getting started with a project, it is important to understand the definition of the City's ROW. Click here for more information.
Tap and ride with O-Payment
New from OC Transpo! Tap your credit card or mobile wallet to pay for your fare on all OC Transpo buses and O-Train Line 1. Payment by credit card and mobile wallet will charge an Adult fare ($3.70). Ride as much as you want all day and you'll automatically be capped at the price of a DayPass ($11.25). Ride all month and you'll automatically be capped at the price of an Adult monthly pass ($125.50). OC Transpo is the first transit agency in Canada to introduce fare capping for credit card and mobile wallet payments. Transfer easily by tapping the same card or phone on your next trip, as long as you're within the transfer window. Remember to tap only the card you wish to pay with to avoid accidental charges to other cards in your wallet. O-Payment is not available on STO. If you transfer regularly to STO, a Presto card is a better option for you.
Para Transpo customers have had the option to pay with credit and debit cards since April 2023 using a separate system managed by Presto. Transfers with credit card or mobile wallet are not available between Para Transpo vehicles and buses or the O-Train. If you transfer regularly between Para Transpo and buses or the O-Train, a Presto card is a better option for you. Track your payments and print receipts at o-payment.octranspo.com.
Stay tuned for more! Payment by debit card will be available in the future. For more details, visit octranspo.com.
Be part of the community - Become a Crossing Guard!
Join the Ottawa Safety Council's (OSC) dedicated, community-minded team of Adult Crossing Guards! Great reasons to join the OSC's crossing guard team:
Make a real difference in your own community!

Get to know your neighbours

Help local families

Become a trusted face in your neck of the woods

Enjoy supplementary income and perks
Being a Crossing Guard provides a meaningful employment opportunity that puts a smile on everyone's face. Interested in learning more? Get all the details on becoming a crossing guard from our website at www.Crossing-Guard.ca contact Ella at [email protected].
Being a school bus driver is satisfying part-time employment that fits your work-life balance. It's a great job for stay-at-home parents, retired grandparents, and newcomers looking to enter the workforce. Free training is available. Positive impact on your community! Part-time work! Weekends and summers off! If you love being around children and want a fulfilling career, answer the call – take the first step to becoming a school bus or van driver! Find out more at driveyellow.ca.
Library back to full hours
With fall around the corner and new routines about to begin, hours at Ottawa Public Library has returned to full fall levels at all of its 33 branches starting Tuesday, September 5, 2023. Some OPL branches will offer improved and expanded hours in order to meet the wide-ranging needs of a diverse clientele with various schedules. Current hours are posted at branch entrances and under the hours and location page on the OPL website. Notably, the Library will continue its increased weekend hours that were introduced last year. 
Commemorative solidarity quilt coming to Ottawa
The Grandmothers to Grandmothers Campaign is proud to present a commemorative quilt in honour of the Stephen Lewis Foundation's 20th anniversary. The quilt is a symbol of solidarity, stitched together with contributions from grandmothers across Canada and six countries in sub-Saharan Africa. Over four months, 20 groups in 10 Canadian communities assembled the quilt. The Grandmothers to Grandmothers Campaign is a community of like-minded grandmothers and grandothers in Canada, the U.K., and Australia. They raise funds for Stephen Lewis Foundation partners that support grandmothers and children in communities affected by the HIV epidemic. The quilt will be in the Ottawa area from Sept. 9 to 15. Click here for the dates.
Personal Electric Vehicle Strategy - Survey available until Sept. 10
How can the City of Ottawa support the uptake of electric vehicles? Moving away from gas and diesel vehicles is one of the most important actions that we can take to achieve Ottawa's greenhouse gas reduction targets. Electric vehicles are one key way to do this. To support the uptake of electric vehicles, the City of Ottawa is developing a personal electric vehicle strategy. Have your say by completing the survey. The deadline to complete the survey is Sept. 10. Please click here for more information.
CityFolk Festival - Sept. 13 to 17
Located at Lansdowne Park, CityFolk is a multi-day celebration of music, dance, and community featuring an eclectic mix of musical performances on various stages. Family-friendly, community-focused, culturally diverse and committed to eco-friendly initiatives. Click here for the full schedule and for ticket information.
Planning Primer Elective - Development Charges - Sept. 14 and 21
The Planning, Real Estate and Economic Development Department offers the Planning Primer Program to help residents become more aware of, and more involved in, the land-use planning process.  
Date: Sept. 14, 2023 (offered in English) Time: 6 to 8 pm
Date: Sept. 21, 2023 (offered in English) Time: 1 to 3 pm
Location: a Zoom link will be sent to those who register. You can register here for the course. Please send any questions to 

[email protected]

.
Vacant Unit Tax audit phase has now started
The City has now started auditing Vacant Unit Tax declarations for properties that were not charged the tax, ensuring the information provided was accurate. The audit uses varied criteria to select an unbiased sampling of properties impartially. The City will notify selected property owners by letter or email if the person is enrolled with paperless billing. The letter will provide details on the required documentation to support your declaration. Documentation may be uploaded using the Audit link on ottawa.ca/vut, through the property tax account on MyServiceOttawa, or by contacting Revenue Services at 613-580-2444. Results of the complete 2023 VUT cycle including the declaration, appeal, and audit phases will be published on Ottawa.ca in the fall of 2024. For details, please click here. 
VUT appeal deadline is Sept. 15
Residents completed occupancy declarations earlier this year, with those who declared vacant or were deemed vacant receiving the Vacant Unit Tax charge on their June Property Tax Bill. If you believe you were incorrectly charged the vacant unit tax, remember the September 15 deadline is quickly approaching to file a notice of complaint and appeal your charge. Visit ottawa.ca/vut or contact Revenue Services at 613-580-2444.
Ottawa's Urban Design Awards - Extension until Sept. 15
The City of Ottawa has extended the deadline for the Urban Design Awards competition to Sept. 15 at 4 pm. Click here for the Submission Entry Form and program guidelines. The awards will be presented in five categories: Urban Infill, Public Places & Civic Spaces, Urban Elements, Visions & Master Plans, and Student Projects. 
Wildlife Strategy Review - Second Survey available until Sept. 15
City staff have received hundreds of comments and questions in response to the first round of consultation regarding the City's Wildlife Strategy which is now undergoing a full review. A second survey is now available until Sept. 15. Click here for details. Click here for the survey.
Upcoming Deadlines for City of Ottawa Cultural Funding Programs
1. Cultural Facilities Fund, Major Capital Projects - Sept. 15 at 11:59 pm - Details here.
2. Capacity building program - Sept. 20 at 4 pm - Details here.
3. Cultural facilities fund (minor projects) - Sept. 27 at 4 pm - Details here.
4. Equity and inclusion in the arts fund - Oct. 4 at 4 pm. Details here.
5. Heritage funding program - Oct. 24 at 4 pm - Details here.
Sandy Hill Food Truck Festival - Sept. 16
Mark your calendars for Sept. 16, from 12 to 7 pm, as Councillor Stéphanie Plante and her Ward 12 team are bringing you the first ever Sandy Hill Food Truck Festival! Osgoode Street will be bustling from Henderson Avenue to Chapel Street with food trucks serving up a variety of eats. Whether you have specific dietary needs or love trying new flavours, there will be something for everyone. Get ready for music and lawn games such as life-sized Jenga at Francojeunesse, and above all, lots of food! In partnership with the University of Ottawa, and the University of Ottawa Student Union, join us for a day of great food, music, games, and community vibes! 
New Zoning By-law Review September Open Houses - Sept. 16, 20 & 23
Join us for a series of three interactive open houses this September. These open houses mark the initial steps in our New Zoning By-law Project. They offer you the chance to learn what zoning means, understand how the new Zoning By-law implements the recently approved Official Plan, and receive a high-level overview of key zoning topics. Make a note of the dates and locations:
September 16 - Nepean Sportsplex: 9:30 AM to 12:00 PM
September 20 - City Hall (Jean Pigott Place): 5:30 PM – 7:30 PM
September 23 - Ray Friel Recreation Complex: 2:30 PM to 5:00 PM
A virtual open house will be hosted at the end of September. Stay tuned for more details.
On Sept. 24 join Bike Ottawa, For Our Kids, and School Streets Ottawa for a fun celebration of biking geared towards children and their unique needs in our city. They will meet at 9:30 am at Sylvia Holden Children's Park and ride at 10 am along the Queen Elizabeth Drive active-use Parkway. Everyone is welcome! More information at www.eventbrite.com/e/kidical-mass-ottawa-tickets-700794895397
Better Homes Ottawa - Survey Open
The City of Ottawa is developing the Better Homes Ottawa Portal. This online tool will allow Ottawa homeowners to learn about their home's, estimated energy consumption, greenhouse gas emissions, and steps they can take to reduce their utility bills. The launch of the Better Homes Ottawa Portal is scheduled for Q2 2024. The City of Ottawa is welcoming feedback on this tool. Please complete this short survey to provide your thoughts. For more information, please click here.
Cleaning the Capital Fall Campaign - Registration open until Oct. 1
Registration for this year's Cleaning the Capital Fall campaign is now underway for cleanup projects taking place between September 15 and October 15. Participants can register their cleanup projects by using the online registration form available at ottawa.ca/clean. The registration form populates an interactive map, showing which locations have been chosen for cleanup projects. Cleanup kits, which include garbage bags, recycling bags, and gloves, will be made available for pick-up by registrants at one of ten City of Ottawa facilities across the city. Organize a cleanup project with your family, friends, neighbours, or colleagues and help keep the City of Ottawa clean and green. Register your project by October 1.
Key Fall campaign dates:
August 15: Registration begins
September 15 to October 15: Cleaning the Capital Fall campaign
October 1: Deadline to register
October 31: Deadline to submit online cleanup reports
Heritage Grant Program for Building Restoration - Applications accepted Oct. 9 to Dec. 8
The Heritage Planning Branch, Planning Real Estate and Economic Development Department, has changed the application period for the Heritage Grant Program for Building Restoration. The program offers funding to property owners of designated heritage buildings to undertake restoration and rehabilitation work. Applications for 2024 heritage restoration projects will now be accepted from Oct. 9 to Dec. 8, 2023. If you would like to learn more about the Heritage Grant Program, please visit Built Heritage Funding Programs | City of Ottawa. Questions can be submitted by email to [email protected].
---
Emergency Services News
Firefighters will be knocking on your door
As part of the fall Wake Up! program, firefighters from Ottawa Fire Services will visit homes across the city next week to ensure smoke and carbon monoxide alarms are present and working. Ontario's Fire Code requires that homes have a working smoke alarm on each floor and outside each sleeping area. Carbon monoxide alarms are also required outside sleeping areas if the home has an attached garage, a wood stove or a fuel-fired appliance.

From Monday, September 11 to Monday, September 18, uniformed firefighters will:
Visit select residential areas between 6 and 8 pm on weekdays and 2 and 4 pm on weekends.

Offer to inspect and test alarms.

Install smoke alarms and provide new batteries.

Share information on fire safety and home escape planning.

Leave fire safety information in the mailbox if no one is home.
This is a courtesy call only and all services are provided to residents for free. Residents are not obligated to provide firefighters access to their home. To learn what is involved in a firefighter home visit, watch the Wake Up! video. Visit ottawa.ca/fire for more information on smoke and carbon monoxide alarms.
Missed the firefighters when they visited? Join thousands of households across Ontario in testing their alarms as part of Test Your Smoke Alarm Day on Thursday, September 28. Here's how you can promote fire safety in your household:
Test your alarms once per month.

Replace the alarms' batteries once per year.

Install new alarms once every 10 years (or as instructed by the manufacturer).

Review your fire safety habits and escape plan with your household regularly.
Smoke alarms don't last forever. Learn more about smoke alarm safety and how your household could be saved by the beep on savedbythebeep.ca.
---
City Council and Committee News
For meeting agendas, please visit ottawa.ca/agendas or call 3-1-1.
For information on how to participate in individual meetings, please consult the specific meeting's agenda at ottawa.ca/agendas.
To watch the meetings on Youtube, please click here.
Upcoming meetings:
Built Heritage Committee - Sept. 12 at 9:30 am
Ottawa Public Library Board - Sept. 12 at 5 pm
City Council - Sept. 13 at 10 am
Transit Commission - Sept. 14 at 9:30 am
Board of Health - Sept. 18 at 5 pm
For recent Council and Committee news, please click here.