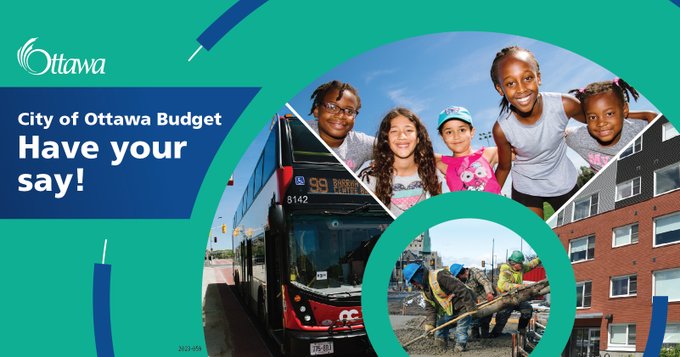 Residents are welcome to provide feedback on the City of Ottawa's annual budget process by completing a short survey that will be used to help inform how the City engages residents.
Do you get involved in the City's budget process? If not, why? Is there a better way to help you understand the budget? Are we offering appropriate opportunities to get involved? We want to hear from you! These are all questions to consider when completing the above survey; it's open until Wednesday, May 24 and won't take more than a few minutes of your time. Visit engage.ottawa.ca for more information.
It's important that the budget process is transparent and engaging for residents. Feedback from the survey will help inform our process and how we share important budget information. Results from the survey and the accompanying changes will be shared during the budget tabling in fall 2023. Thank you in advance for your participation!
Budget background
The annual municipal budget is one of the City's most important documents as it is the blueprint that defines how resources are collected and allocated.

The overall budget comprises two main components: the Operating Budget and the Capital Budget.

The Operating Budget is designed to ensure the dependable delivery of a broad array of programs and services that residents rely on every day such as emergency services, transportation, clean water and more.

The Capital Budget includes things like city infrastructure, or anything that is beyond simply providing existing (operating) services.

Ottawa is one of the largest cities in Canada – larger than the areas of Toronto, Montreal, Vancouver, Calgary and Edmonton combined. Given the city's sheer scale, it's no wonder most City funds are spent on delivering existing services, many of which are available 24 hours a day, seven days a week.

For more information about the City of Ottawa's budget, visit the Understanding your City Budget page on ottawa.ca.